Last Updated on 27 October 2023 by Lyn Sy
Wondering how to schedule posts on LinkedIn so you can consistently post on your account no matter how busy you get?
"Uploading Linkedin posts regularly is so tiresome. Is there a way to automate it?"
That question is inevitable when you start scaling your content marketing efforts across social media accounts.
The next step is deciding on the best tool to use and how to make the most of its capability.
We are featuring many awesome tools for scheduling posts on Linkedin to help you plan, create, and schedule your posts in no time!
In this article, we'll cover:
Two free options for scheduling your LinkedIn posts
Hootsuite
Socialoomph
Two paid options for LinkedIn scheduling in bulk
Content Studio
SocialPilot
Three extra tools for automating other aspects of your content strategy
Lempod
Expandi
Phantombuster
I promise you will find at least one exciting tool that could help you save time and boost effectiveness.
And don't forget to check the BONUS LinkedIn tools at the end of the post!
Let's begin!
What the Ideal Scheduling Tool Should Offer
Before deciding on a tool based on the features it offers, it's important to define the most critical aspects it MUST have for it to be a great tool.
A Safe Tool Is a Great Tool
Your scheduling tool might have a bunch of features, but if it's unsafe, then all your LinkedIn efforts can be penalized.
For that reason, this specific tool needs to keep track of all social media changes and updates, so it doesn't become unsafe.
It Should Be Intuitive and Simple
Using a scheduling tool only works if the tool you're using is easy and inherently intuitive to use, making your task easier than it was previously.
See if there is a free or demo version and test all the features you need, to see if it's easy to apply your actions.
Adequate Support
With LinkedIn scheduling tools, it's essential always to have support you can count on when you experience issues using the tool.
LinkedIn's Stance on scheduling tools
When it's up to LinkedIn scheduling tools, it's important to use the safe ones. According to LinkedIn's rules, a user who uses any third-party automation tool that violate the User Agreement in any way risks their account getting restricted or shut down.
Every irregular action and attempt to manipulate the algorithm can quickly get you into trouble, so be careful.
Free Options
There are many tools with similar offerings, but with limited features when it comes to free LinkedIn scheduling options.
Other scheduling tools promise to solve the same problem but offer minimal functionality compared to the paid alternatives.
It's good to try everything out and see what the best fit for you is, so you can later switch to the paid version if needed.
Hootsuite – Easily Manage Your Social Media Posts
Hootsuite is a social media management tool that helps you schedule posts on LinkedIn and other social media profiles, monitor your posts, and view their analytics.
You can use it to schedule and publish posts to LinkedIn accounts, company pages, and other social networks.
Managing your LinkedIn posts is also made easy with the Hootsuite dashboard, which displays your social data in columns.
Within the dashboard, you can also view your posts and comments.
One way to automate your posts using Hootsuite is via RSS. You can automatically publish the latest posts using Hootsuite from any RSS feed you specify on your social media accounts.
Pricing
Hootsuite offers a free plan that you can use, but, of course, with limited options. Here's how the free and the paid package differ:
Paid plans start at $19 per month, and you can choose which one of the four plans suits your needs better:
Socialoomph – LinkedIn Posting In Bulk
Socialoomph is a social post scheduling tool that allows you to schedule LinkedIn posts and upload updates in bulk, post queues, RSS feeds for automation, and many team features.
It is easy to use, and it also has a feature that makes the posts "self-destruct" after a certain date, so your social content can always stay fresh and up to date.
Another great asset of this LinkedIn scheduling tool is that its free version allows you an unlimited number of scheduled posts, which is great for content creator newbies.
Its design isn't amazing, but its functionality and usefulness compensate for that.
Pricing
Socialoomph has a free plan and paid plans that start at $15 per month, and here's the full price list:
Paid Options
While free plans can help you get to know the platform and its features, a free version sometimes isn't enough for better results.
I will show you two paid options with great features that can help you manage your content publishing on a scale.
ContentStudio
ContentStudio is a social media management platform that helps marketers discover content, publish posts, and track them.
It features recipes, a highly customizable set of automated features for publishing on your LinkedIn account, and other social networks.
These recipes can be used for publishing posts from specific RSS feeds automatically and with specific content that gets published to your social networks using targeted filters.
It's great for a large number of scheduled posts, but it has a limit of 20 posts an hour.
Pricing
With ContentStudio you get a 2-month discount with a 14-day free trial, and the plans start at $49 per month. Here's the list of pricing plans with the number of accounts:
All of the plans include an unlimited number of posts, which is excellent no matter your needs.
SocialPilot
SocialPilot is a tool that enables you to schedule LinkedIn posts, publish them, and track progress through comprehensive analytics reports.
This Linkedin publishing tool gives you the flexibility to upload images or even select them using the URL of the page that you are posting from.
Using it allows you to schedule up to 500 LinkedIn posts in advance to make sure that you never miss posting when your audience is most active.
Its analytics feature lets you know what kind of content works best for your audience and double down on it for maximum impact on Linkedin.
Pricing
SocialPilot paid plans start at $25.50 per month, and that includes 25 social media accounts.
Here's the full pricing list and the features you get with each plan:
Automate Other Aspects of Your LinkedIn Content Strategy
Linkedin post scheduling tools are super awesome, but what if you want to automate other processes? The goal is always to automate as many aspects of your business as possible, from creating and publishing content to closing sales.
Lempod – LinkedIn Automation Tool for Getting Higher Post Reach
It doesn't matter how great your content on LinkedIn is if no one sees it, right?
When you start posting content on Linkedin, you need to get initial engagement so LinkedIn can classify your content as awesome and start showing it to a larger audience.
Scheduling your posts on LinkedIn can help you automate your process of posting new content on a scale, but no one guarantees you that it will reach a bunch of people that way. Almost no one!
Well, we have good news for you. Lempod guarantees it! 😎
Lempod is a LinkedIn automation tool that helps you increase your LinkedIn post views to reach an audience up to 10 times bigger than previously.
This largest LinkedIn Engagement Pods marketplace helps content creators and businesses automatically support each other's posts with mutual engagement.
As you start generating a larger number of likes and comments, Linkedin will see it as an awesome piece of content and promote it, so even more people see it. The increased reach helps you drive further sales.
This tool can be a great supplement to your LinkedIn scheduling tool, so you can automate the whole process of publishing posts and getting great engagement.
To start getting huge engagement with your posts, all you have to do is:
1. Install the lempod chrome extension
2. Join pods according to your niche, or create your own pod
3. Start adding your LinkedIn posts to get likes and comments from other lempoders
Once you find the relevant LinkedIn pod for yourself, enter the Secret Code and wait until you get accepted.
You just need to post on LinkedIn, add your post to a specific lempod group, and other pod members automatically start engaging with it.
When your post starts being shown to the pod members network; as a result, you can get a reach 10 times bigger than the number of your connections.
I did this many times using lempod, and look at the results I got:
Pricing
The pricing plan is simple – you pay $9.99 per month for each pod. In case you create your own pod to get automatic engagement from your team, it costs $3.99 per month for each member who joins your pod.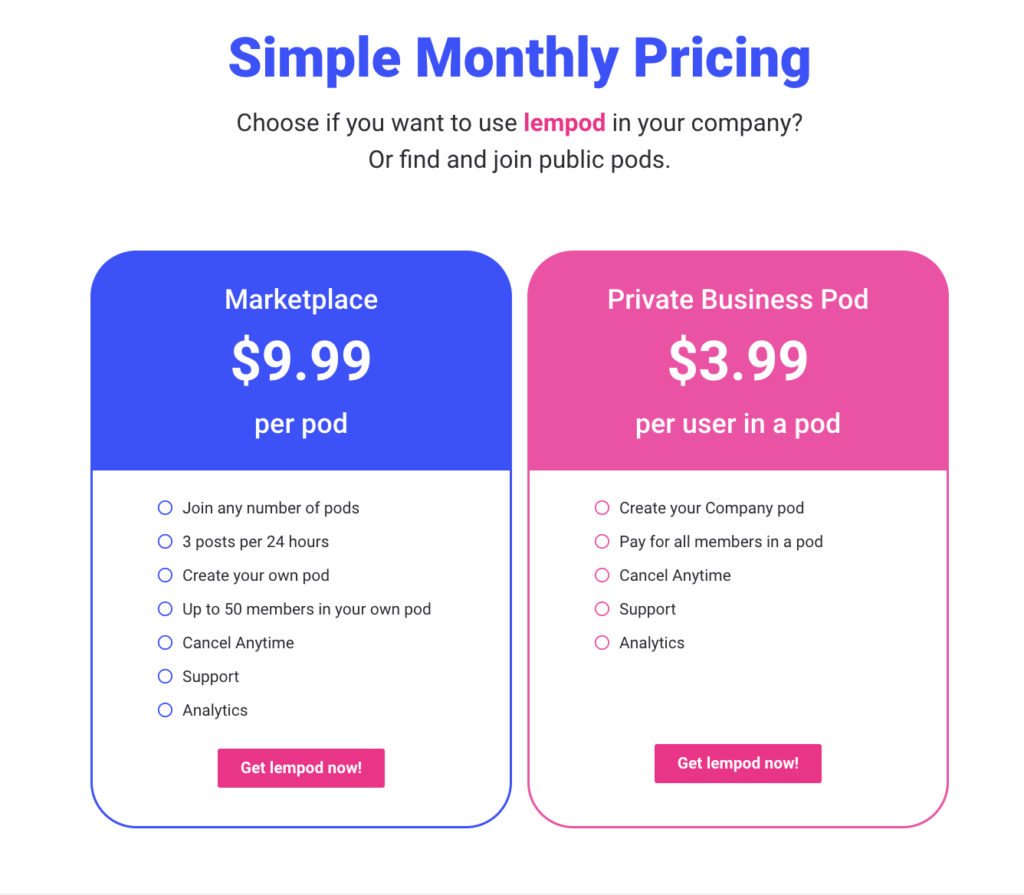 Expandi
Expandi is one of the safest LinkedIn lead generation and outreach tools on the market.
Using Expandi, you can manage your whole LinkedIn inbox and boost customer engagement by ensuring you don't miss a chat conversation.
In addition, with Expandi's dynamic personalization, you can message people based on a custom variable and create sequences for the whole process, from connecting to converting.
By creating sequenced campaigns, you can include logical actions in them and monitor the whole process of outreaching prospects.
Pricing
To see how Expandi works, you can try a demo version, and in case you decide to use it, here is the price of the package:
All of its features are included in a simple plan, so you can only think about how many accounts you need it for.
Phantombuster – LinkedIn Automation Tool for Almost Everything
PhantomBuster is a LinkedIn automation tool that helps you grow your business by automating the various activities for many social media platforms, including LinkedIn.
It is the API marketplace that allows you to choose and run an action that you want to apply for a specific campaign.
The main advantage of this tool is the flexibility and diversity of its features.
There are 28 models of activities that you could include in your Phantombuster campaign on LinkedIn, such as the scraping option, building workflows, and automating many other advanced processes.
Phantombuster's numerous features can save you a lot of time and effort on LinkedIn activities by automating processes.
It takes only a few minutes to scrape huge amounts of data using Phantombuster. After the process is done, you can export that information and use it later.
Pricing
The unlimited and free Phantombuster plan allows you to use only one Phantom for 10 minutes a day, but there are 4 additional packages:
Phantombuster's free plan is good for getting to know the platform's features. But in case you're getting serious about using it, go for a paid version.
Conclusion
I hope these LinkedIn scheduling tools will help you start generating your new leads on autopilot.
No matter which tool you use, safety should be your top priority!
Start using some of these tools and reach thousands of people with the best automation tools to conquer LinkedIn!
BONUS: Join lempod's Engagement Pods with secret codes.
Here are a few awesome pods that are recently created for our newcomers:
SaaS Haven – All things SaaS 🚀 – The secret code is: 6129
Growth Hackers – Worldwide 🌍 – The secret code is: 6031
High-level Marketing Club 👑 – The secret code is: 1042
Startup Factory – Achieve Fast Startup Growth 🚀 – The secret code is: 3348
The HR Mastermind – Everything about Human Resources 🤓 – The secret code is: 4763
To join your first pod, connect with many cool people, and start your boosting your content today:
Download the lempod chrome extension
Create an account
Let lempod boost your content reach 🚀🚀🚀
Once you start using it and see your content dominating LinkedIn, you won't be able to give it up!
P.S Join our Facebook community and get connected with like-minded people!