Last Updated on 22 November 2023 by Lyn Sy
Have you been wondering why other LinkedIn users have their own unique LinkedIn URLs? Not many know this but you can actually have a customized LinkedIn URL so your profile can be easily searched and shared. In this blog, I will show you how to get your personalized LinkedIn URL.
In today's competitive job market, having a professional online presence is vital to your success. With LinkedIn as a key platform for career growth, you need to ensure you are taking every possible way not only to optimize your LinkedIn profile but to actually stand out among the 900 million+ LinkedIn users.
One key aspect often overlooked but significantly impactful is your LinkedIn URL. This guide will walk you through the process of obtaining and customizing it to enhance your professional image.
What is a LinkedIn URL?
Your LinkedIn URL is the unique web address associated with your LinkedIn profile. It's what appears in the browser address bar when someone visits your profile. By default, LinkedIn assigns a URL containing random numbers and letters as shown below. The good news is that it is fully customizable, and personalizing it can greatly benefit your online visibility.

Why Customize Your LinkedIn URL?
Well, why not? A personalized URL not only looks professional but it also helps boost your visibility on search engines. 
Come to think of it, who would not want a URL that's easier to remember, share, and incorporate into resumes, email signatures, or personal websites? I bet you don't even remember your own default LinkedIn URL!
Aside from establishing strong professional branding, a customized URL distinguishes your profile from other LinkedIn users with similar names. 
How to Get Your LinkedIn URL
Finding Your Public Profile and URL
After logging in to your LinkedIn account, navigate to your profile section
Click on the "Me" icon at the top of your LinkedIn homepage.
Select "View profile" from the dropdown menu.
Beside your banner on the right side, locate the pencil icon for "Public profile & URL"
Customizing Your URL Using a Browser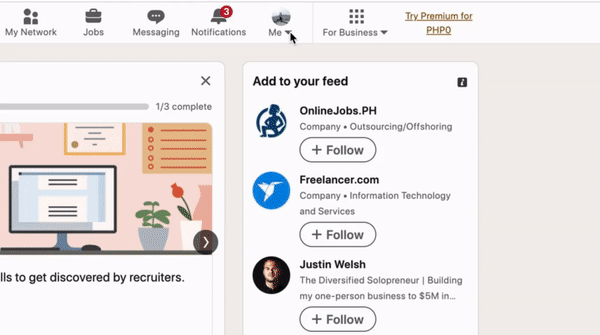 Click on the pencil icon for "Public profile & URL" 
On the next screen that says "Edit your custom URL", click another pencil icon on the right side of your default URL
Enter your desired URL (usually your name or a professional variation of it).
Check the availability of the URL and save your changes.
Customizing Your URL Using the LinkedIn App
On the LinkedIn app, click View Profile under your profile picture
Click on the pencil icon below your LinkedIn banner
Scroll down to the very end until you see "Contact Info"
Click on "Edit contact info"
On the next page, click the arrow next to the default URL
Another screen will open, click the pencil icon again next to your default URL (I know this step is quite repetitive but what can we do 🤷‍♀️)
Enter your desired URL then save
Implementing Customized LinkedIn URL
Share your customized URL across professional platforms.
Include it in your resume, email signatures, business cards, and your other social media profile pages.
Consider These Tips When Customizing Your LinkedIn URL
Each LinkedIn profile has a unique URL. Sometimes, your preferred URL might already be taken, and LinkedIn won't allow duplicates. In such cases, select a URL that closely resembles your name.
Optimize your customized URL by using your full name or a professional variation. 
Avoid using numbers, random characters, or symbols as they can confuse those searching for you. 
Keep your LinkedIn URL concise. Instead of incorporating middle names, you can add your job or industry.