Last Updated on 25 August 2023 by Lempod
For your LinkedIn profile to stand out among the growing users of LinkedIn, you need to use a LinkedIn Chrome extension. After all, LinkedIn is one of today's top marketing and sales tools.
You will find hundreds of LinkedIn tools that can help you boost your LinkedIn presence.
In this blog, I will show you the Top 7 LinkedIn Chrome extensions you must try. I will also include detailed use cases on how to use them.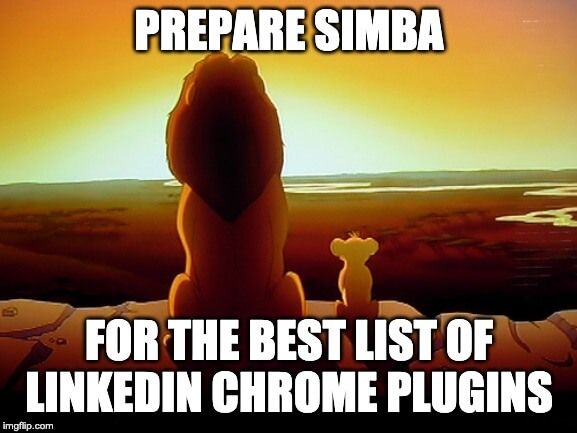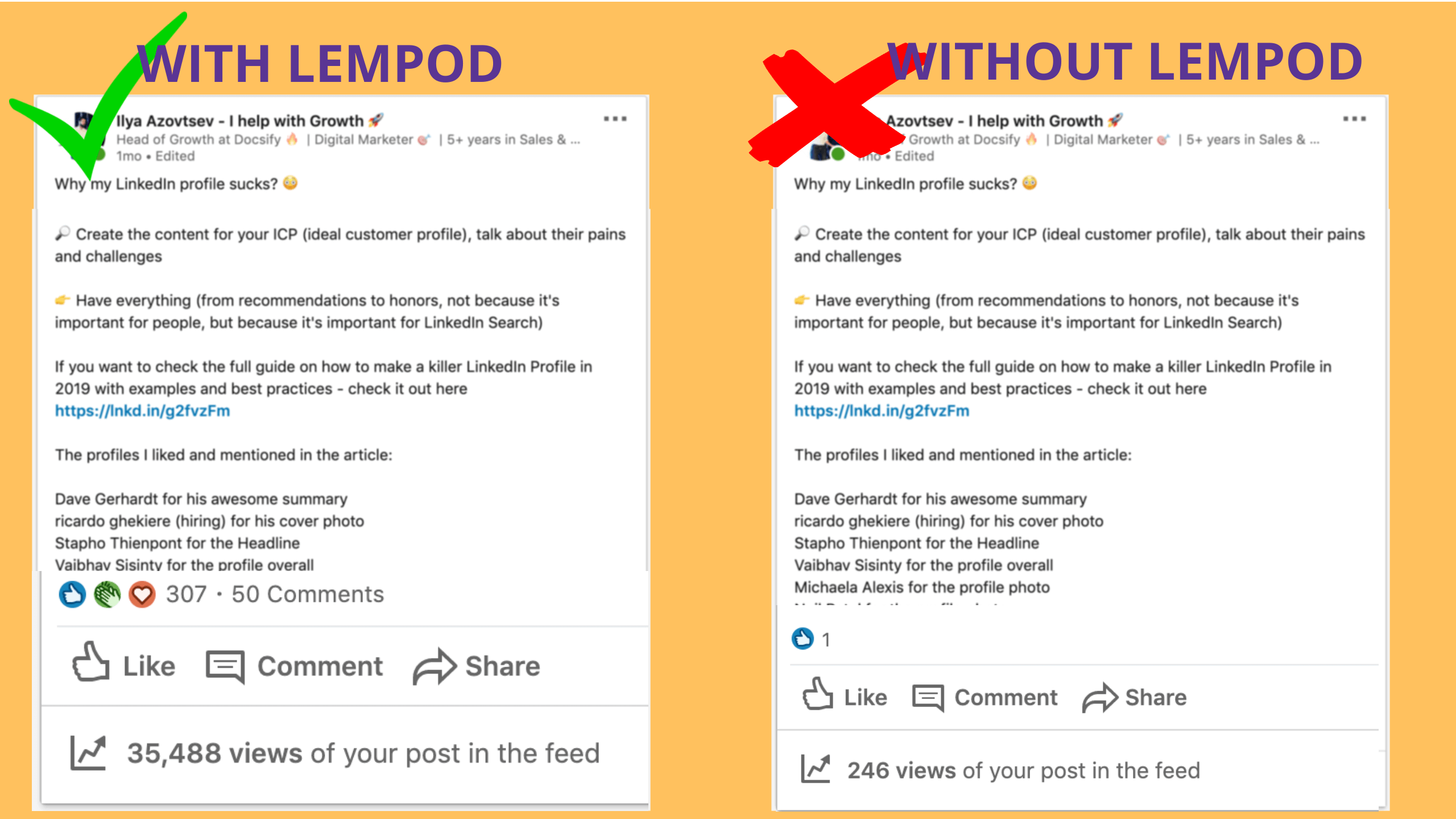 What is Lempod for?
lempod helps you boost your LinkedIn post views by 10X so you can reach a much bigger audience with your content.
How does Lempod work?
lempod is the biggest marketplace of LinkedIn Engagement Pods where other LinkedIn content makers automatically support each other with mutual engagement. When you get hundreds of likes and comments from your pod, LinkedIn will evaluate your content. With the impressively high engagement of your content, LinkedIn will tag it as awesome and boost it to a bigger audience.
How to use it?
If you have ever tried posting on LinkedIn, you know how tough it is to get a lot of post views.
I'm not even referring to sales or leads. It almost looks impossible.
I was that person who thought like this until one day.
The day when I reached 30K views with my content and got a lot of traffic. And not just traffic but real leads.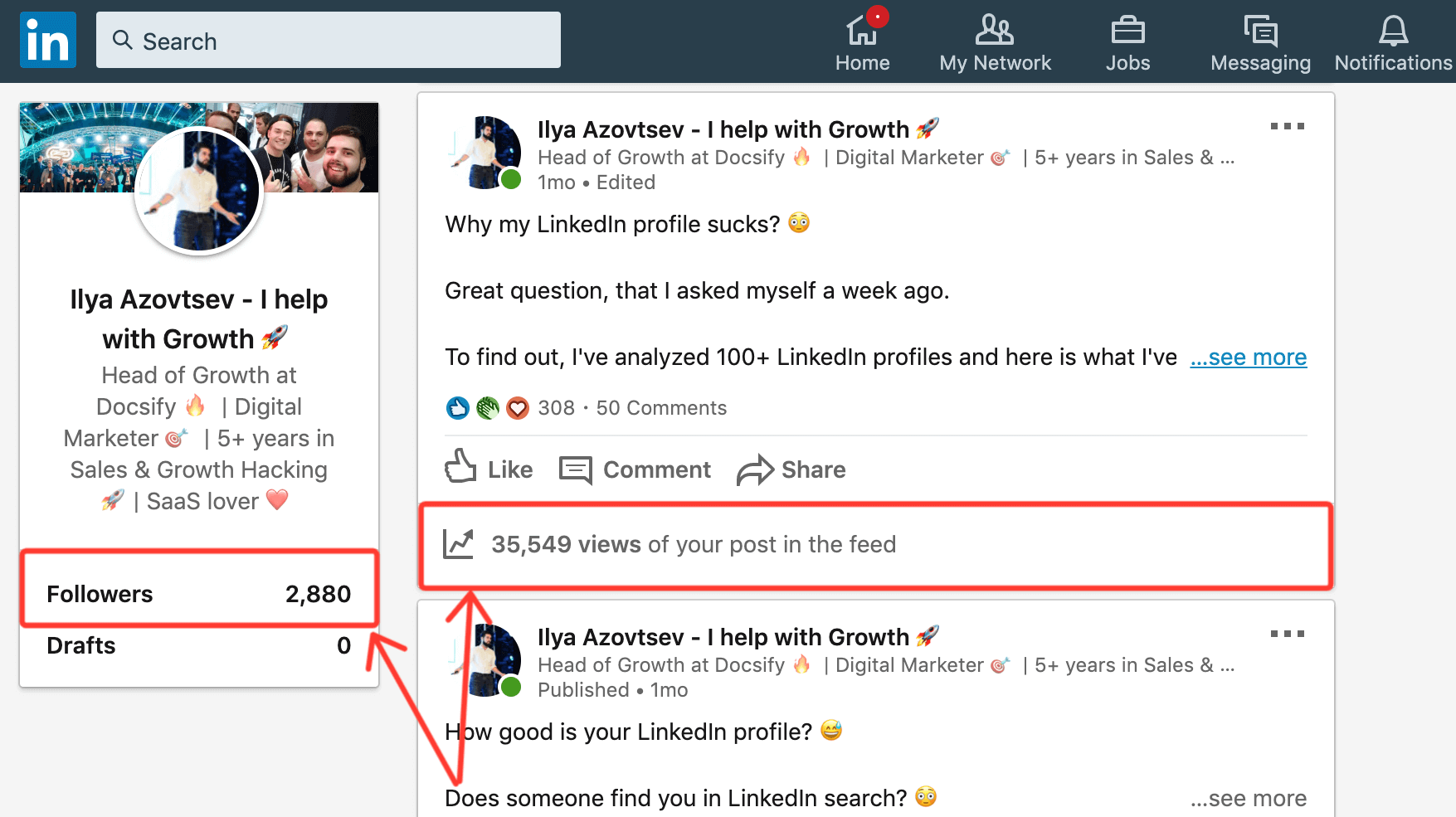 Of course, it doesn't look like "OMG HOW MANY VIEWS". But for the account with 3K connections, it is still a huge result.
After that time, I dived deeper into the LinkedIn content creation game. And from my experience, you should follow 2 points to get a lot of views on LinkedIn:
1) Create great content
Let's be honest here. There is no tool that will make magic and boost your LinkedIn content if you're posting low-quality content. So try to focus on providing value first and being not too salesy.
2) Get initial engagement
It doesn't matter how good your content is if no one sees it.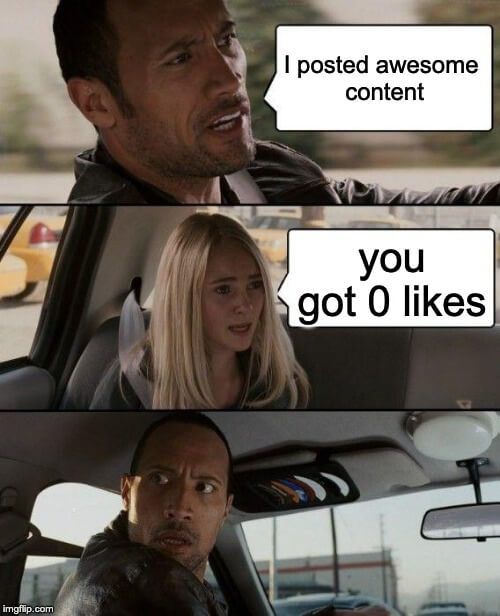 When you just start creating LinkedIn content, you need to get initial engagement such as likes and comments. This way, LinkedIn can know that this content is awesome, and start showing it to a bigger audience.
Lempod does it.
You post on LinkedIn, add it to lempod and the other lempoders will automatically engage with it. After that, your post starts showing to their network. As a result, you can have a reach that is 10x more than the number of your connections.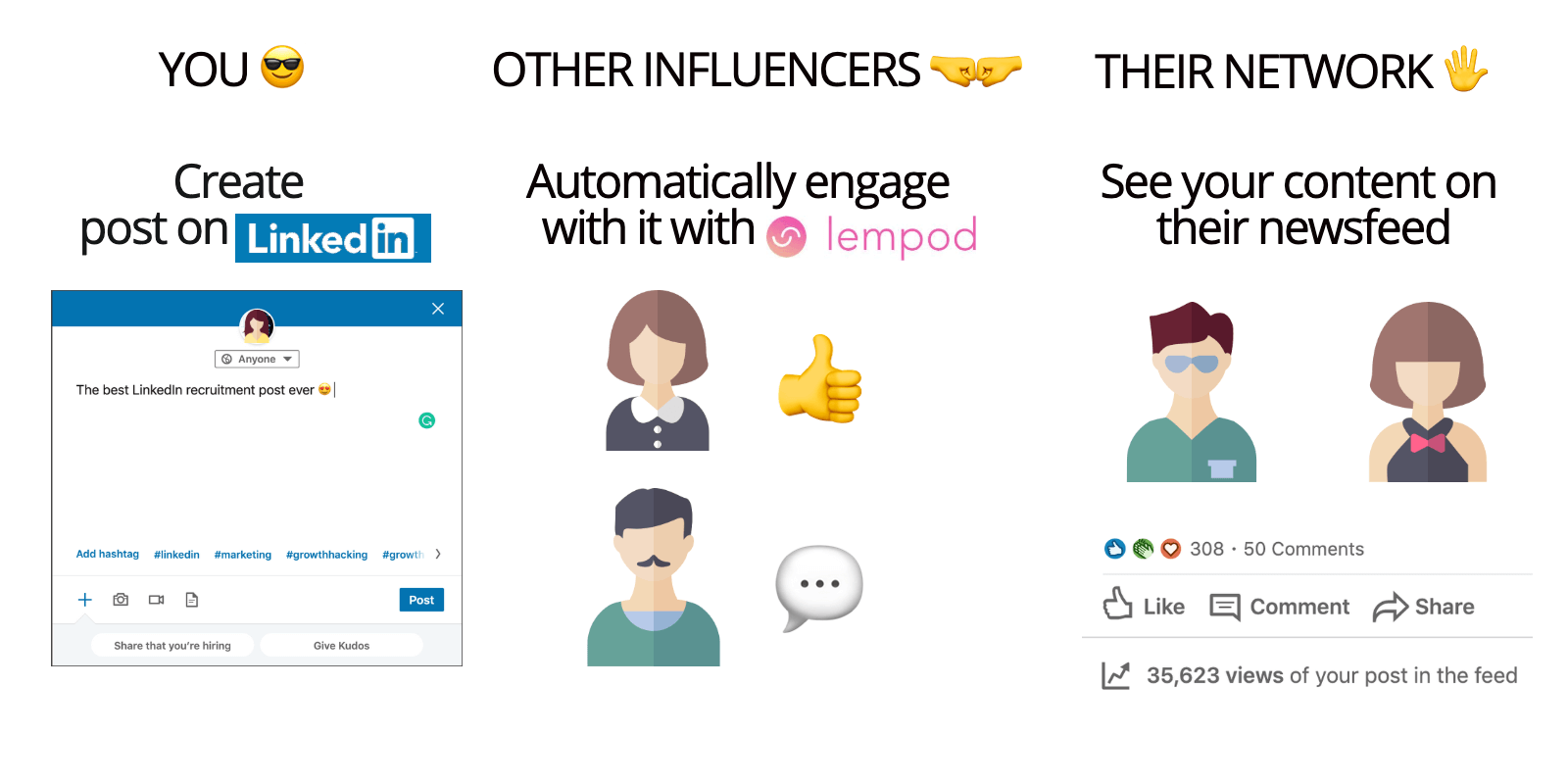 To start getting results you just need to:
1. Install lempod linkedin chrome extension
2. Join relevant pods or create your own pod
3. Start adding your LinkedIn posts to lempod to get likes and comments from other lempoders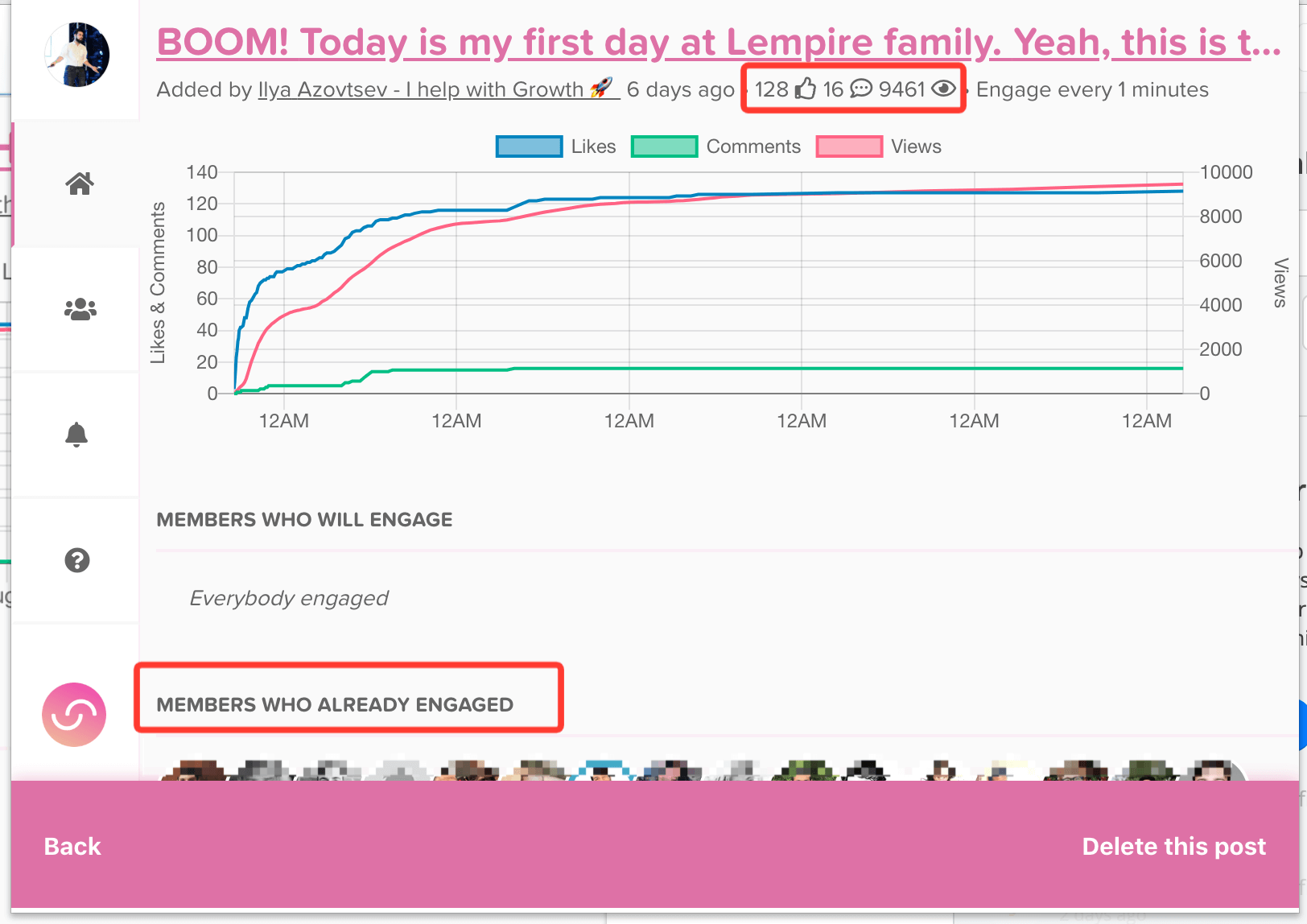 By the way, I've personally created my own pods here and you're welcome to join them:
SaaS Haven – All things SaaS 🚀 – The secret code is: 6129
Growth Hackers – Worldwide 🌍 – The secret code is: 6031
High-level Marketing Club 👑 – The secret code is: 1042
Startup Factory – Achieve Fast Startup Growth 🚀 – The secret code is: 3348

The HR Mastermind – Everything about Human Resources 🤓 – The secret code is: 4763
Here is how to join a pod with secret codes: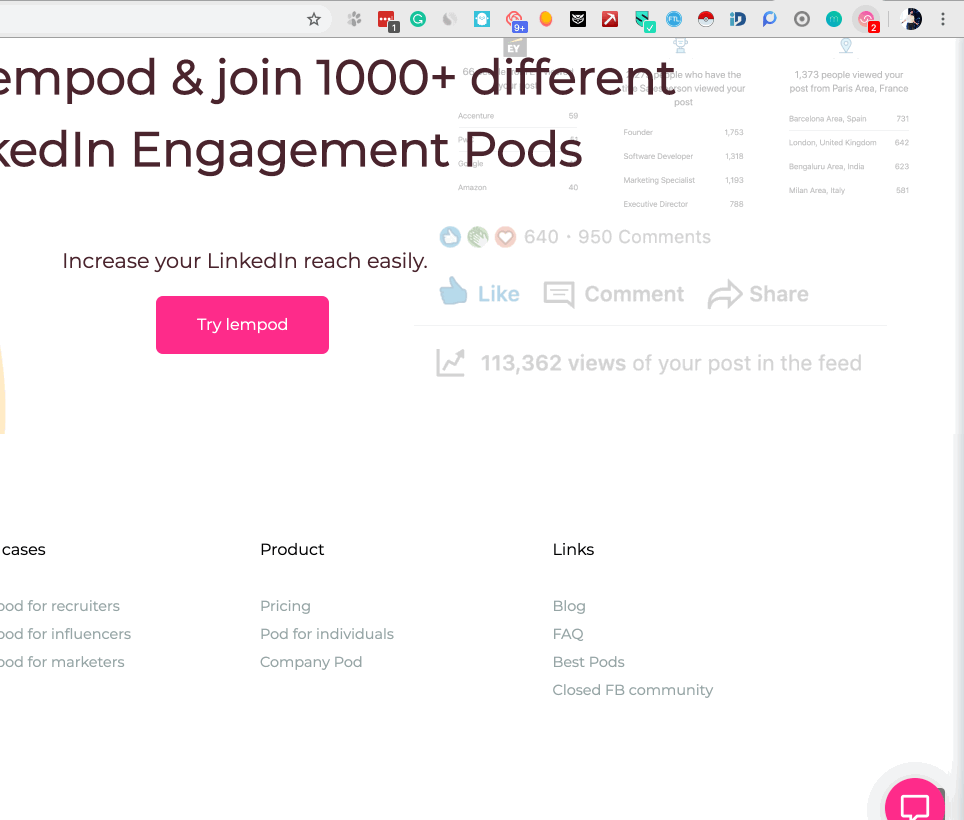 Pricing
The price is simple – you pay $9.99 per month for each pod you join. Or if you're creating the company pod to get automatic engagement from your team it'll be $3.99 per month for every colleague who joined your pod.
2. Shield Analytics
What is it for?
Shield Analytics is a LinkedIn marketing tool that lets you track the results of your content. This allows you to easily see what posts worked better and compare them to previous ones.
How does this work?
Shield gathers all stats from your LinkedIn profile and shows you the insights in a user-friendly dashboard.
How to use it?
These are just a few ways to understand how good are your LinkedIn posts:
Built-in LinkedIn analytics
There is a built-in LinkedIn Analytics tool however, it disappears after a few months. So you can't compare your new post results to posts that you created 6 months ago.
Shied Analytics shows you almost everything that you need to know about your LinkedIn content and your LinkedIn profile.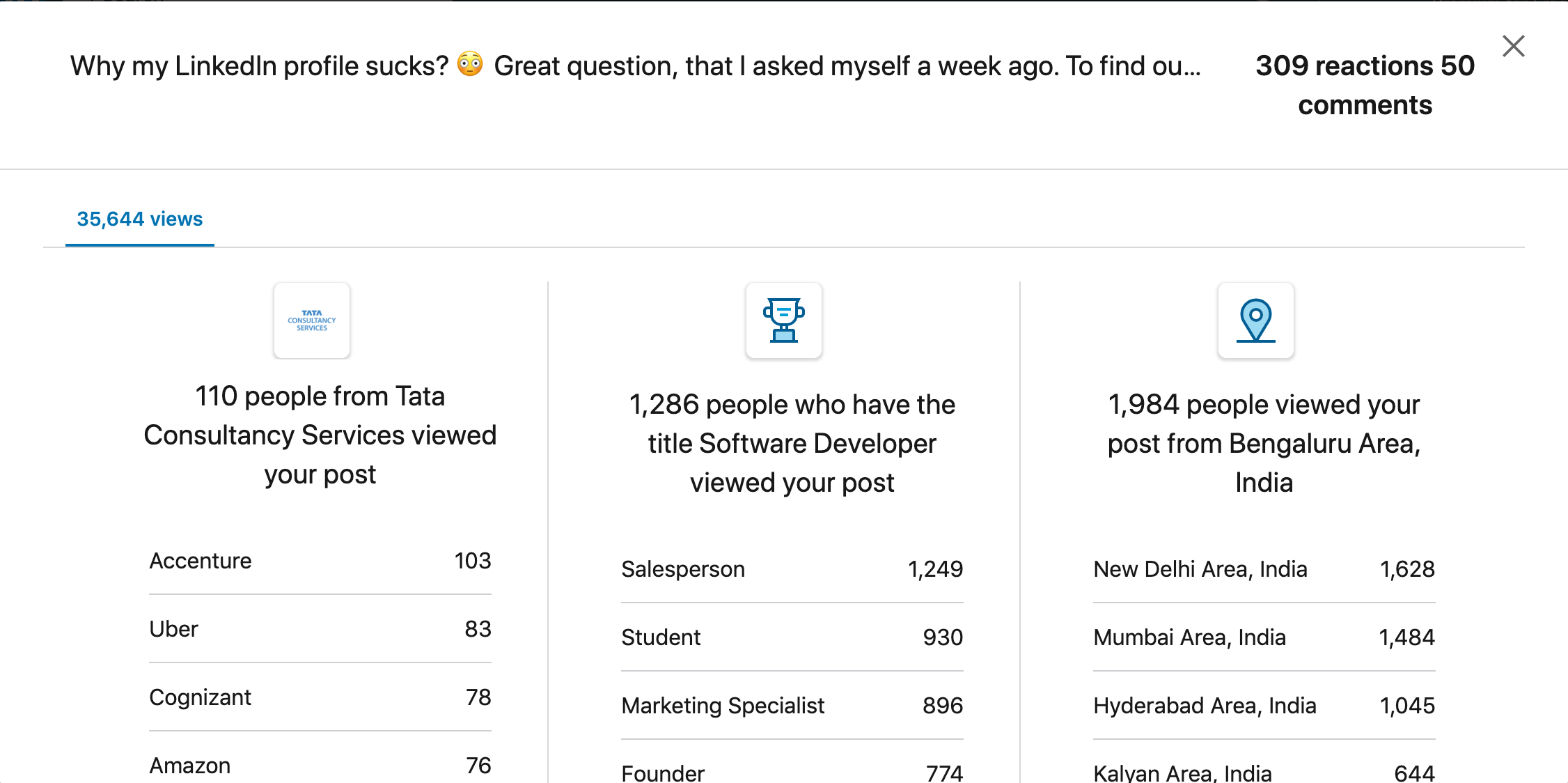 The best use case for Shield Analytics (for me) is to see the dynamics of how you get views on LinkedIn posts.
For example, you can see stats not only on 1 post, but overall for the month:

his helped me understand what posts worked well and what didn't. So based on this analytics, I found out that:
Comments are much more valuable than "Likes"
I found out that comments actually make more sense on whether LinkedIn will boost your post or not. Thus, I started creating a lot of customized comments on lempod.
When I create the post, I add the link to lempod. Then, I create a few dozen relevant comments that the other lempoders will automatically leave on my content.
And this is one of the hacks that helped me reach 100K views with the help of LinkedIn marketing tools.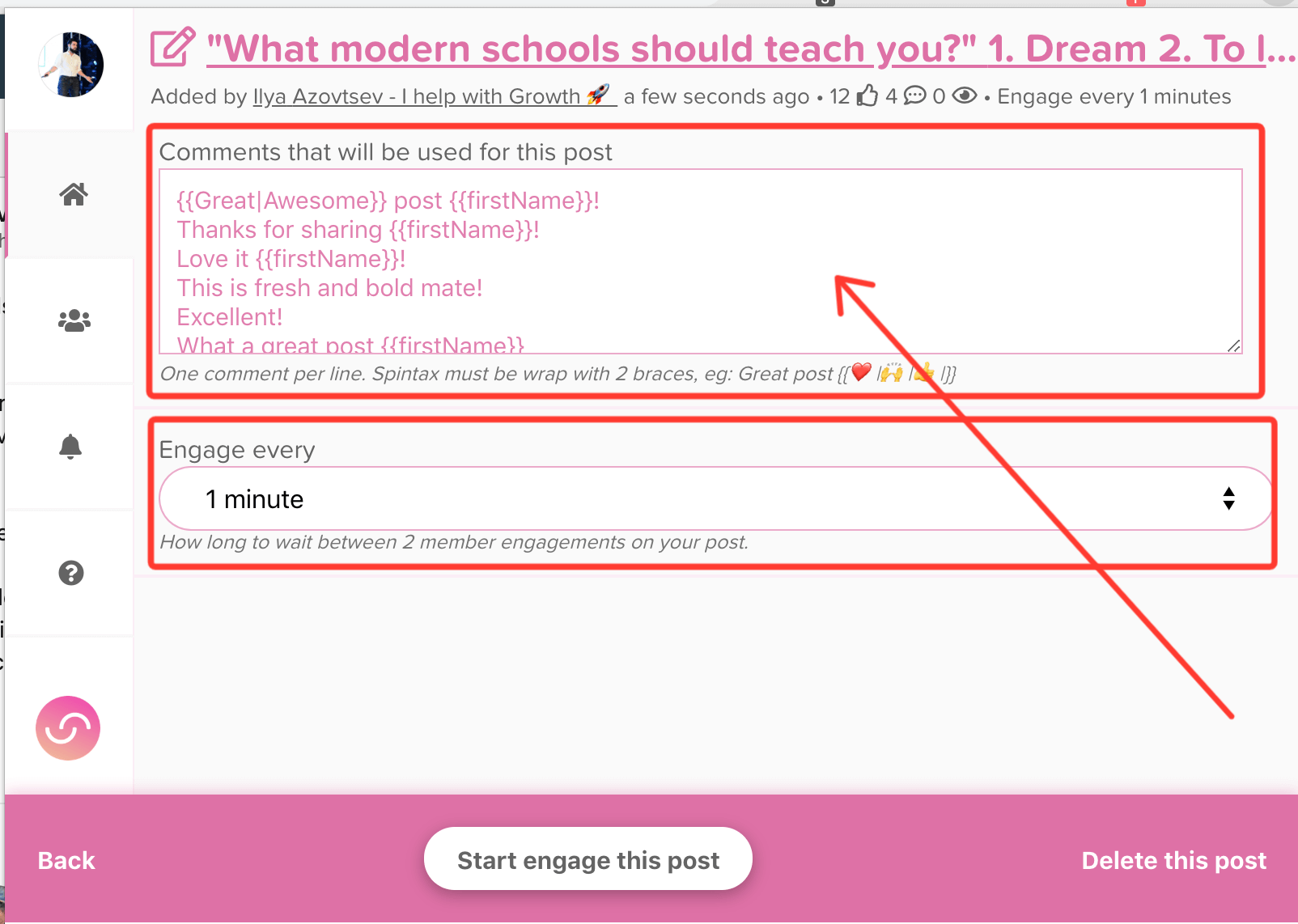 Pricing
Shield Analytics monthly subscription starts at $8/month.
3. Crystal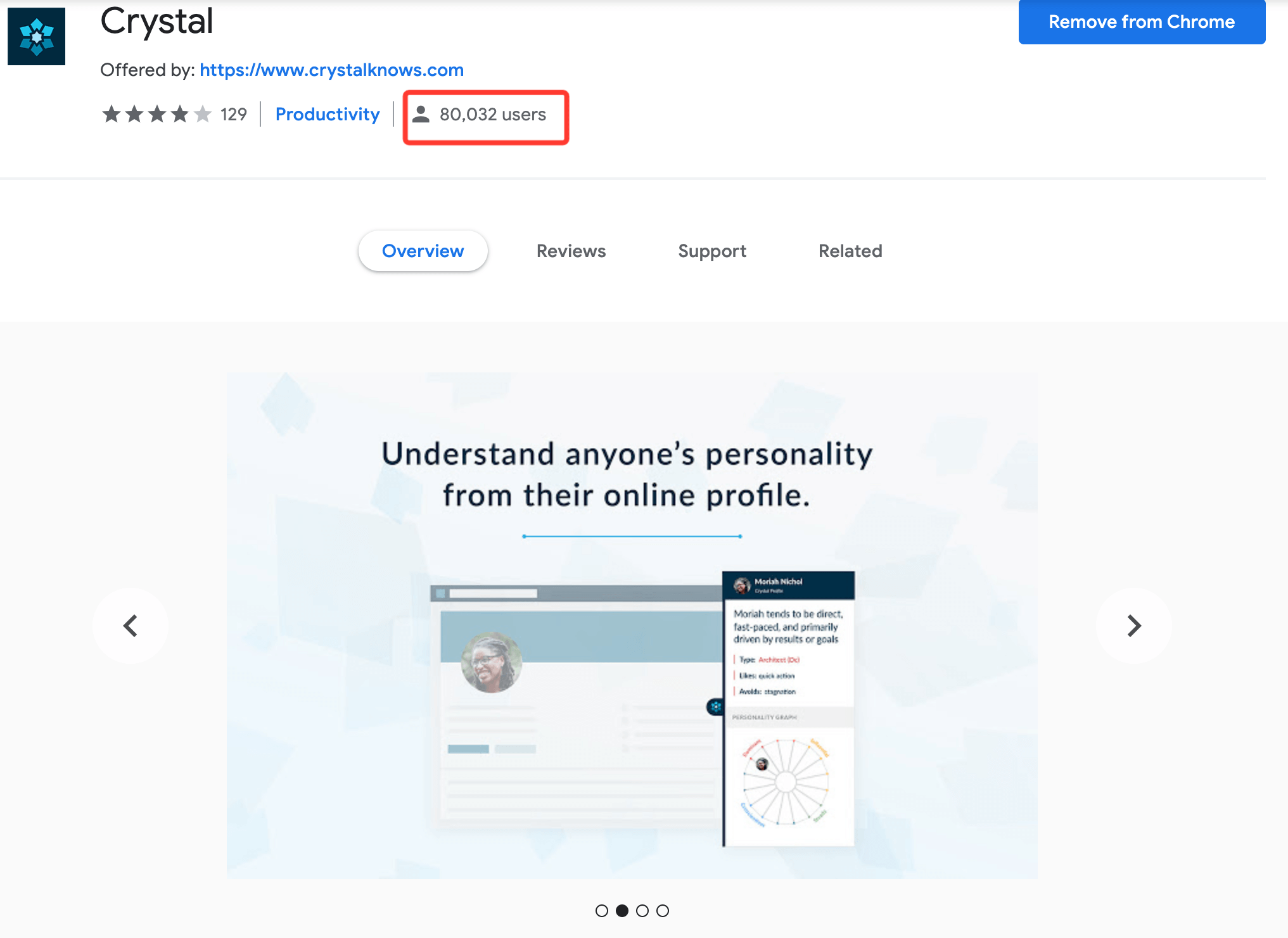 What is it for?
Crystal Knows is one of the coolest LinkedIn Chrome extensions you must try. It analyzes the personality of your potential clients and partners, so you can easily adapt your message according to your prospect's behavioral traits and preferences.
How does this work?
I had the same question.
How do they really understand the personality? 🧐
Here is their answer:
"Crystal uses Personality AI to accurately identify anyone's behavioral patterns by analyzing text samples, assessment responses, and other attributes.
It then uses that information to facilitate more effective communication, stronger one-on-one relationships, and better decision-making."
How to use it?
If you've ever had negotiations with super important (even S-U-P-E-R) partners, investors or clients – you know that all details matter 😬
You might be nervous even about small things: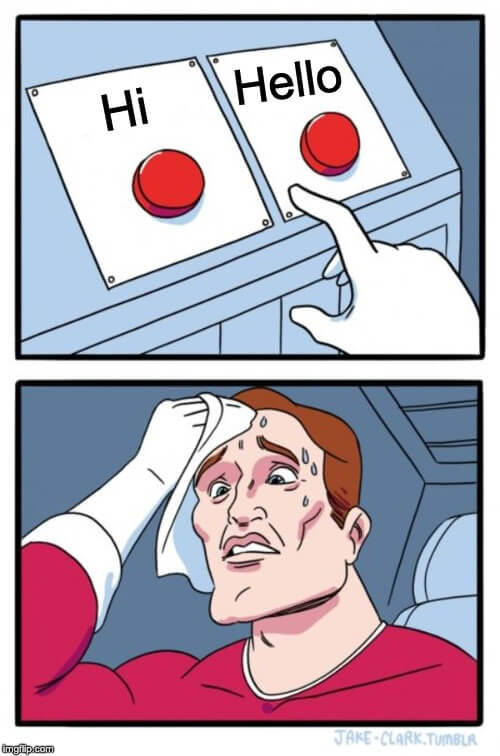 And I totally understand you, you need to make a good first impression.
It can cost you millions of $ 😱
And if you're well prepared for such a conversation, your chances grow dramatically.
This is what exactly Crystal does:
You install the Linkedin Chrome extension
Sign up
And now you have a "Crystal button" and by clicking on it, you'll be able to know the personality of a lead, partner, or investor.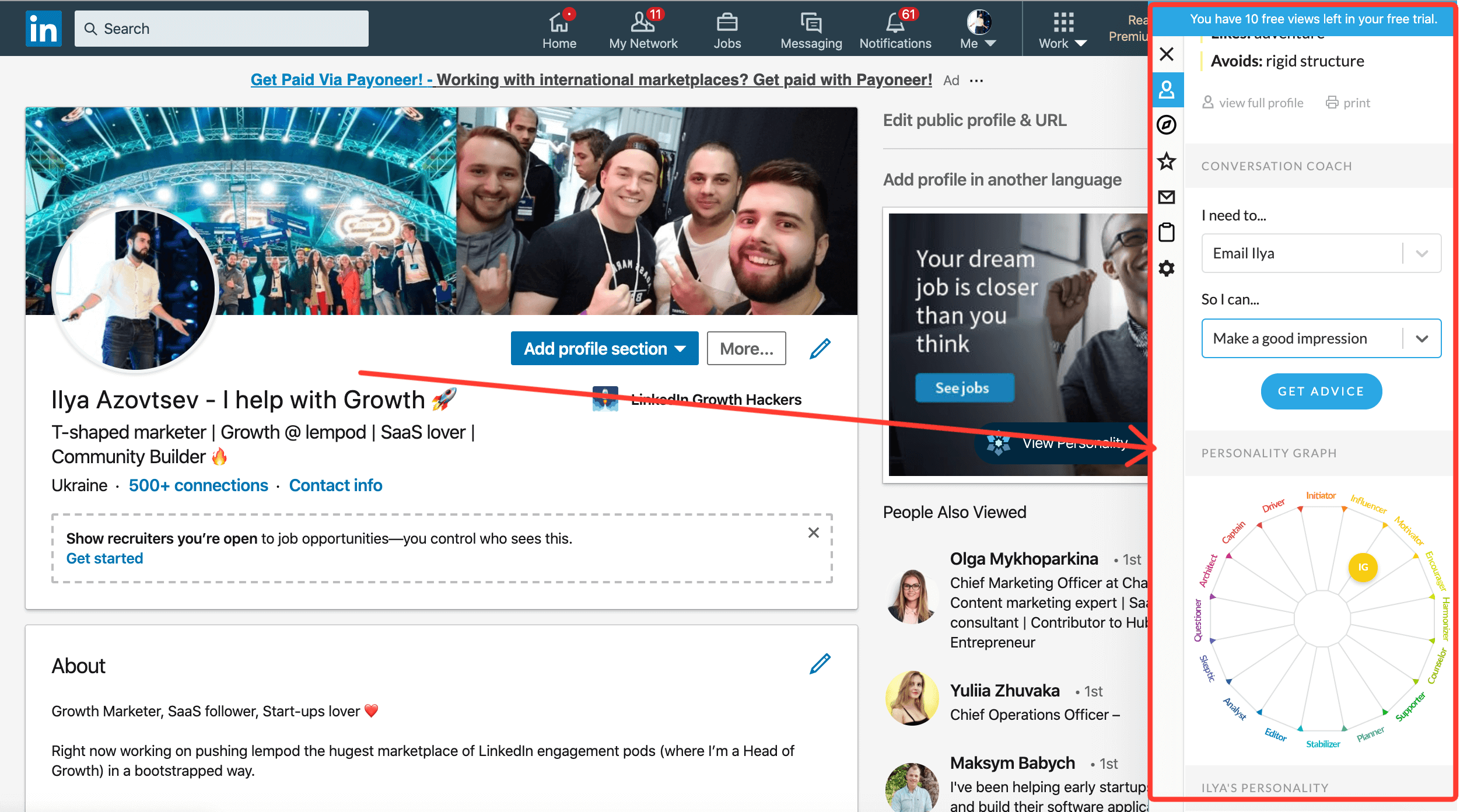 You can say:
"Ok, but how exactly it should help me?!"
Great question, and what if I say to you:
Crystal recommends what words to use to make a great first impression, or schedule a meeting or negotiate.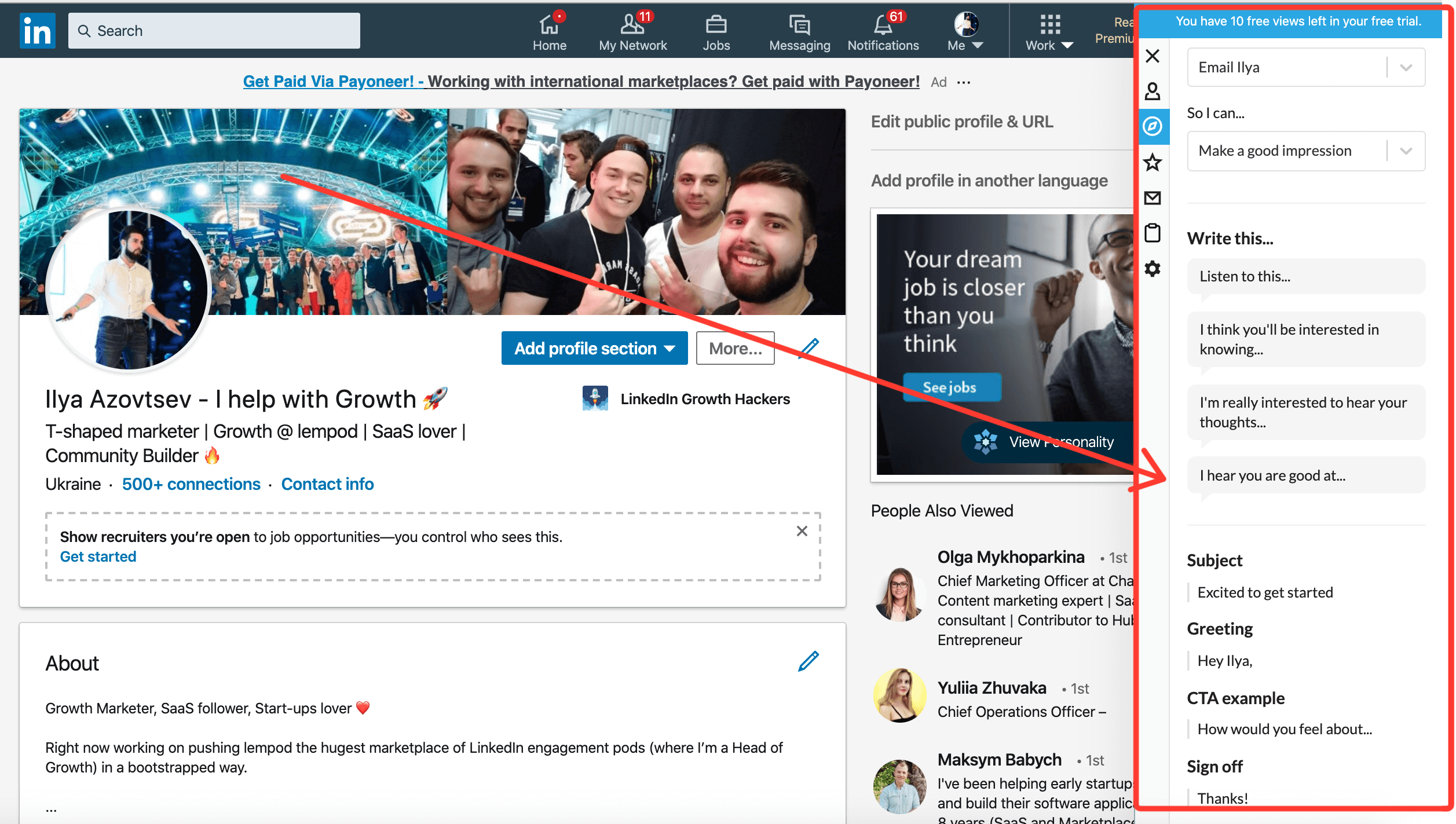 Pricing
I use Crystal only in super important conversations, so free plan (10 profiles/ month) is totally enough for me.
But if you want to unlock all premium features, you'll need to pay $29/month.

4. Loom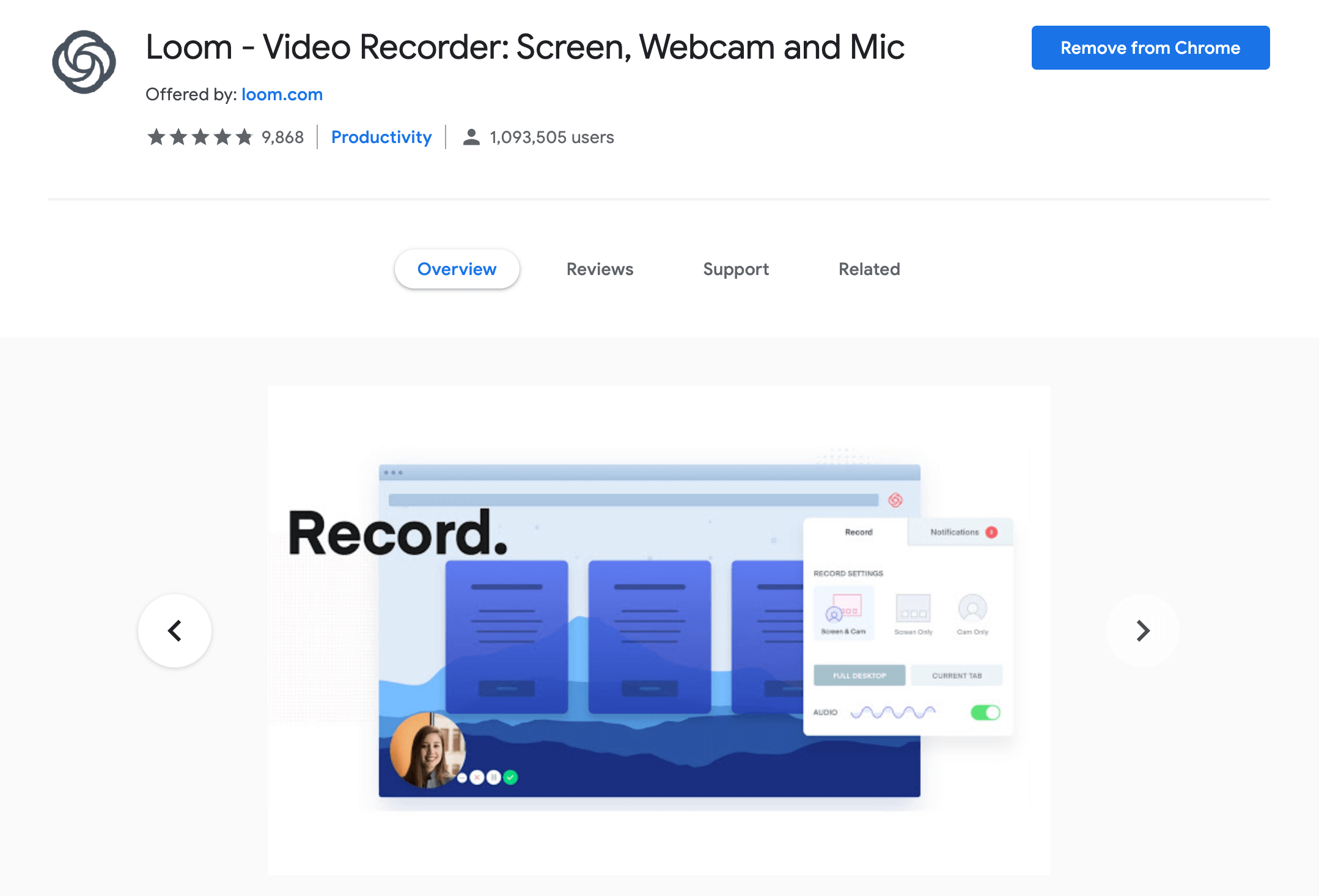 What is it for?
Loom is a great plugin for your Chrome that lets you record simple videos easily. You don't have to write lengthy text, now you can just record a quick 30-second video and share it with a simple link.
How does this work?
It's super easy:
Install Loom Chrome extension.
Click on the "loom icon" when you want to record a video.
Choose what you want to record (your screen, your face, or both).
Click "start" and that's it!
How to use it?
There are 2 cases in which I use loom:
I need to create video content for my posts;
I need to send a private message to leads or partners.
So let's start with the first case:
Create a video
You can't share the link to the video, since LinkedIn will cut the reach of this post. It's better to download the video on your PC or Mac and then upload it to LinkedIn, so it'll look like this: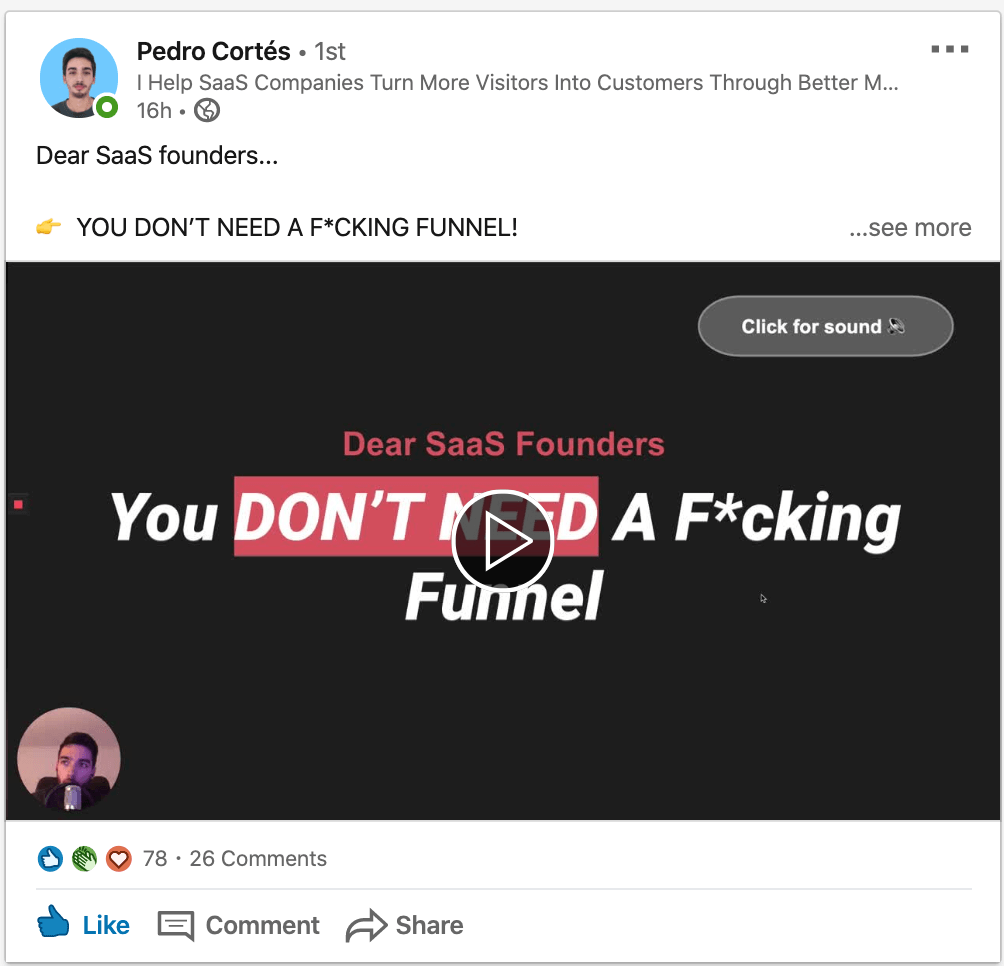 In order to do that:
Go to loom.com/my-videos and click on the "Download button".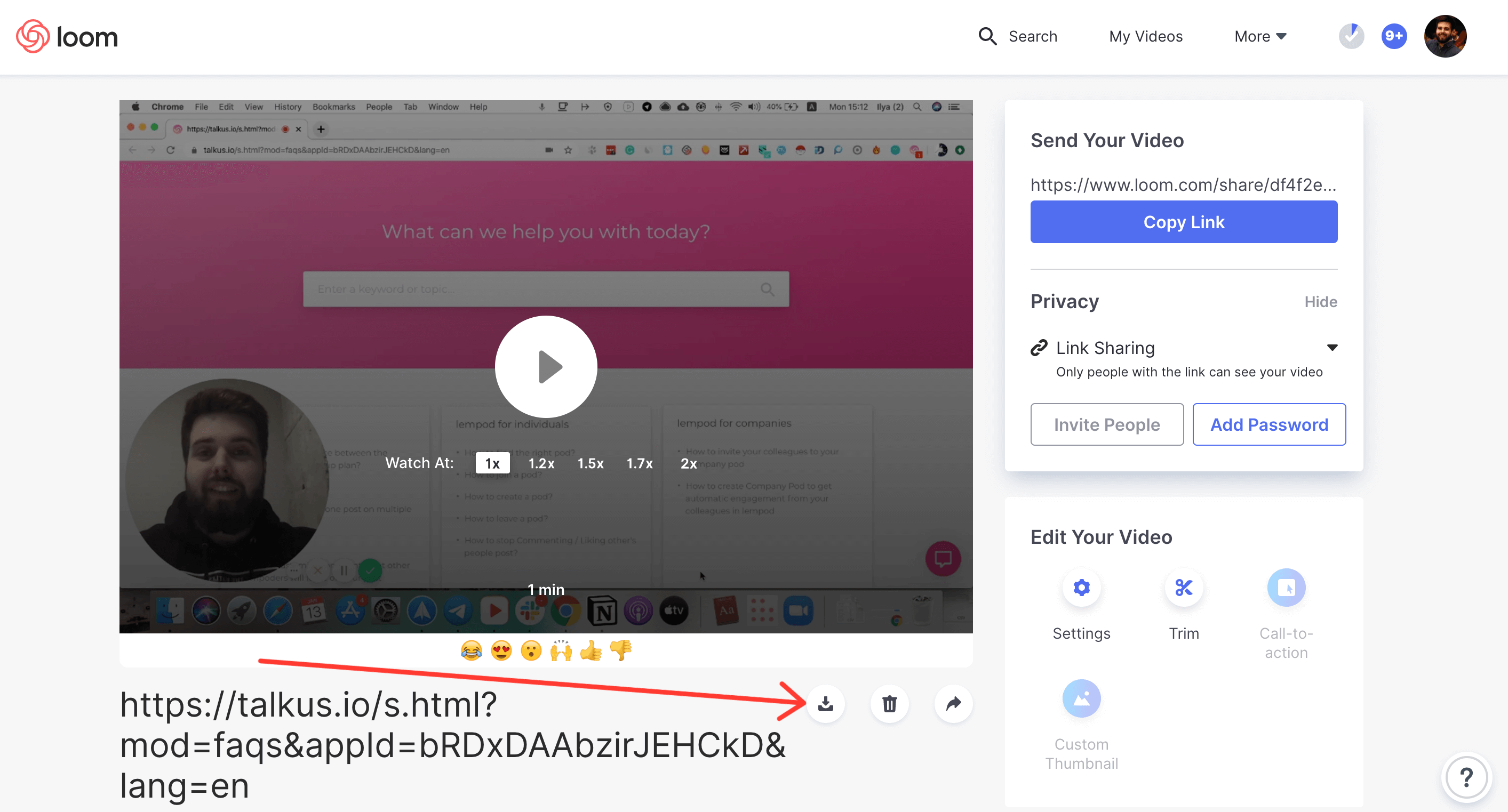 Add a video to a LinkedIn post

When it comes to the 1-on-1 conversations, I'd recommend you share just a link to the video.
It'll show the preview + the name of the video, and every person will understand that it's 100% personalized and was recorded for them specifically.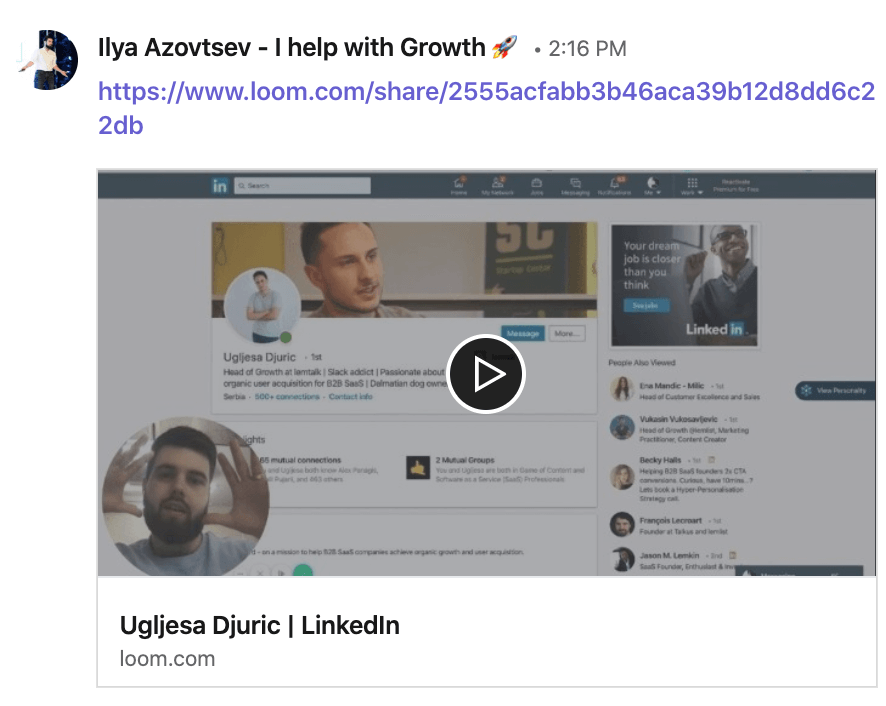 Pricing
I also use Loom for free, since it's enough for me + I'm an early adopter, so I have an opportunity to create tons of videos for free.
But if you feel that you want to buy the business version, it'll cost you $8/month.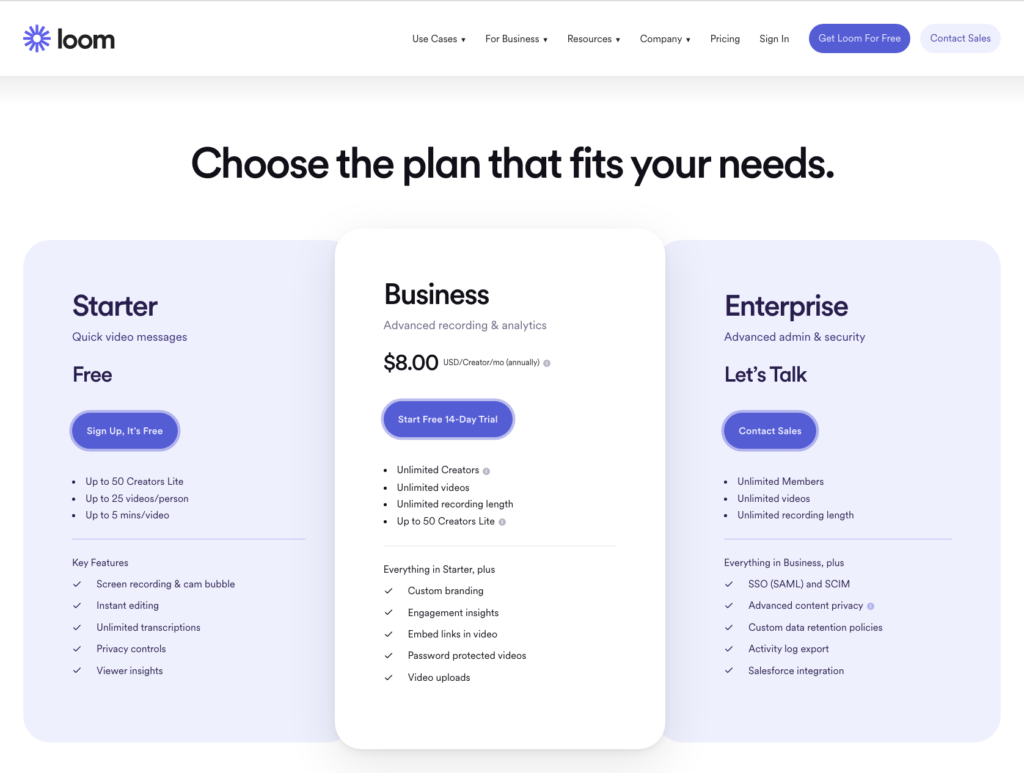 5. Polls for LinkedIn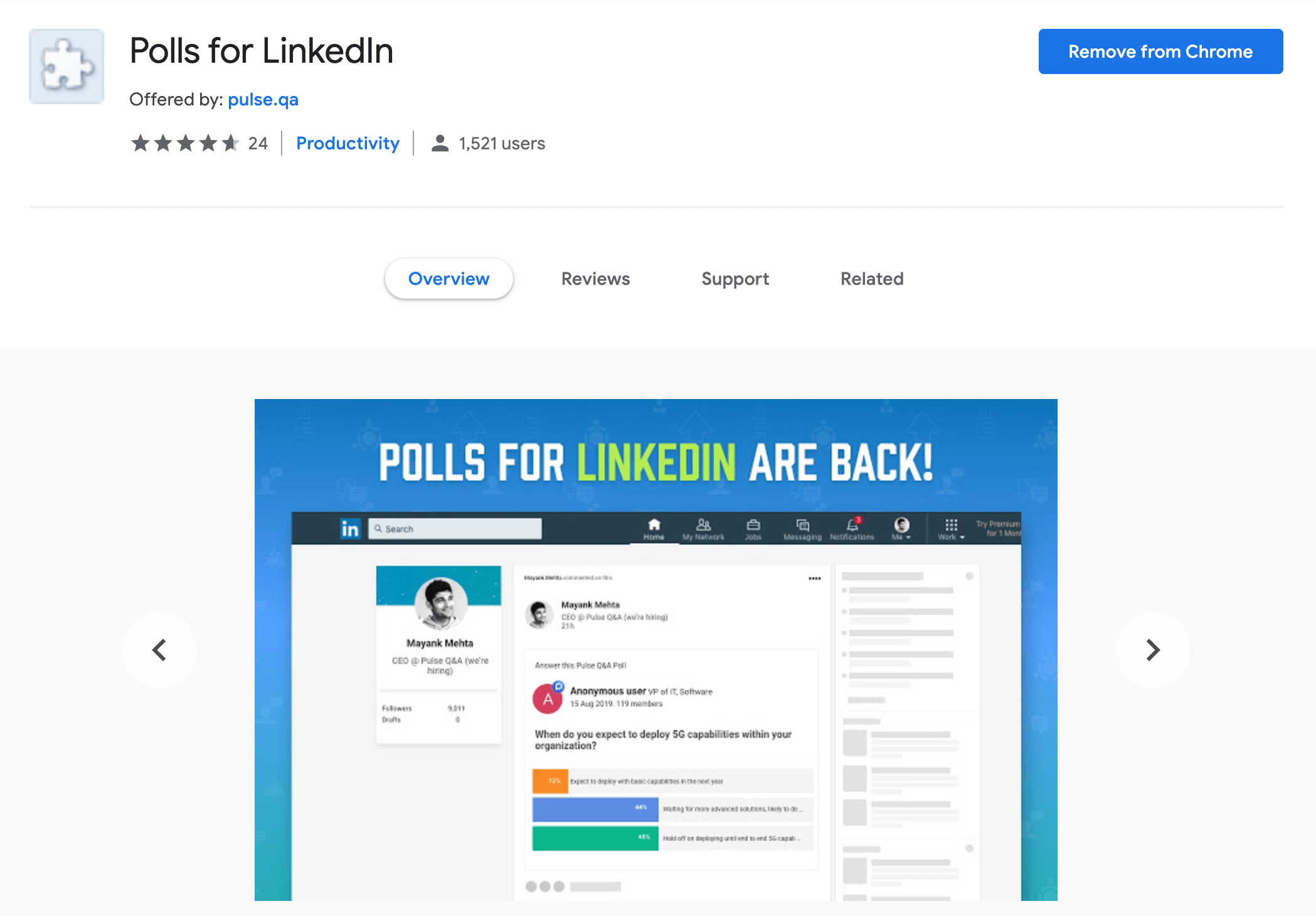 What is it for?
It's super simple. "Polls for LinkedIn" helps you create polls for LinkedIn 😱
Whenever you want to ask your audience about something, you can create a simple and easy-to-use poll.
How does this work?
Install the Linkedin Chrome extension
"Create a poll" button appears
You click on it and you now have an ability to make a poll (the same as on Facebook or Twitter)
How to use it?
As I said above, it's a super simple tool, you just create a poll:

Prepare questions and answers people can use: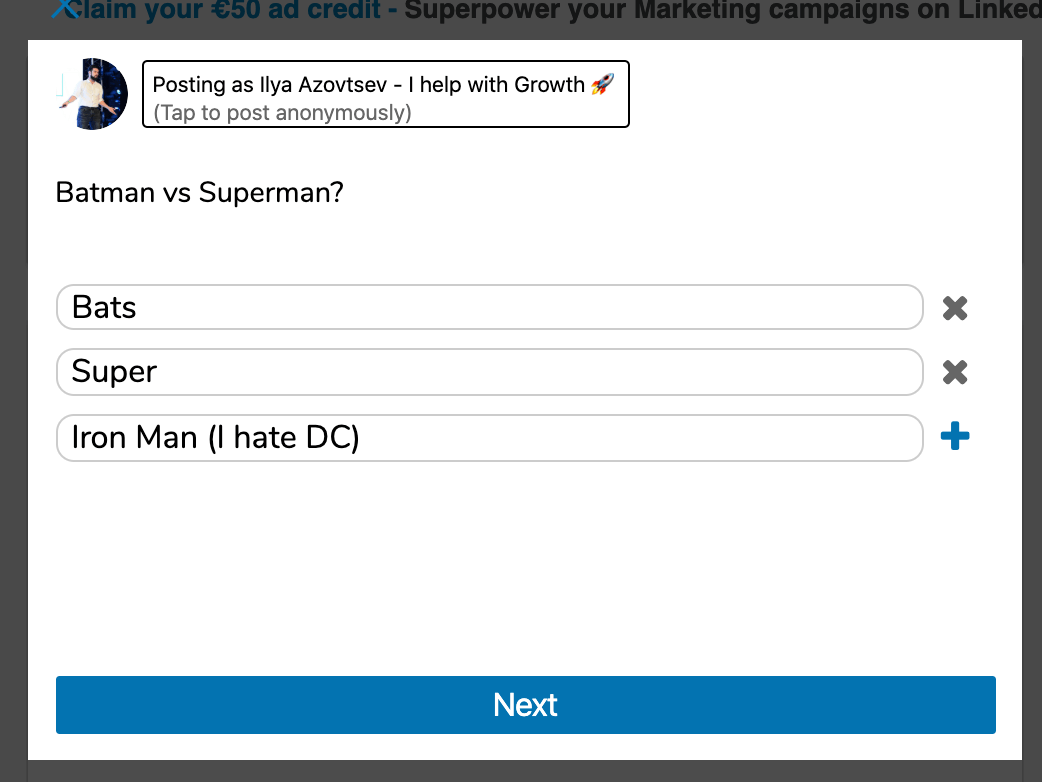 Click on the "Next" button, and that's it.
Now people can go through the link and answer the poll.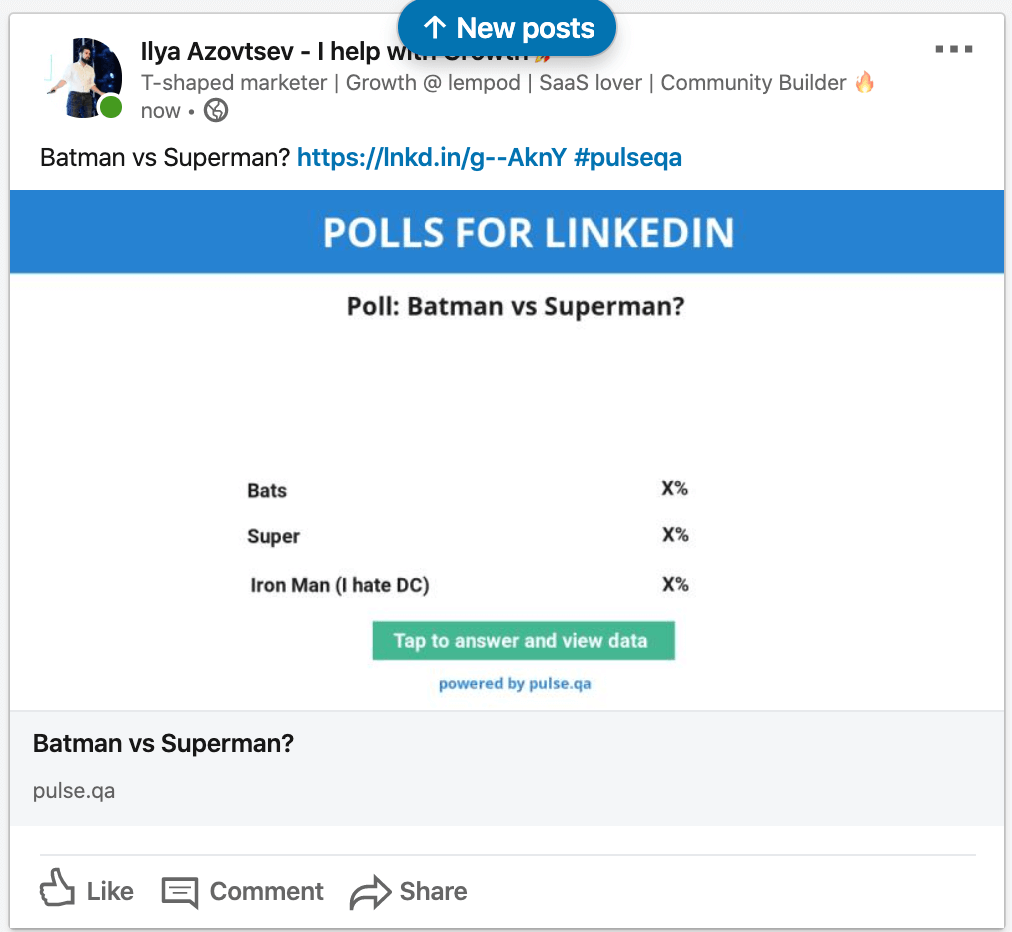 Pricing
Since I don't use a lot of polls, it's free for me.
6. Dux Soup/ LinkedHelper/ Meetleonard
🚨🚨🚨IMPORTANT🚨🚨🚨
These tools are dangerous to use since LinkedIn can detect and block such automation. 😬
You can check the list of dangerous LinkedIn automation tools here.
But I'll share the LinkedIn automation tool, which is super safe to use.
What is it for?
These extensions help you with reaching people on autopilot. So you can connect with anyone without manual work.
I put all of them here since they are all almost the same.
How does this work?
Install Chrome extension and have a list of options, such as "Auto-visit"/ "Auto-connect" and so on.
How to use it?
You install the tool and:
Choose people you want to connect with
Click on "Auto-connect"
Prepare the custom message
Wait until people accept your connection requests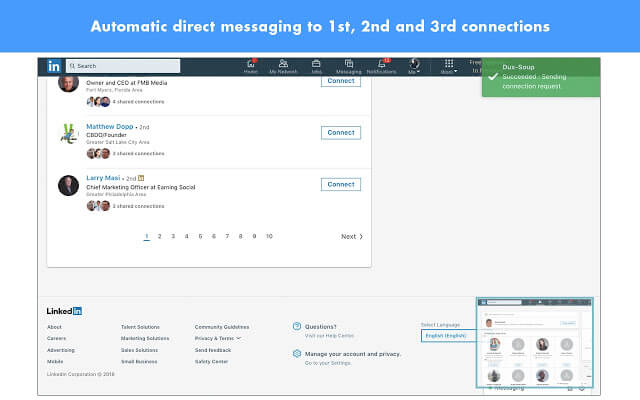 Pricing
Dux Soup subscription starts from $11.25
Safe alternative to DuxSoup / LinkedHelper / Meetleonard and other LinkedIn automation Chrome extensions:
There are a few tools that are much safer, like:
I personally use Expandi, so I'll share some more info about it:
Expandi is the tool for LinkedIn lead generation and outreach. Just like you have tools for email outreach and cold email campaigns, you also have Expandi so you can expand your outreach on LinkedIn as well.
If you use it right – LinkedIn can be a huge gold mine for your businesses. Once you set your outreach campaigns, they'll work like a well-oiled machine and bring you new leads constantly.

Don't be worried about your LinkedIn account if you're using Expandi.

Expandi is the cloud solution, and getting banned from LinkedIn is impossible.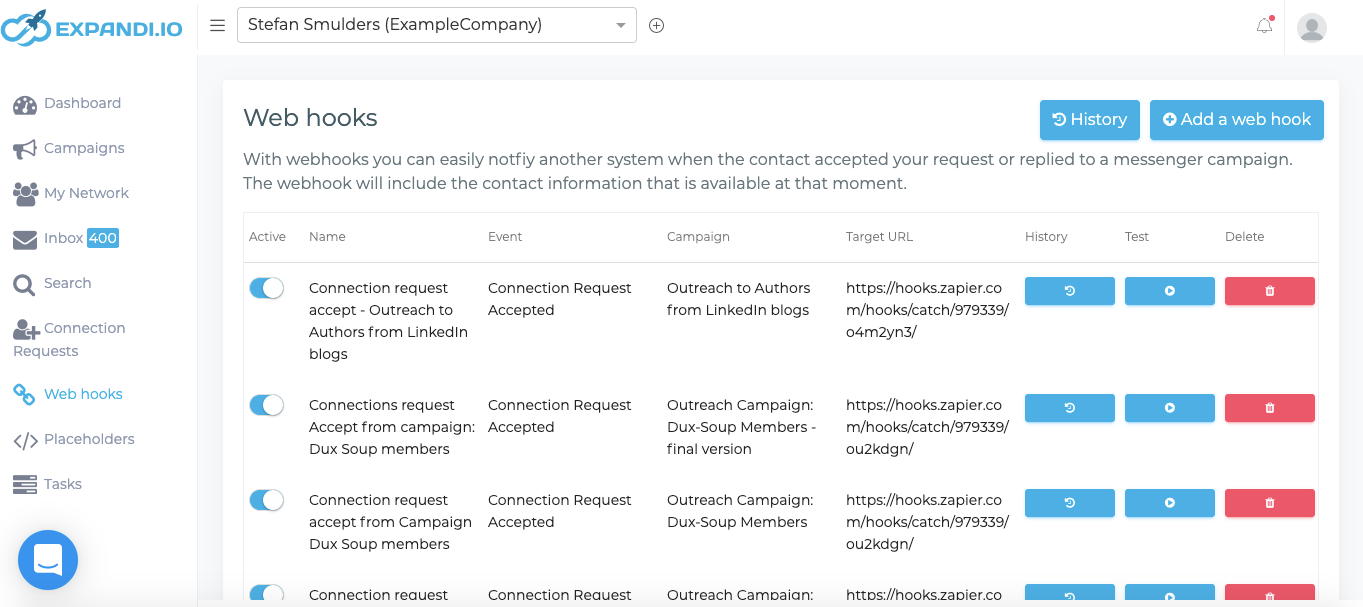 7. Lusha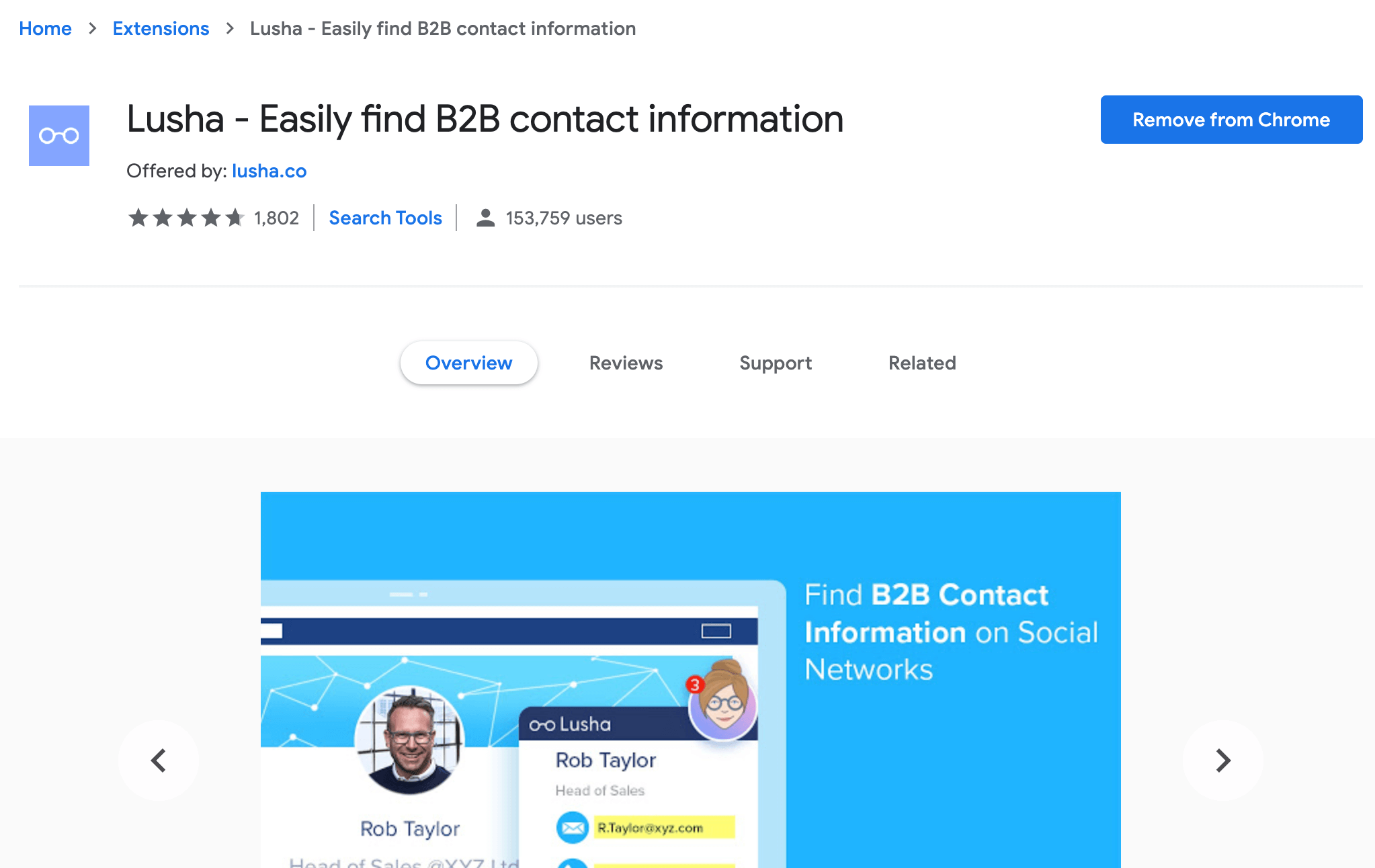 What is it for?
Lusha helps you in finding emails and phone numbers of (almost) anyone on LinkedIn.
How does this work?
They match "Name" of the person + "Domain". And using lots of databases to find the most probable emails and phone numbers.
This is what Lusha says about how they find contact info:
"In order to provide you with this service and match the relevant information from our database with applicable profiles you view on supported sites, we need to read certain words (such as full name and company name) from such sites you view when you use our service.
We store the data in our servers temporarily and delete it after providing you with the service. This data is not added to our database."
By the way, there are lots of other cool email-finder tools.
How to use it?
Once you install Lusha LinkedIn Chrome extension you will have a new button: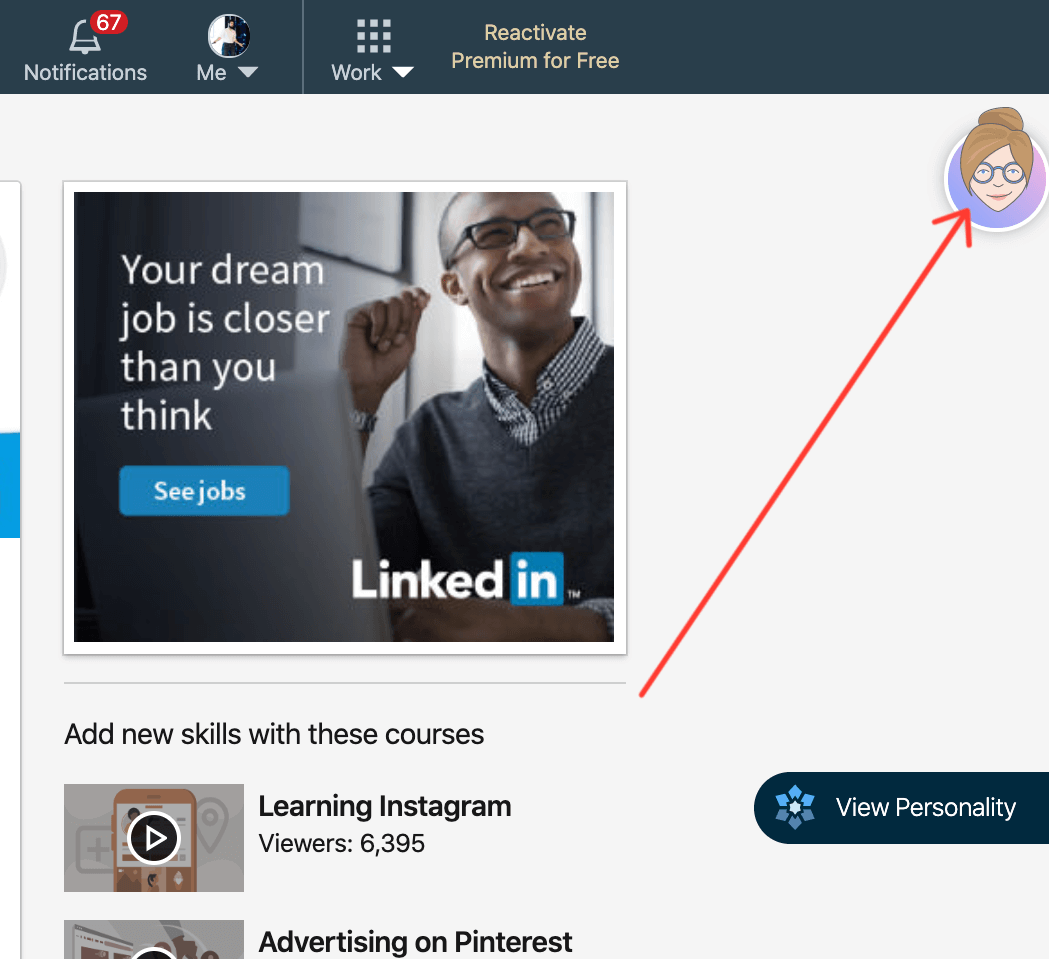 By clicking on it, you'll get personal data (I don't use a real screenshot to avoid mentioning personal data in the article):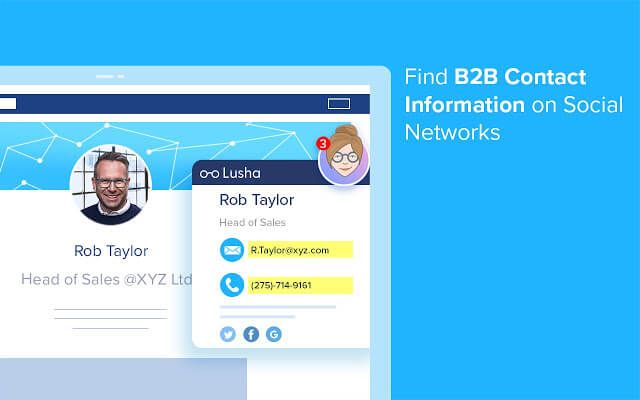 Pricing
There is a free plan, but it's not enough at all. Their paid plan starts at $29/month.
Summary
There are lots of different LinkedIn Chrome Extensions that will help you in sales and marketing:
lempod for boosting your LinkedIn post views
Shield for analyzing your LinkedIn
Crystal for discovering what to write to people
Loom for recording simple videos
Polls for making polls on LinkedIn
DuxSoup for LinkedIn outreach (or Expandi, if you're looking for a safer tool)
Lusha for finding emails