Last Updated on 31 January 2023 by Lempod
Should it be LinkedIn posts or Linkedin articles? Huge question, really. If you want to cover a lengthy topic, write an article. If you want to increase your audience and view count, write a post.
In order to establish your branding and gain attention on LinkedIn, content creation is crucial. It is important to determine the kind of material you want to provide because it affects your content planning and consistency. In this blog, we will explain when to upload an article or blog on LinkedIn so that you may understand it better.
LinkedIn is a great place to reach your target audience with relevant content.
(Especially when you're in B2B sphere)
For example, 44% of B2B marketers have generated leads via LinkedIn. (Source)
But here is the question – how did they do that?
That's a great question because there are 2 different ways to share your content on LinkedIn. And they are tooo different – LinkedIn posts and LinkedIn Articles (now it's LinkedIn Pulse).
We at Lempod tried both and get lots of data to share.
What people say about LinkedIn Pulse and LinkedIn posts
Before we come to the actual results of our experiments, I want to share with you – what members of LinkedIn Growth Hacking community (the hugest LinkedIn oriented community, 5k+ active members) usually post.
And the majority of them said "both, articles/pulse + posts"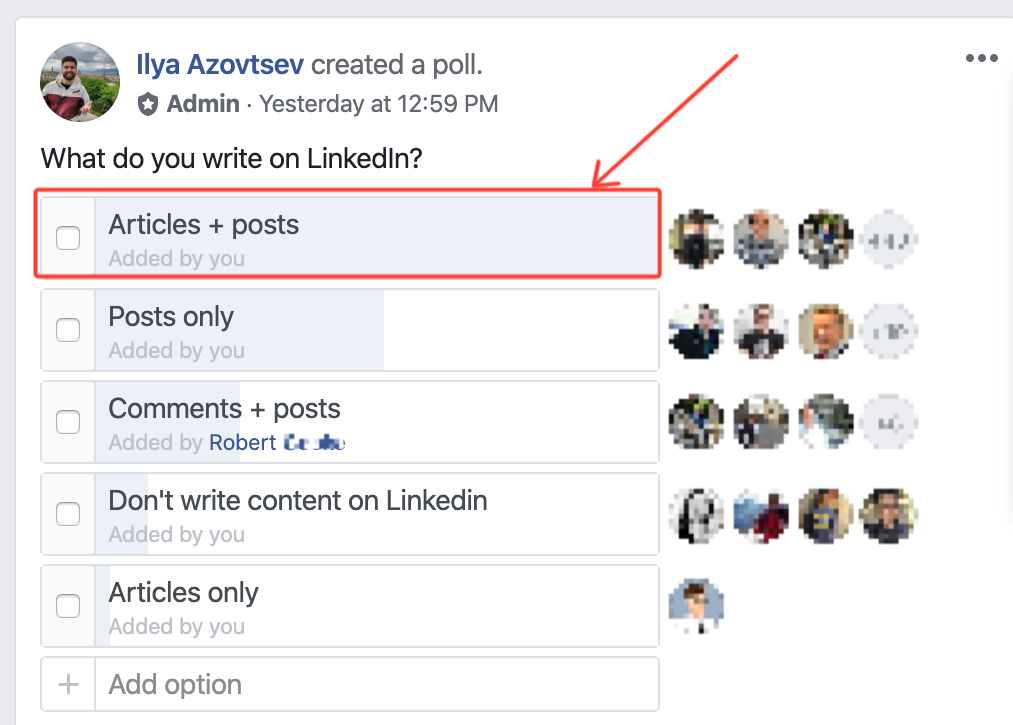 And only 1 person who said – "Articles only"!
I'm going to share with you stats and data on LinkedIn posts and articles but even now you can see that – it's a bad idea to share just articles.
LinkedIn Articles Pros:
LinkedIn Pulse limits
Articles have no limits.
When it comes to posts you can't share more than 700 characters for your post and 1300 for company posts.
So people can read more information.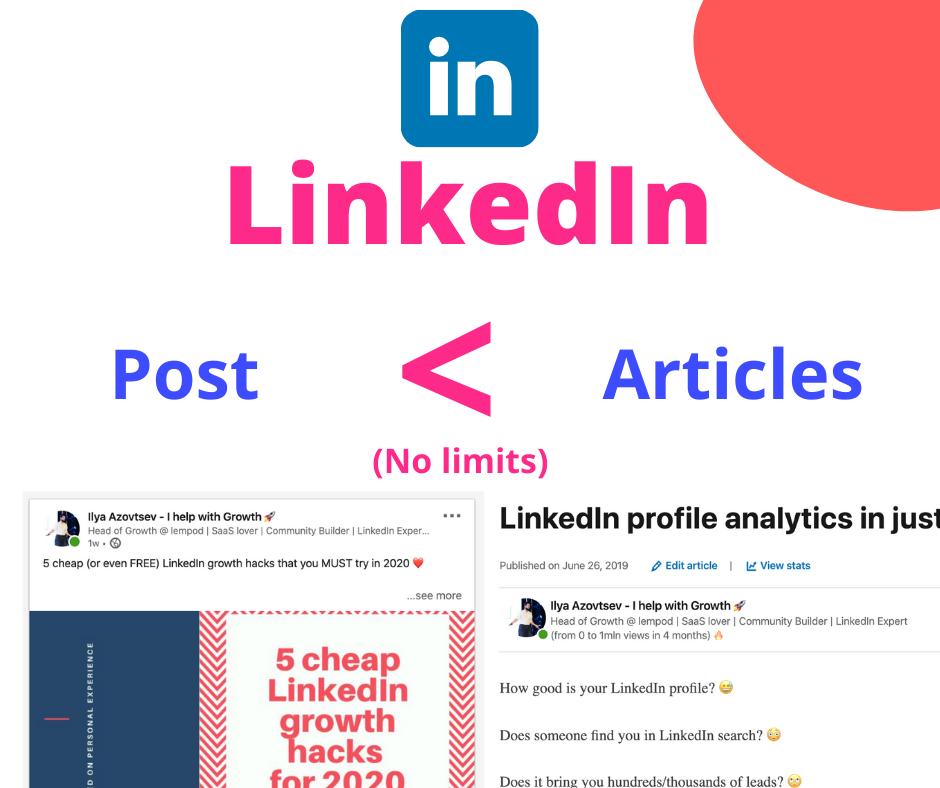 Long term effect
People can find your articles even in a month or a few after you posted them.
How it works with LinkedIn posts:
You post
People see this post in their newsfeed
In 3-10 days other people make good viral posts and your LinkedIn post stopped showing to your audience
When it comes to LinkedIn Pulse, people can find it:
Via Google
From your LinkedIn Profile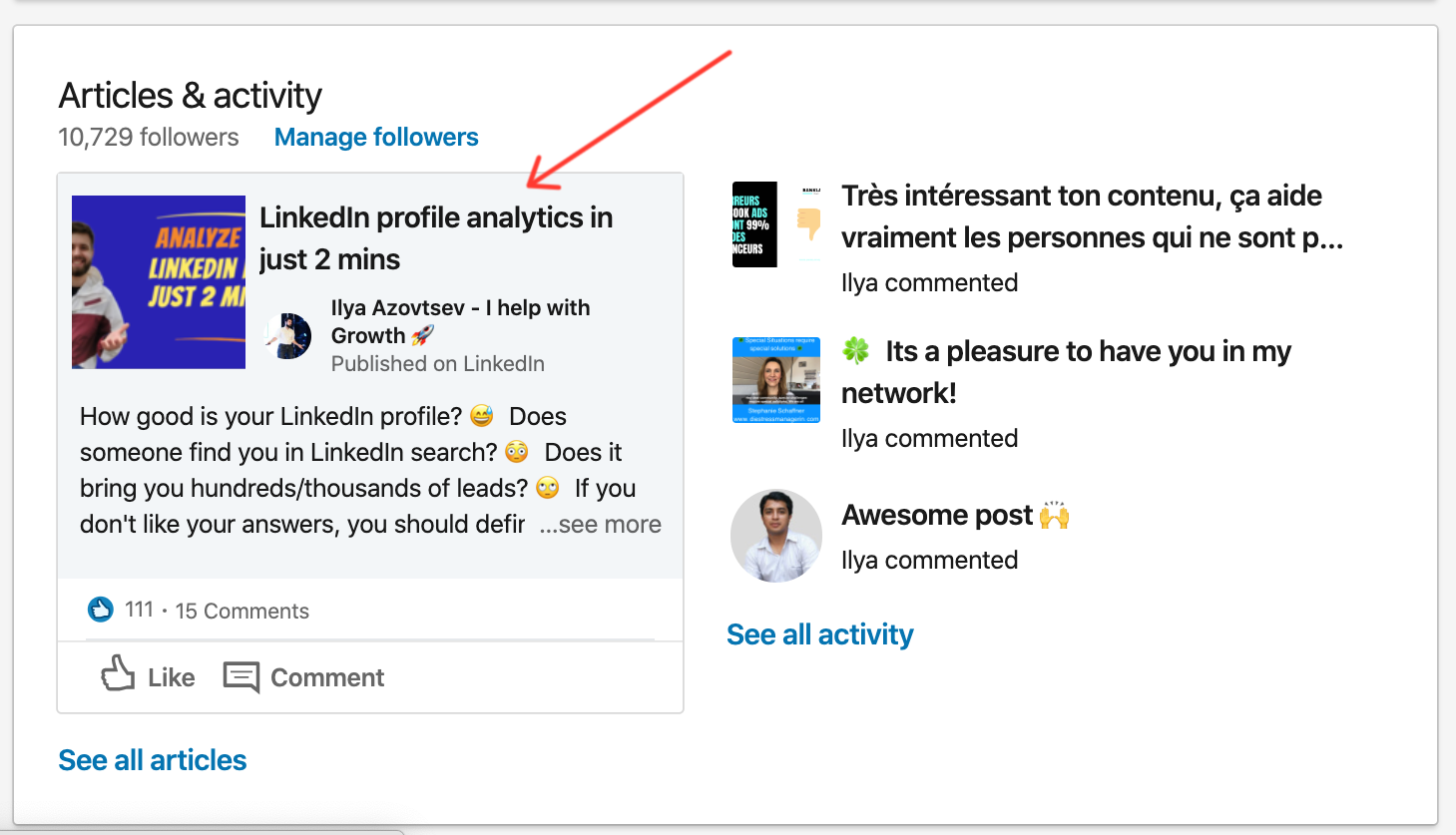 As a result of it, people can find your article during next months easily, for example like this: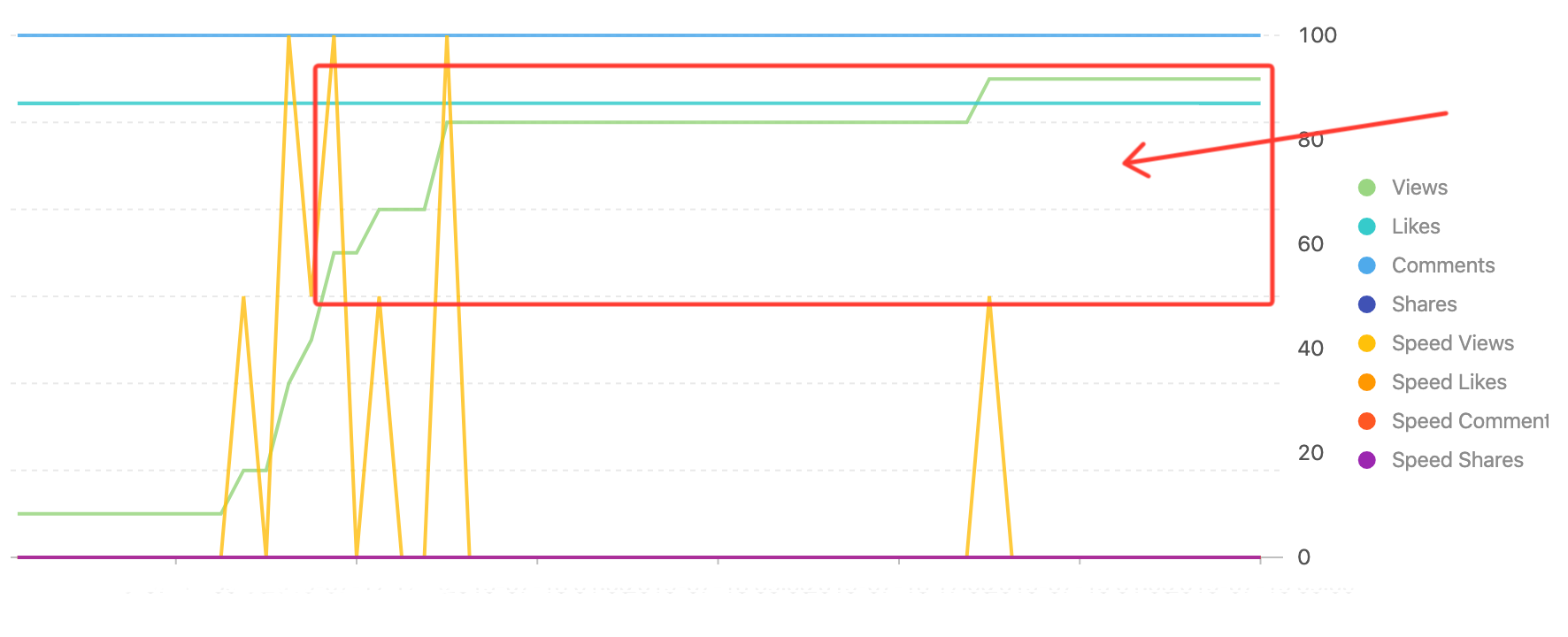 LinkedIn Articles Cons:
A small amount of views compared to LinkedIn posts
Since your posts appear in people's newsfeeds they can easily find your new posts when they open their LinkedIn.
Also!
Linkedin wants more people to stay on their platform -> to show them more ads -> to earn more money
So when you see 1 post -> you scroll below and see another -> and then see one more post. As a result of it they spend more time.
When it comes to LinkedIn pulse -> people scroll below and see nothing.

So LinkedIn doesn't boost your LinkedIn articles, as they do with LinkedIn posts.
Fewer views compared to Medium (or other blogs)
Since LinkedIn isn't the platform for articles and they don't focus on it, they don't promote and boost your Pulse on a bigger audience.
Other blogs do.
Because it's their core feature and they get money out of it.
For example, here is Guillaume's last article about "How lempire grew from $250k ARR to $1 mln ARR without any funding":
This is the number of views on LinkedIn: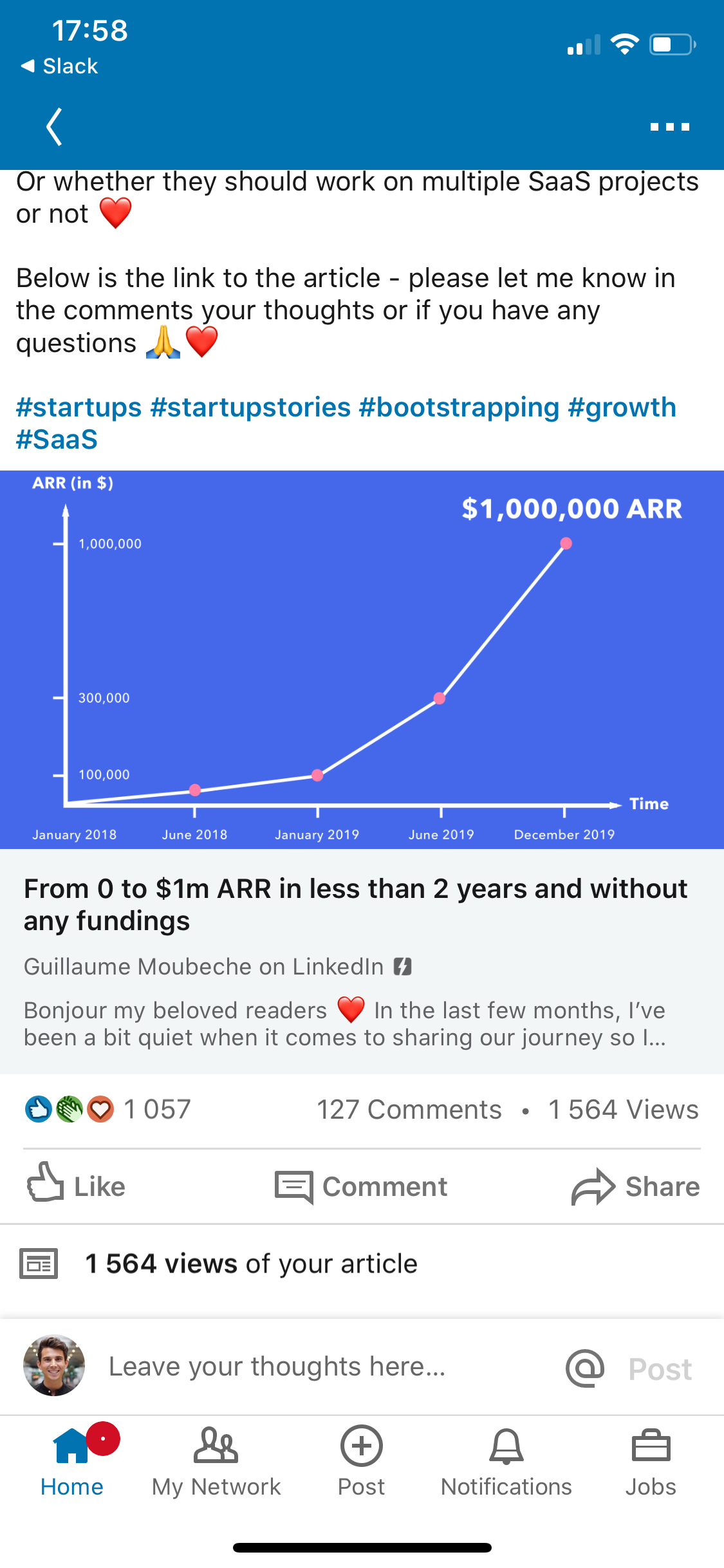 And this is the same article on Medium:

The difference is – 11k views.
It's a lot. A L-O-T!
LinkedIn Posts Cons
Short-term effect
As I said before – Linkedin posts are booming in the first week.
And after that time, it's hard for people to find it on LinkedIn:
They can't see that on their newsfeed
They can't find it on Google
They can't find it on your LinkedIn profile (they can, but it's hard to do)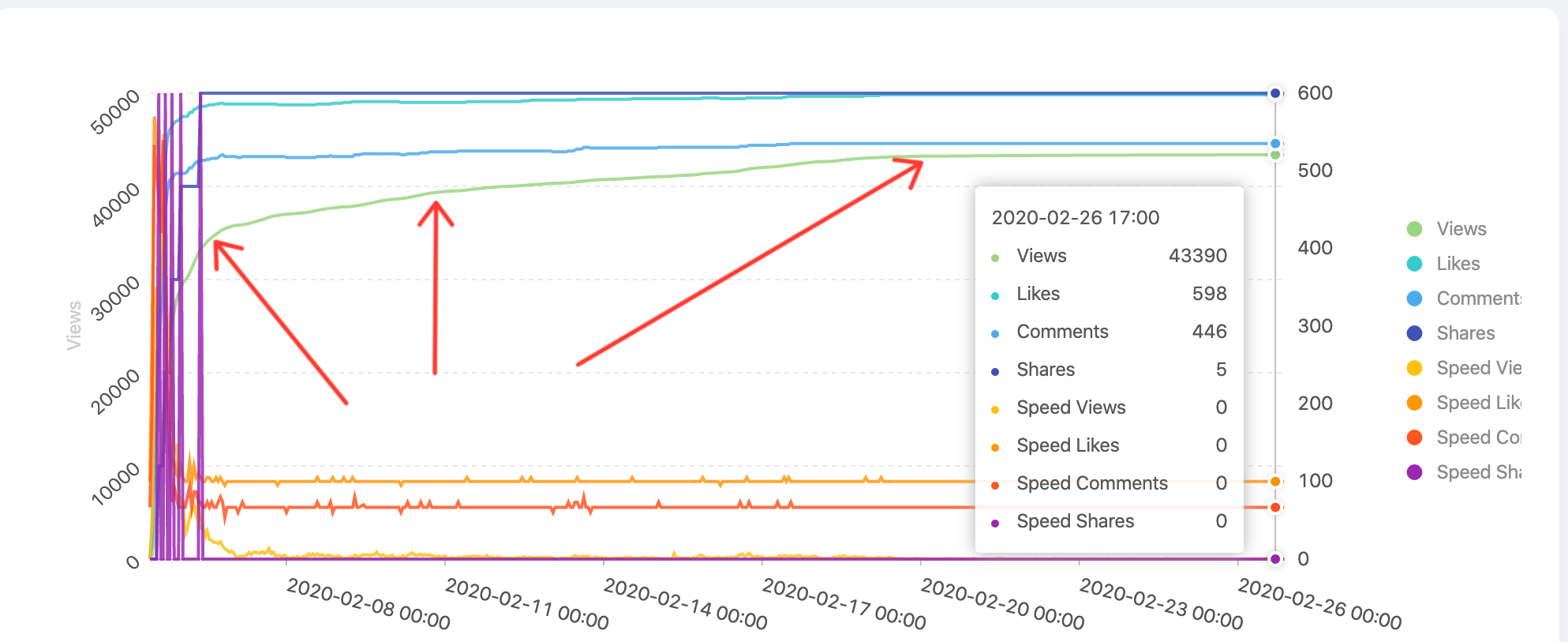 LinkedIn Pros
LinkedIn posts get much more views compared to LinkedIn articles
I'd love to share my personal example.
Today I have almost 10K followers, but I can easily reach 100K views with my Linkedin posts🤓. Yeah, it's not a million, but it's still 10X from the amount of my 1st connections.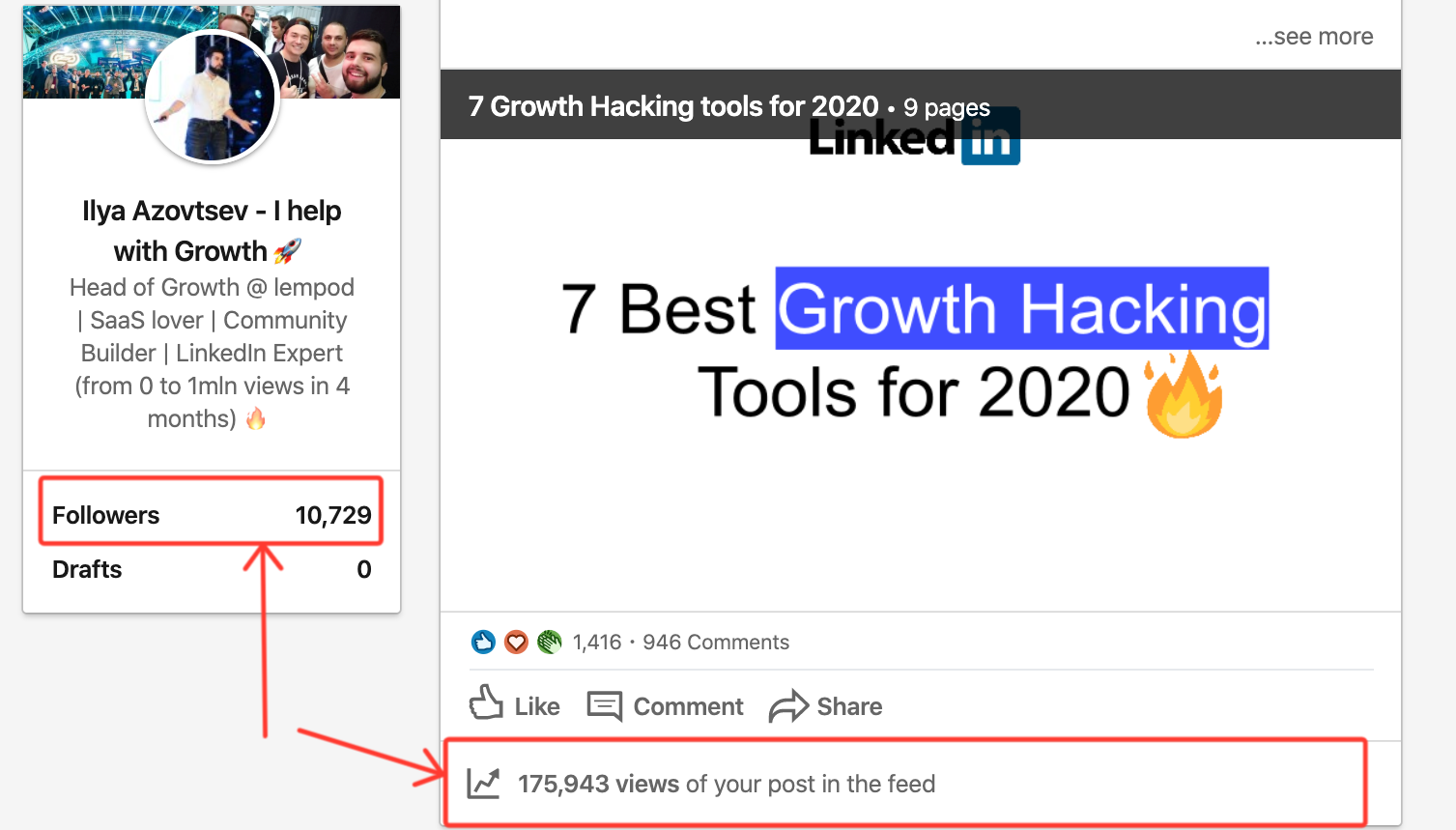 Can you do the same on Facebook or Youtube?
NO, with a big "N" and a big "O".
Pssst, if you can, let me know I need to take some lessons from you 😅
So, why is it happening?
The answer is easy – (I've already told you that, but anyways) LinkedIn is booming and today they are more likely to support content makers rather than other platforms.
LinkedIn is a media platform. And like every media they are selling ads (the same like FB or Twitter does). And to sell more ads with a bigger price they need content on their platform. So users (you, I, and everyone who is using LinkedIn) will read that content and stay on LinkedIn more. And since people remain on the platform more, they watch more ads -> LinkedIn gets more money.
Since people are not creating as much content on LinkedIn (compared to FB or Twitter) they need to boost good posts to a bigger audience.
This is what happened with Facebook 7 years ago, and with Youtube 5 years ago, and this is what is happening with LinkedIn right now.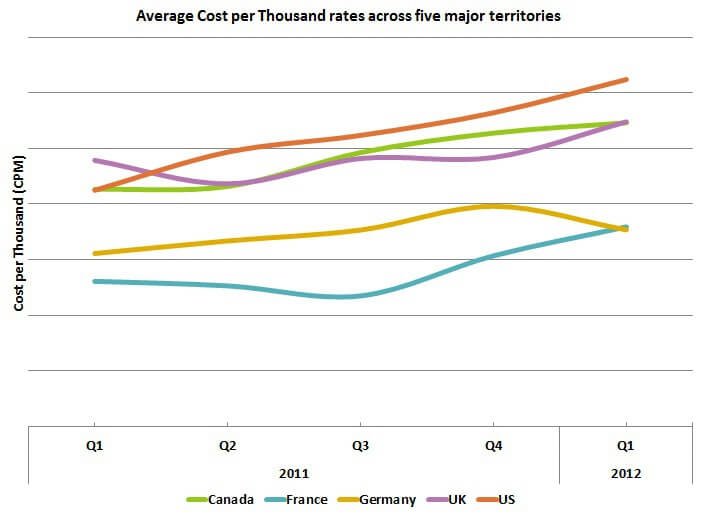 For example, in 2012 the cost per view started dramatically increasing in the USA. Credits to the Search Engine Journal.
What to post (article or posts) on LinkedIn
What to do if – your articles are much more advanced but at the same time get less views?
The answer is – to make articles (if you want) but promote them with LinkedIn Posts:
Here is how to do that:
Scroll below to the end of the article
Click on "Share"
Choose "Share in a post"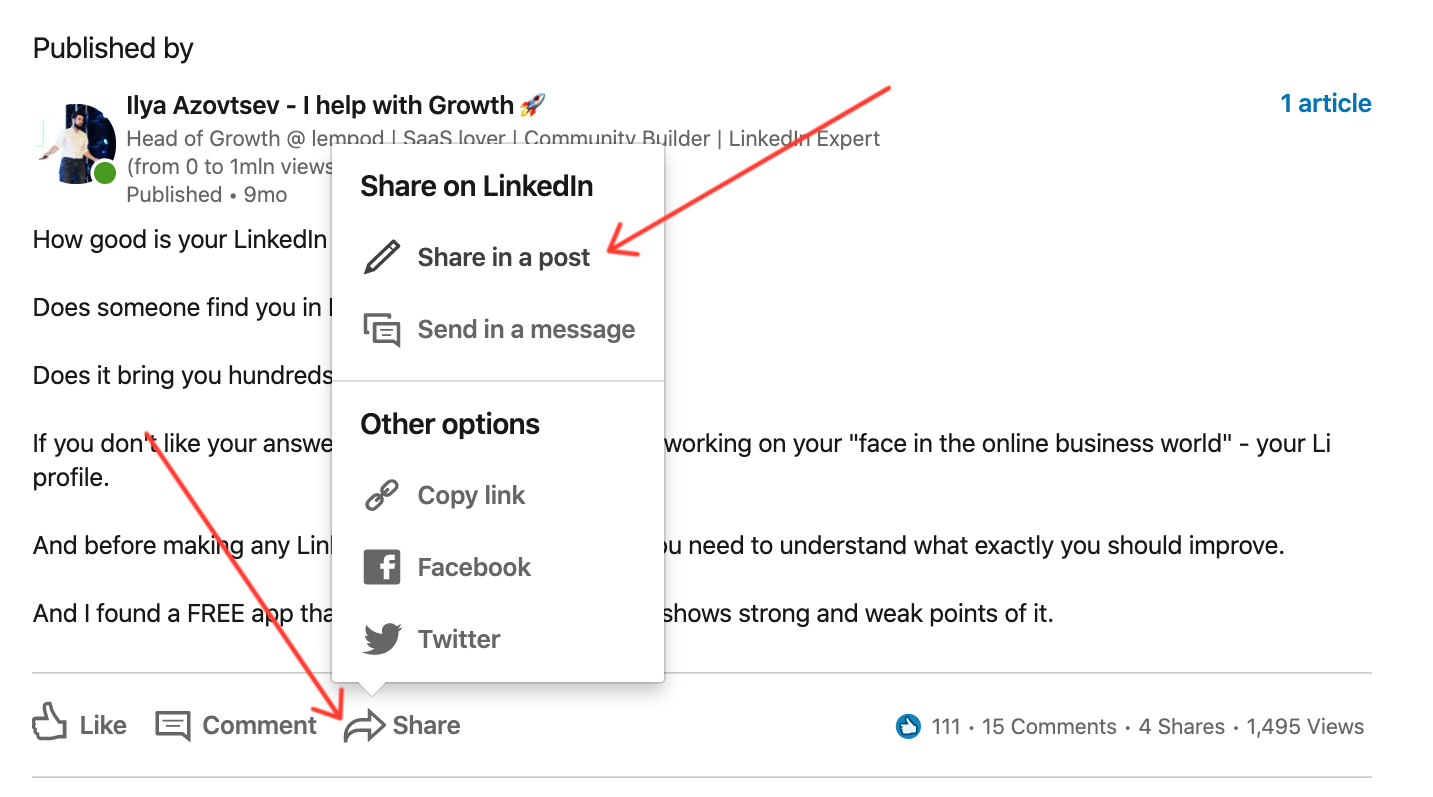 After that ask your colleagues and friends to like your LinkedIn post.
Boost your LinkedIn posts with engagement pods from lempod
It's not enough just getting likes and comments from your 1st connections and colleagues to significantly boost your content (Especially if have less than 30 people in a company 😅).
The best way to get hundreds of thousands of views on your LinkedIn content is – to get engagement from top influencers in your industry and other awesome people who are also creating the content for your target audience.
So just imagine, if people who create a lot of content for your audience and have a huge SSI (social-selling index, the better content you create the more SSI you get) will interact with your LinkedIn posts and their audience will see your post.
Does it sound insane 😱?
It does!
And it's possible with lempod ❤️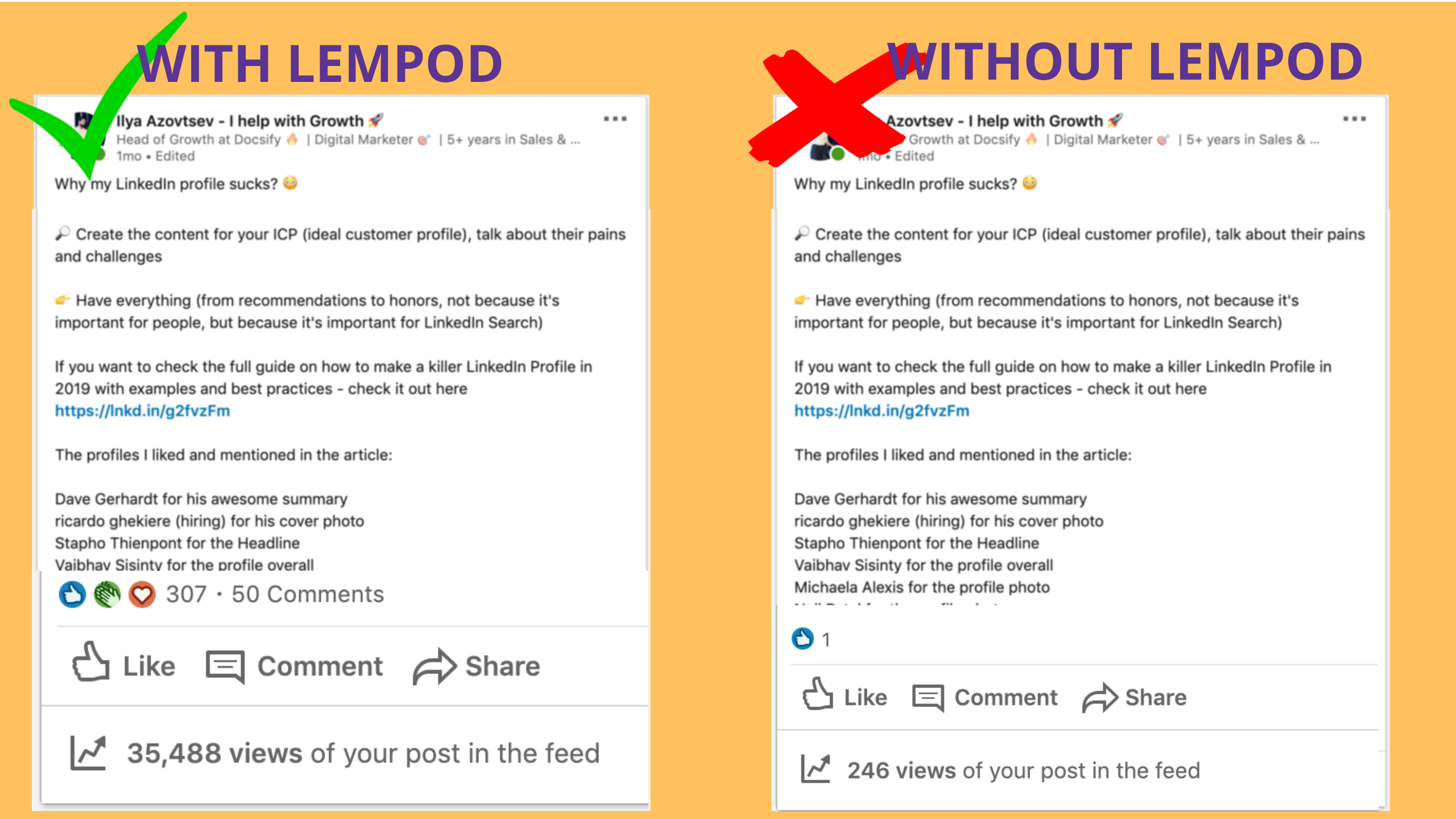 As I told you earlier lempod is the hugest place for people who want to support each other's content on LinkedIn to join our family you just need to:
Install lempod Chrome Extension
Open lempod by clicking on Extension icon
Click on the search field and start looking for the relevant pods with your "keyword" (for example, "startup") OR join the pod with a "Secret Code" (at the end of the article I'll share with you my lempod Secret Codes🔥)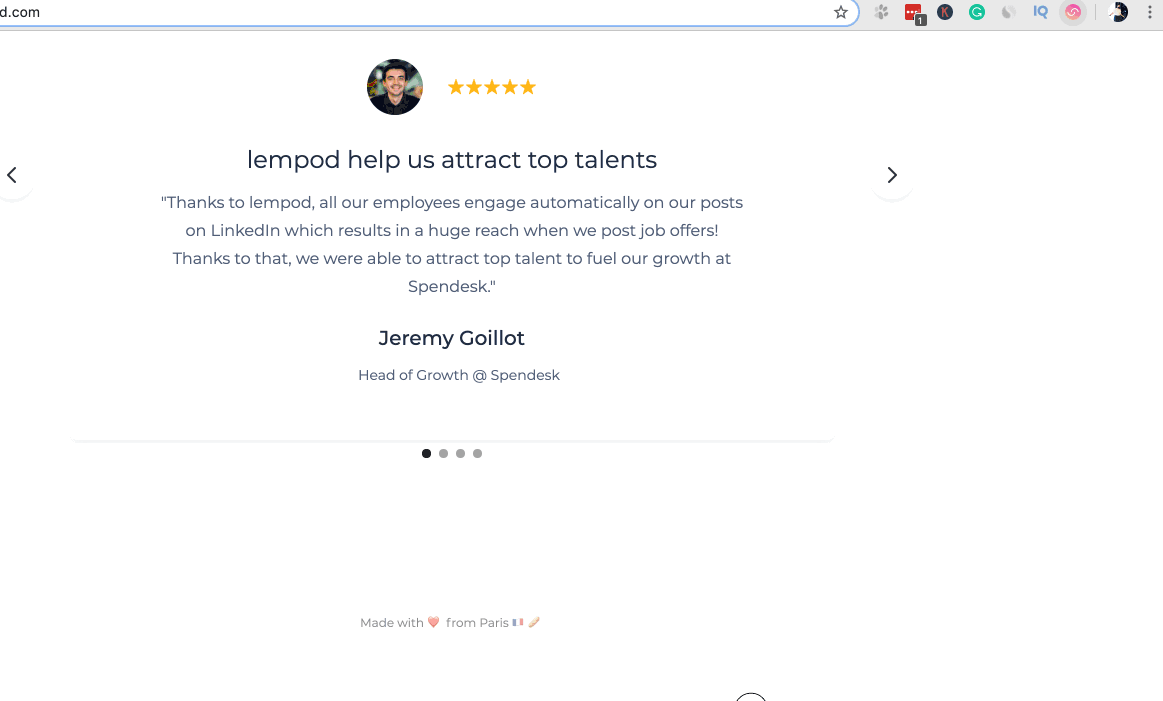 Once you join the right LinkedIn engagement pods, you can start getting a boost from other members.
And it's easy as it is.
To use lempod you should:
(I've already mentioned but let me show it again for a public Pod, not the Enterprise one)
Copy the link to the LinkedIn post you've just created,
Go to the lempod and choose the right Pod,
Add the link to "Add post" field
Write your custom comments that other members will leave automatically. Note! these comments should be relevant to the content of your post.
Start Engage This Post (button)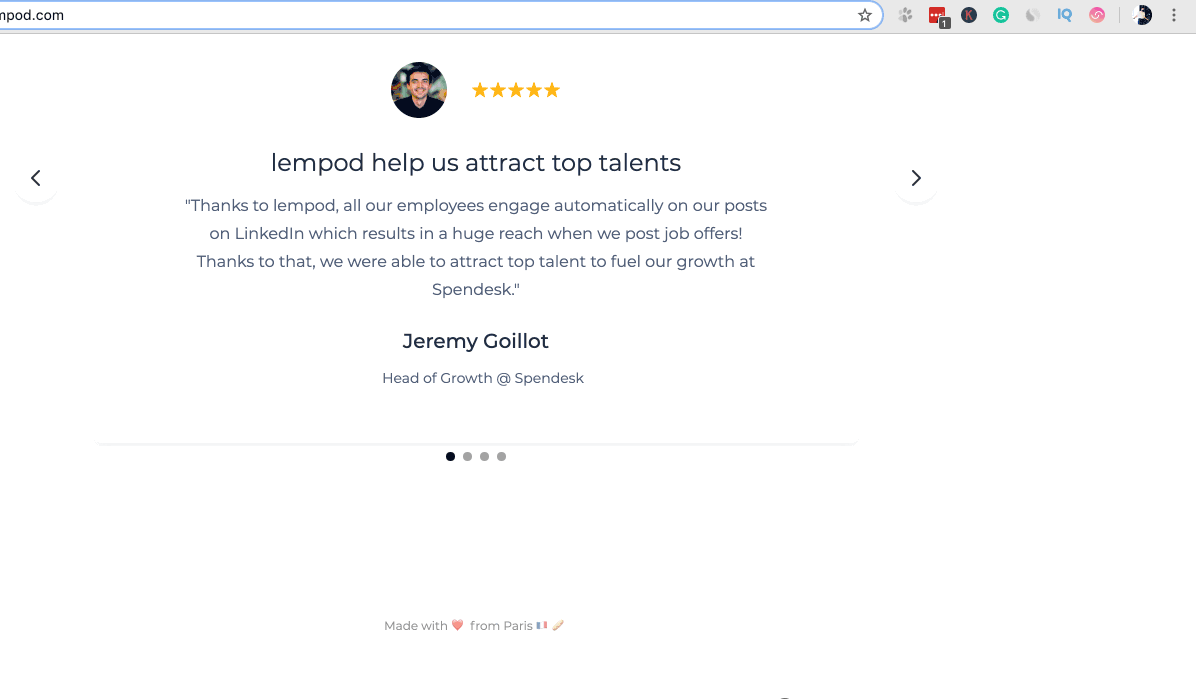 So everyone who is in the pod will automatically like or comment on your Post, so their connections will see your content as well.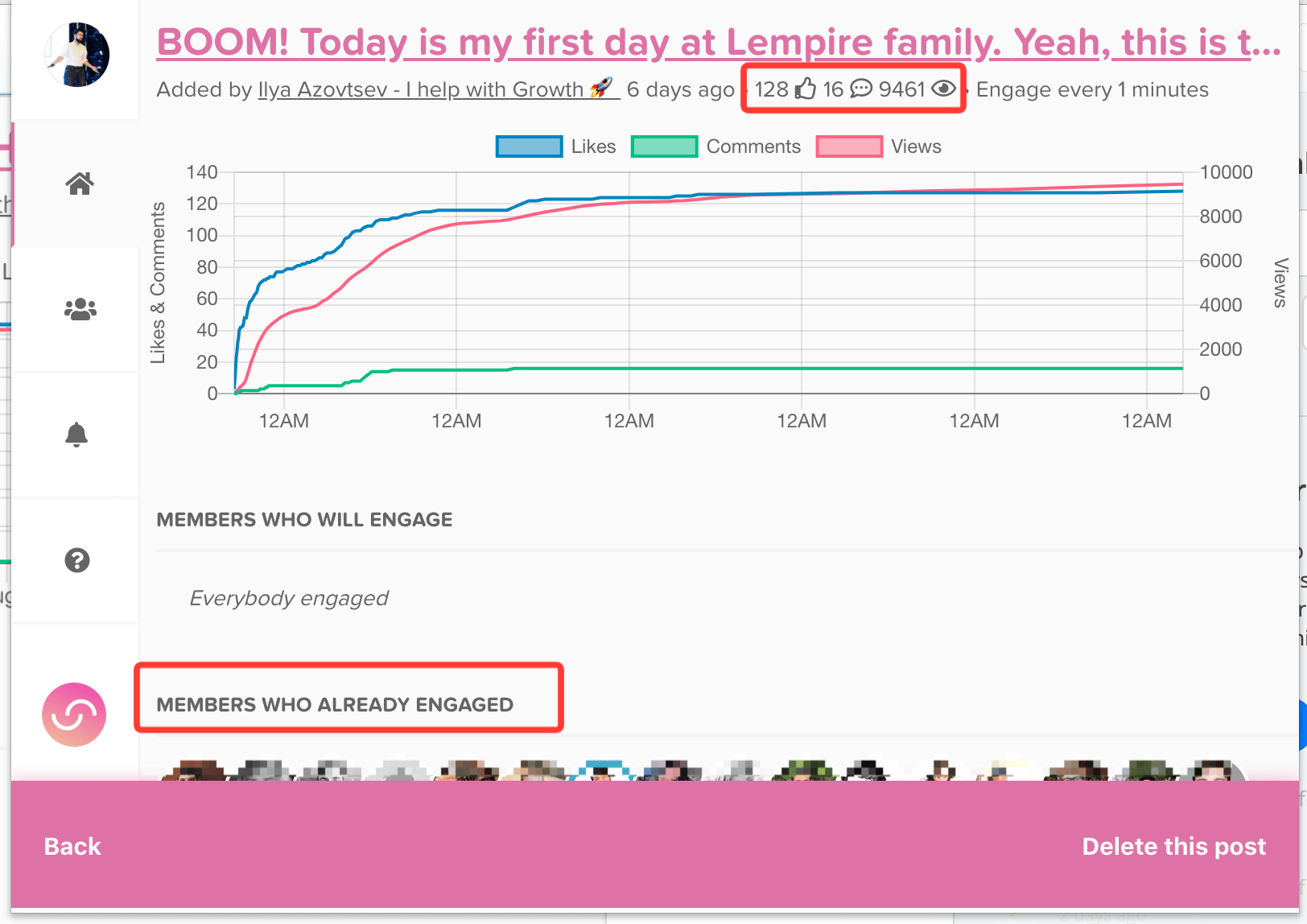 Do you know what's the sweeties in all of this?
It's the price.
It's just $5/pod/month. So for less than a cup of coffee from Starbucks you get 10X of your LinkedIn content reach.
Here are some bonus pods with secret codes:
SaaS Haven – All things SaaS 🚀 – The secret code is: 6129
Growth Hackers – Worldwide 🌍 – The secret code is: 6031
High-level Marketing Club 👑 – The secret code is: 1042
Startup Factory – Achieve Fast Startup Growth 🚀 – The secret code is: 3348
The HR Mastermind – Everything about Human Resources 🤓 – The secret code is: 4763

The Verdict?
It's easy to choose 🙂
Article only – NO
Posts only – Maybe
Articles + Posts = YES
Articles + Posts = YES
---
Here are some other tops articles, I'm sure you'll like:
7 best LinkedIn marketing tools in 2020 for Marketers and Growth Hackers
8 Best and Safest LinkedIn Tools for Boosting Sales