LinkedIn is an excellent resource for professionals. It is a fantastic tool since it gives you the chance to find your ideal career, boost your network connections, or market your products based on your profile. So it is very important that you are aware of the Linkedin Industry List to ensure that you are associated with the sector that best matches the work that you do.
LinkedIn has about 148 industries on the platform. 40% of LinkedIn users who are active utilize the platform every day, logging more than 1 billion interactions per month.
The competition is rather fierce given this enormous user base. So it is very important that you select the industry that is most relevant to your business or your line of work on LinkedIn using your profile and page settings. When you select your industry, it will be easier for others to discover you or your Page when they are looking for professionals in your field. Setting up your industry also enhances your chance of getting relevant news and content in your feed.
So how can you actually choose your sector from the LinkedIn Industry List?
It's pretty easy to set up your industry sector in your LinkedIn Profile. Just follow these steps:
Click your LinkedIn Profile picture on the right side of the LinkedIn Main Menu bar
Choose View Profile
Click the pencil (edit) icon on the right side of your profile page
Scroll down until you see the industry section
Type in the beginning letters of your industry and select from the available LinkedIn Industry List
Hit save and you're set!
If you don't see your sector on that list, don't fret. It doesn't always mean that it's not a good one. Simply said, more people are working in some particular sectors than yours.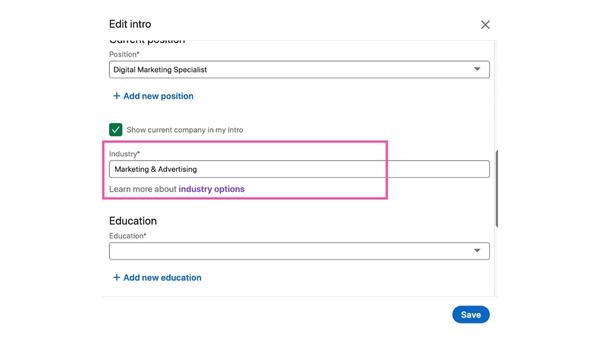 The top industries on LinkedIn may be of interest to you if you're looking for work or a recruiter looking for candidates.
In June 2022, LinkedIn released the Top Companies in 2022 in nine major industries. Knowing these companies and their sectors can give you an idea of the job titles that are in demand and the unique skills that companies look for. You can check the report and go to the company's insights to get this information.
Additionally, you can also search the available positions and make connections with people you may know at the company. You can turn on job alerts to keep you informed of upcoming career possibilities.
Here is a quick view of the nine major LinkedIn industries of the Top 25 Best Workplaces to grow a career based on LinkedIn's Top Companies 2022: Industry Edition report.
Consumer Goods
Financial Services
Health Care
Marketing & Advertising
Media & Entertainment
Real Estate
Retail
Technology & Information
Travel & Hospitality
*arranged alphabetically
If you're in the high-ranking LinkedIn industry, you know that your skills are in demand but at the same time, competition is high. Thus, if you want to be heard and to have the loudest voice, you will need to work on your LinkedIn marketing and content strategies.
If this is your case, don't hesitate to find out how Ilya Azovstev got 100.000+ views on his LinkedIn posts in just one month.
Summary
With LinkedIn's continued growth, the competition for getting leads, connections, and landing a job is getting steeper. If you want to boost your visibility on LinkedIn platform, optimizing your profile is definitely a priority. So, go on and check your profile and ensure that you have selected the appropriate sector from the LinkedIn Industry List.