Last Updated on 16 February 2023 by Lempod
[+Cool Bonus Strategy To Increase Your Followers' Number]
Today I'm going to tell you about 5 Linkedin features that very few people know about.
But in fact, these are the LinkedIn features that will help you quickly improve your profile and your Linkedin strategy if you:
grow your brand on Linkedin
sell on Linkedin
consistently create and publish content on Linkedin
So if you match any of these and want to make the best use of this platform, you'll love this list of features.
Ready?
Let's dive right in!
#1 Create a public Linkedin profile badge
By leveraging only the inner network we can sometimes forget about other promo strategies outside of Linkedin.
For example: if you have your own website (or blog) and want to drive website visitors to your profile. What should you do?
Right, you should promote your Linkedin profile there as well.
And thanks to Linkedin all members now have the option to create a graphic badge, that will more likely be seen (compared to an old way of promoting a profile by including the text link from your website)… and for sure more likely be clicked as well.
How to create a Linkedin profile badge:
1) Click on "Edit public profile & URL"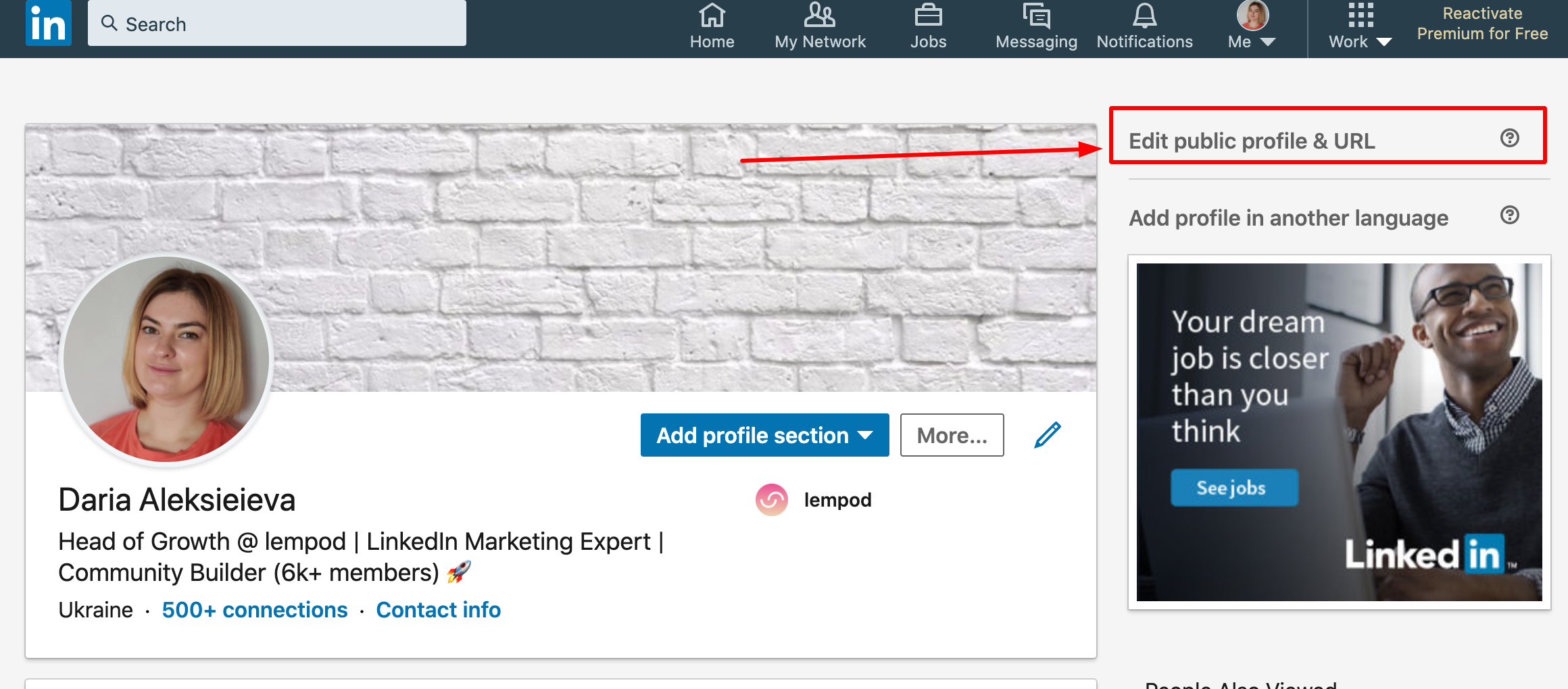 2) Scroll down and find "Public Profile badge" section
3) Click on "Create a badge"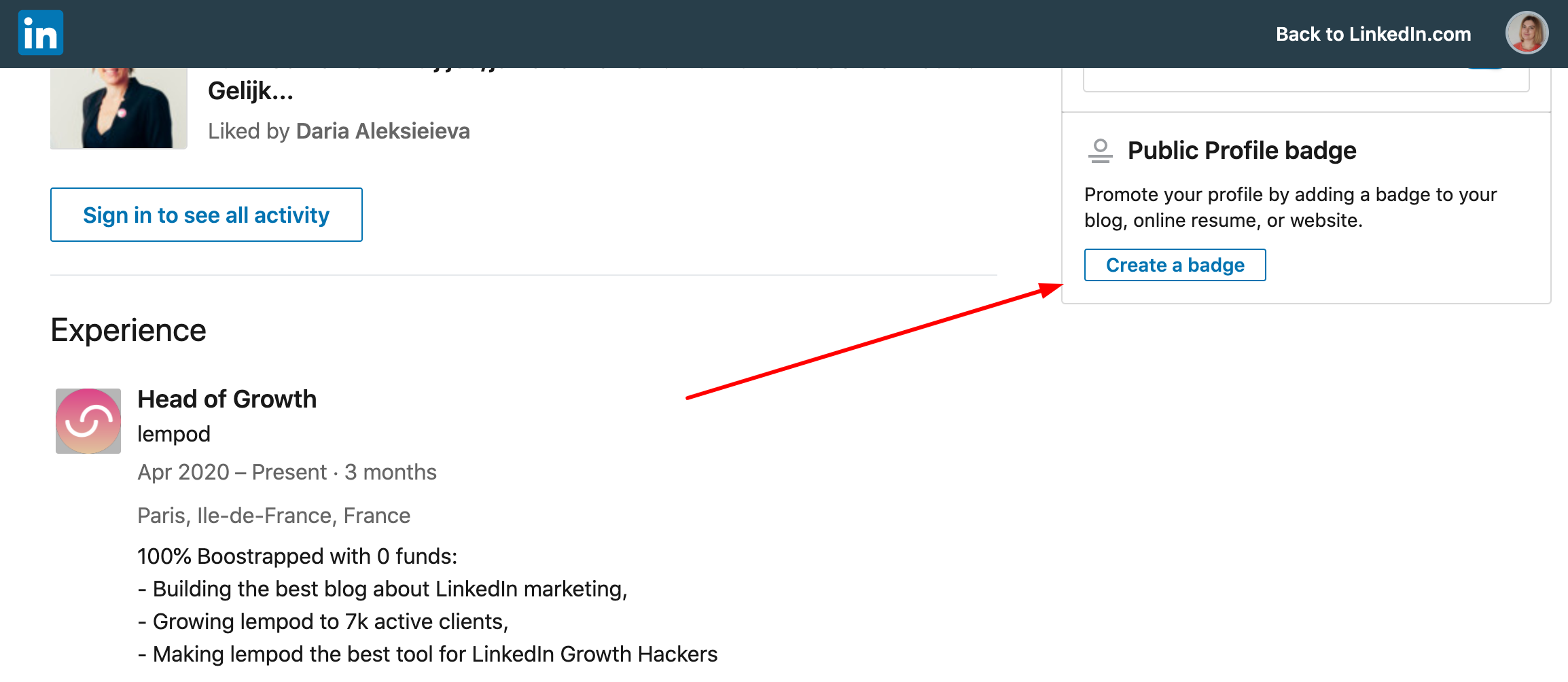 4) Choose a badge from the design options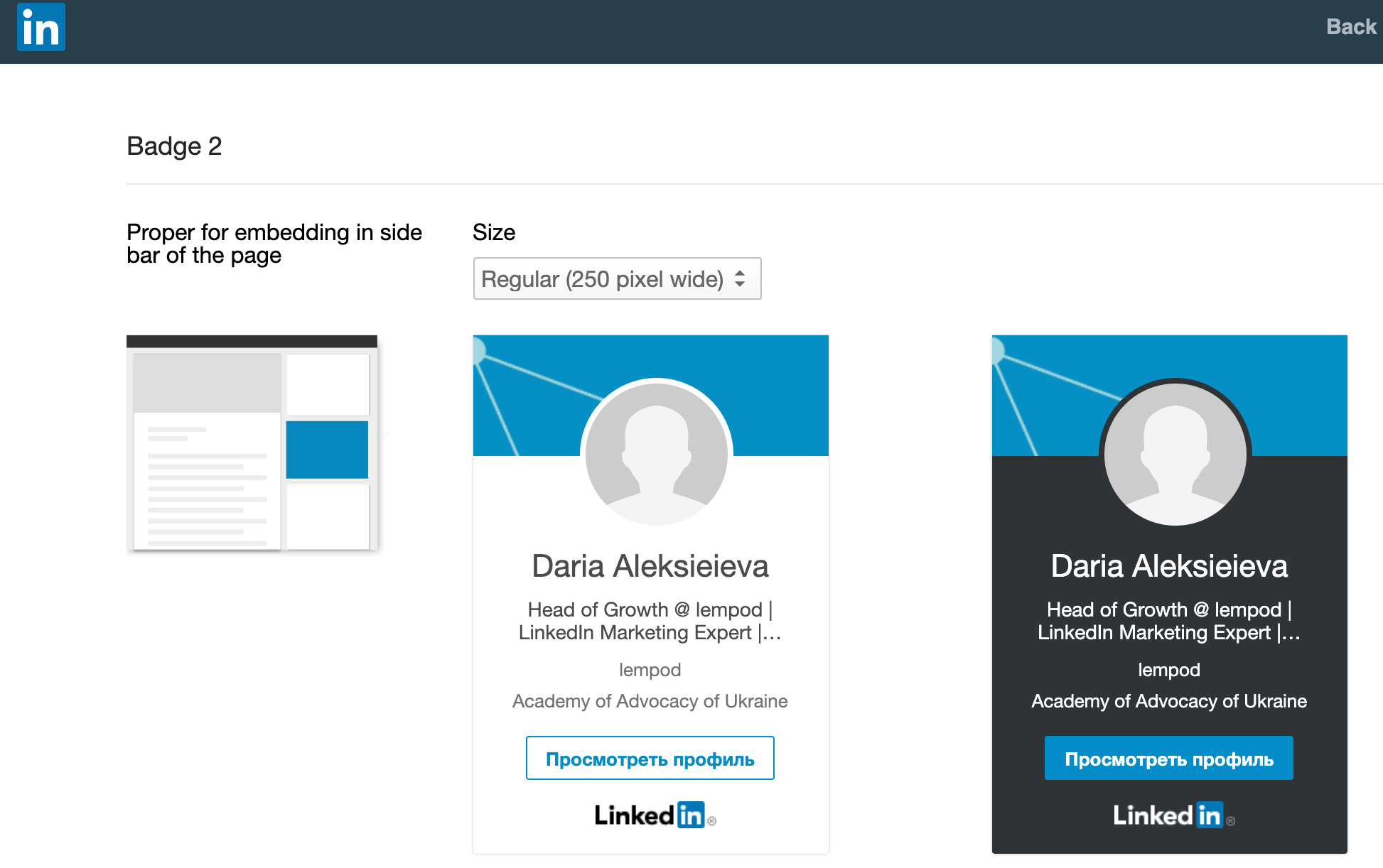 5) Copy and paste the code to your website, blog, or online resume
Why I like this Linkedin feature:
this profile badge can be used anywhere – you can paste it in a sidebar of your website, or add it at the end of your blog posts.
#2 Create a custom URL for your Linkedin profile
Standing out from the crowd is very crucial for anyone who is using the Linkedin platform.
And a standard messy-looking URL isn't going to help with it, but a personalized URL? Perfect, it's exactly the feature that will differentiate you from all the other LinkedIn profiles out there.
How to customize your Linkedin URL:
1) Click on "Edit public profile & URL"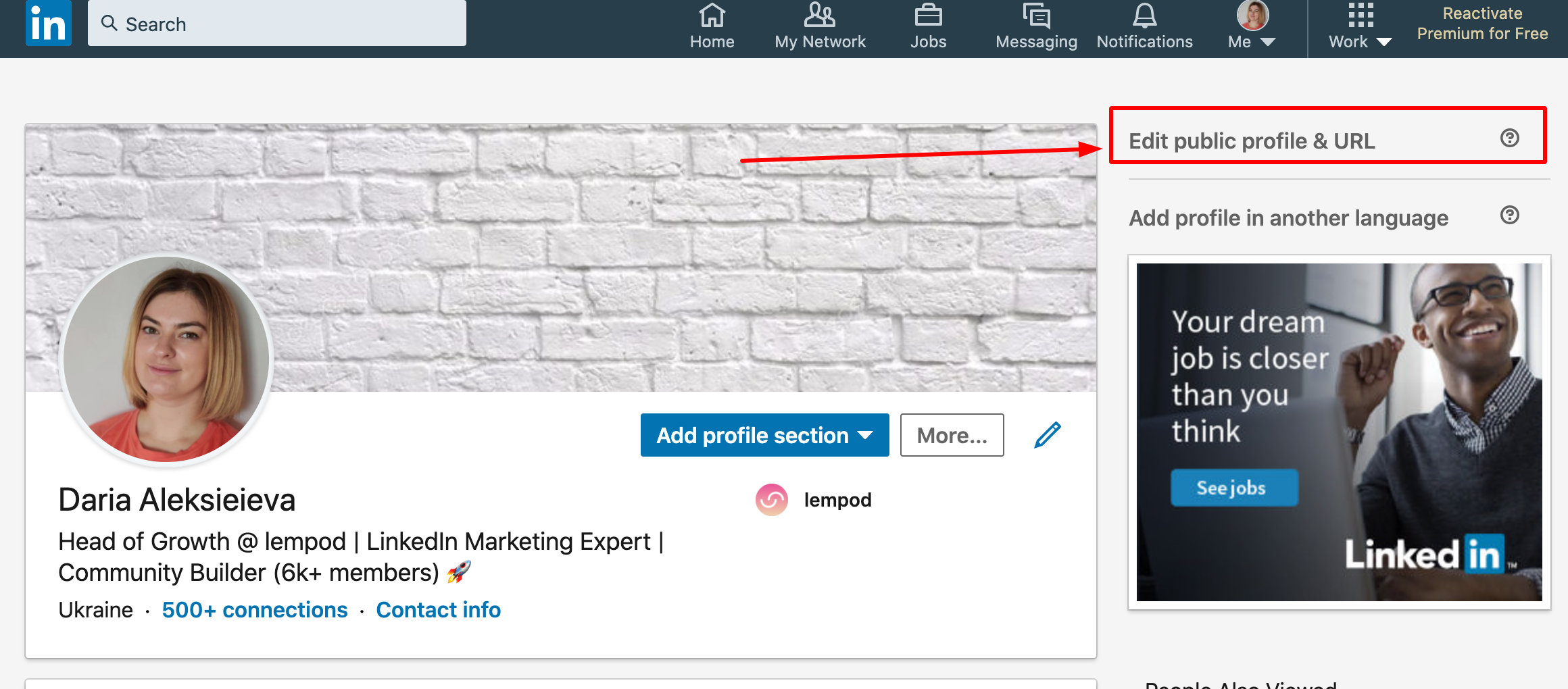 2) Click "Edit" icon in "Edit your custom URL" section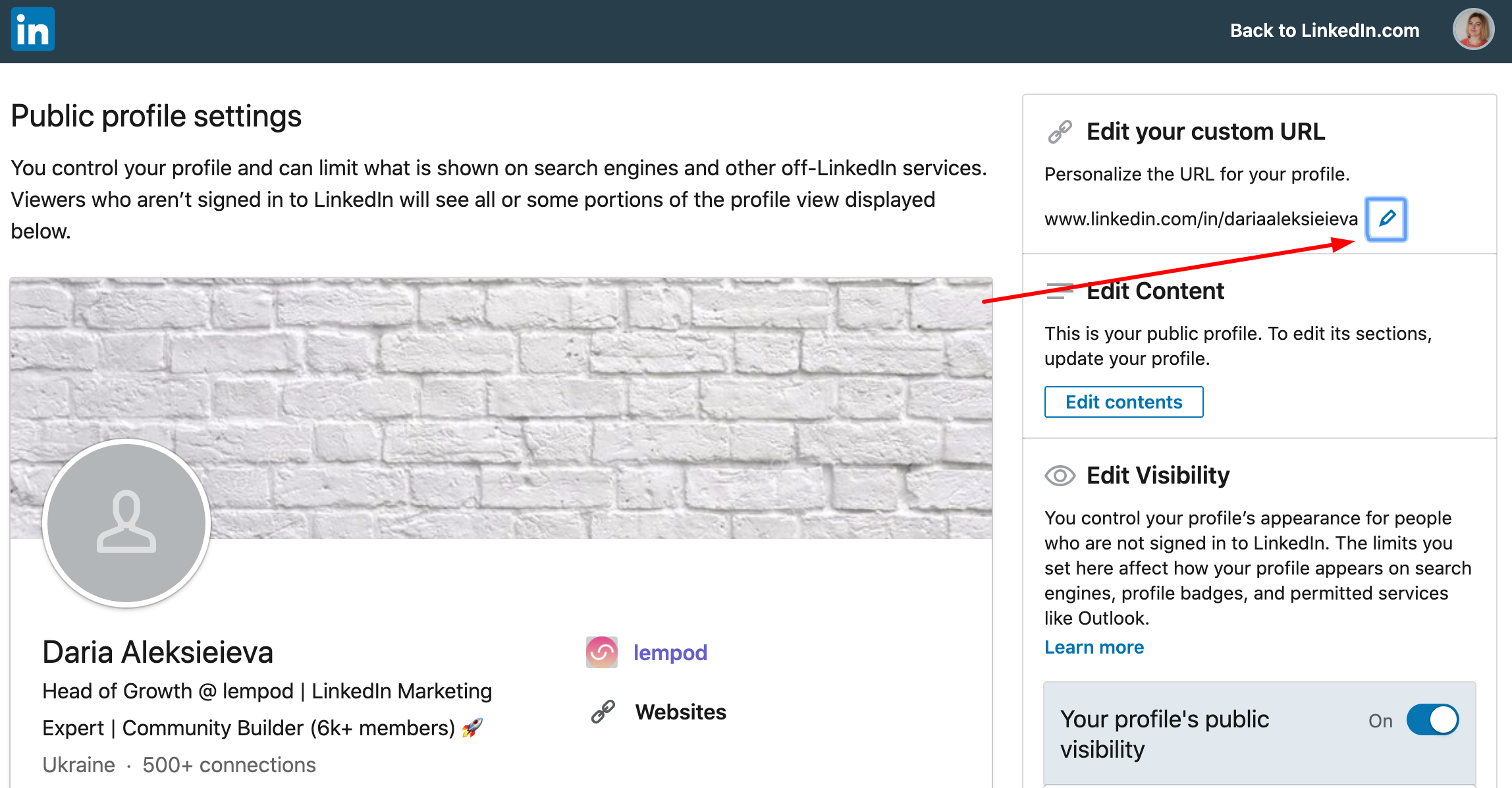 3) Customize your URL in the text box

4) Click "Save"
Why I like this Linkedin feature:
this customized URL can be used on your professional materials. For example, at the end of your presentation, on your business card. The more simple and the link is – the easier it will be to remember it and find you in the future.
#3 Hide People Also Viewed section on Linkedin
If you open your own profile you will notice the section "People Also Viewed" on the right side of the page.
As you have no control over who can appear in this list – sometimes it can display your competitors that may distract your prospects and make them leave your profile page to check them.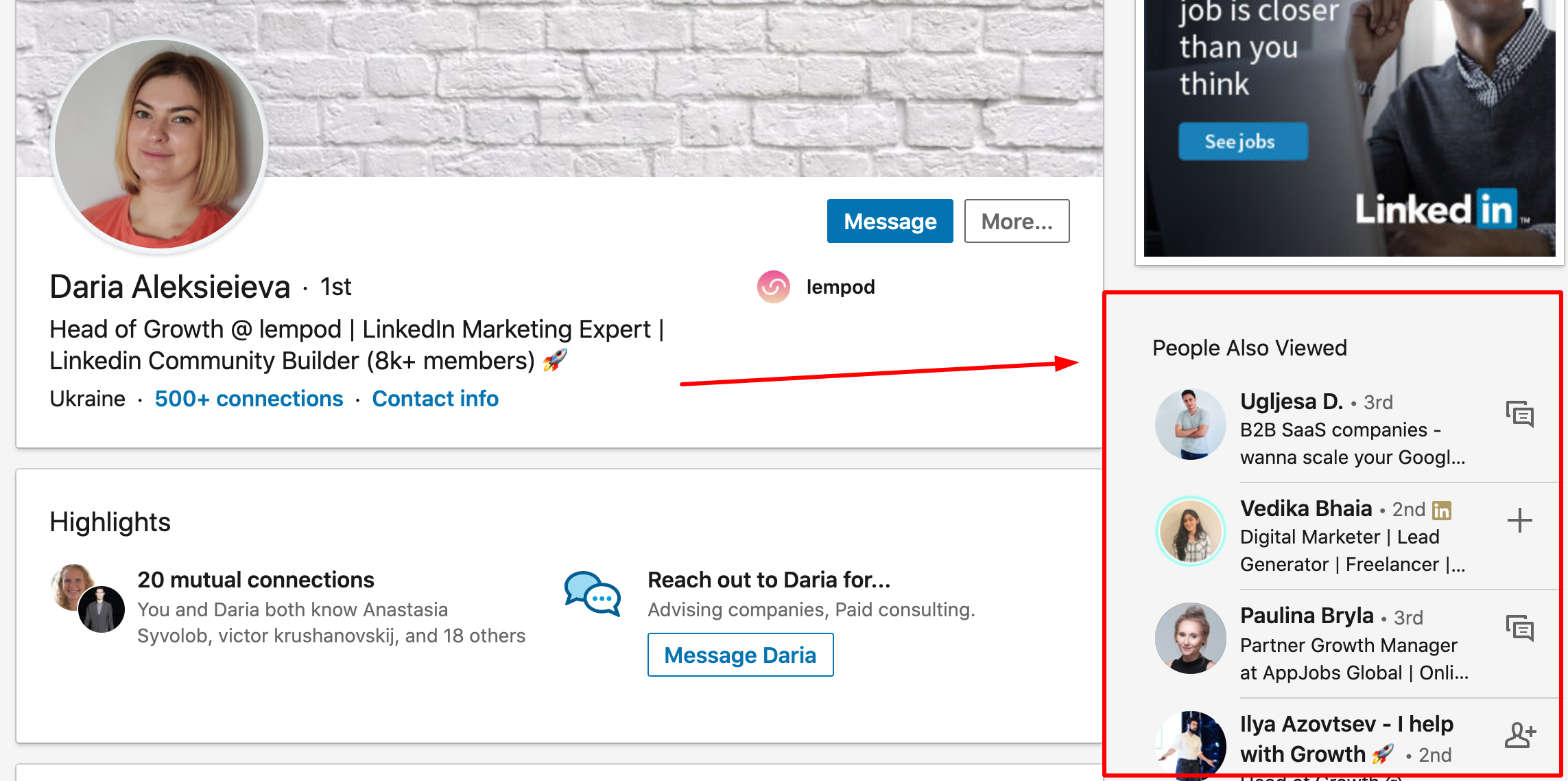 Even if the list is ok now – you never know how it will change the very next moment and who will be shown there.
So, to not lose any of your prospects you have the option to hide this section and be sure nobody leaves your page to check somebody else.
How to hide the People Also Viewed section on Linkedin:
1) Click on "Me" icon on the top of your page near the photo
2) Click on "Settings & Privacy"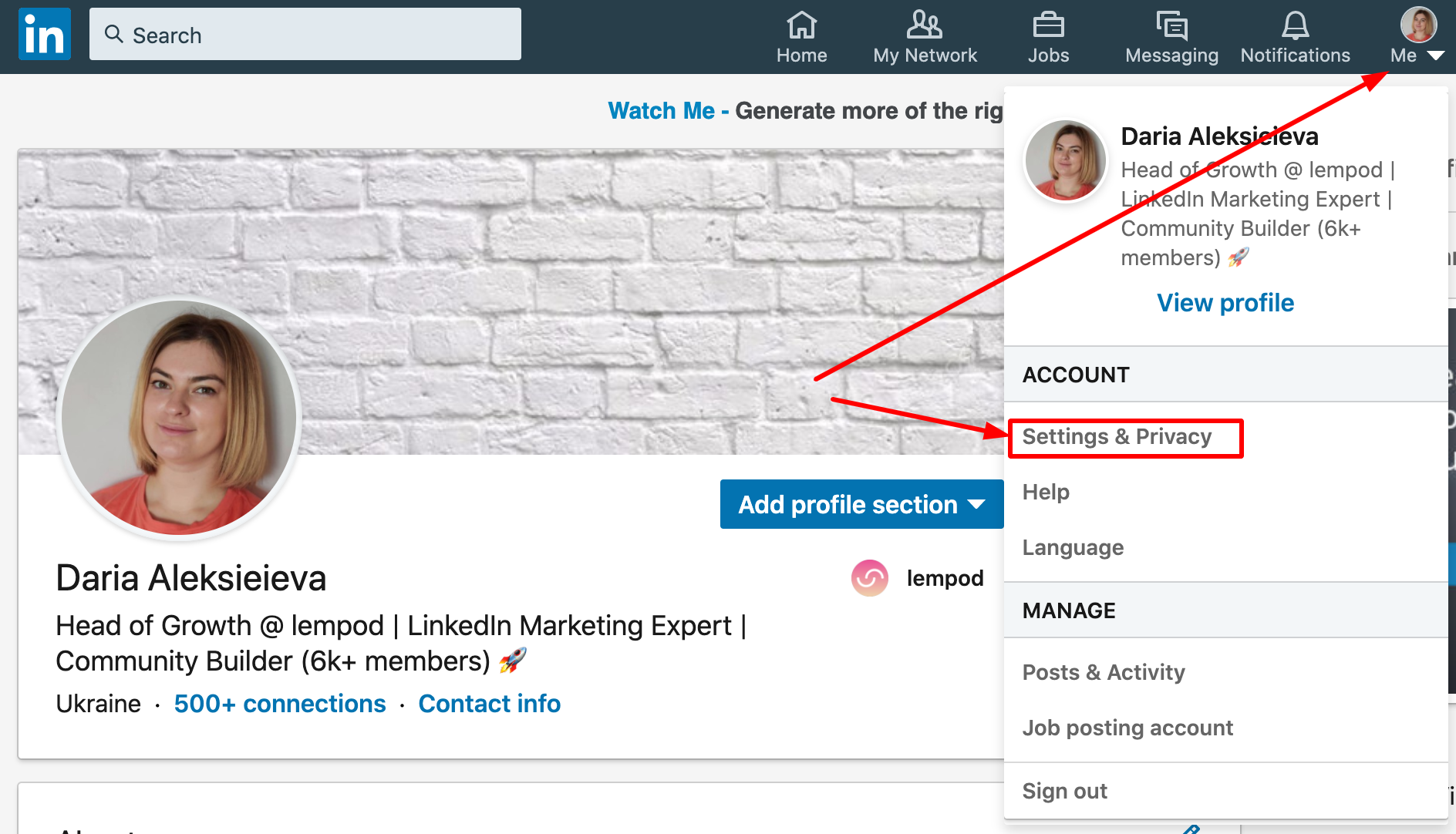 3) Select the "Privacy" tab and find "Viewers of this profile also viewed" sub-section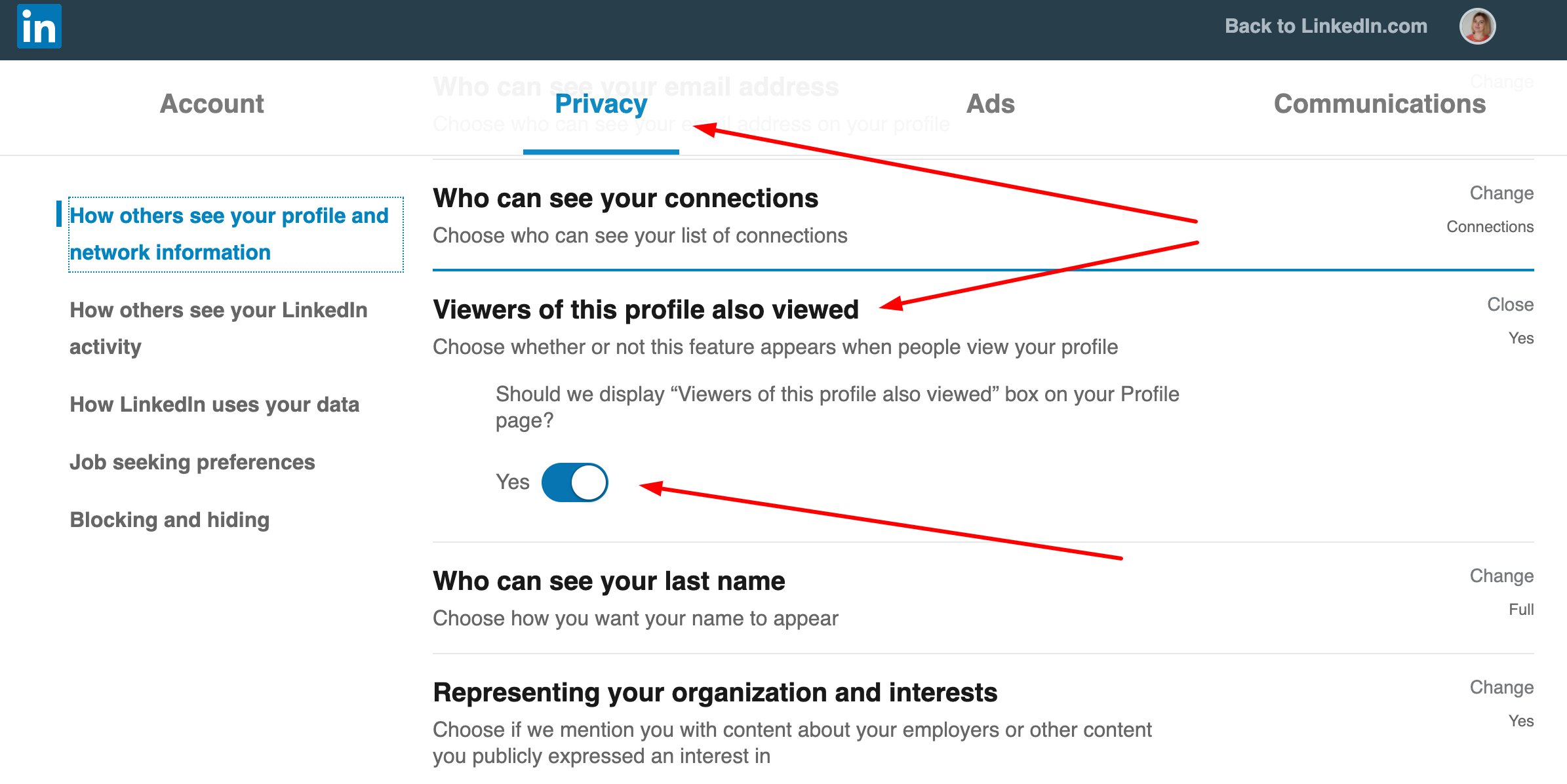 4) Toggle to the left to select "No"
Why I like this Linkedin feature:
let's pretend your Linkedin page is a landing page.
Do you agree that having an additional section that can make your browsers leave is not the best option? I think you will prefer them to land on your page and stay focused only on your profile and not be distracted by anything else.
That's why I think that switching it off is a great Linkedin feature that should be applied right away.
#4 Change the CTA (call to action) on your Highlights section
Let's now check a mobile-only LinkedIn feature that is actually very cool cause it shows exactly how you can help someone with the help of it.
The thing is almost nobody knows about it is that you can't see this section on your own profile, but other members can!
This is how your profile looks if you enable it: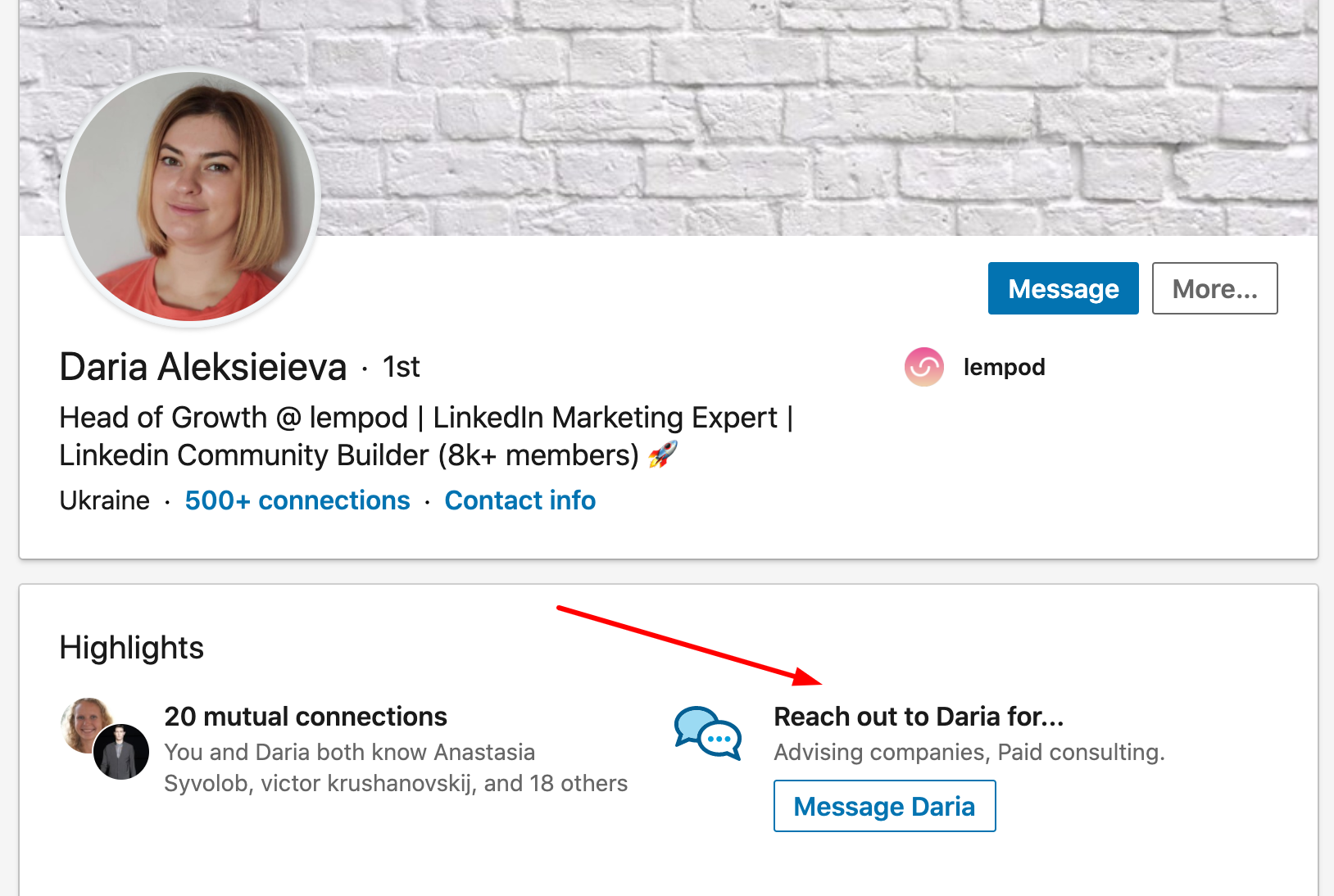 How to change CTA on your Linkedin Highlights section:
1) Open your Linkedin mobile app
2) Click on "View Profile"
3) Scroll to "Contact Section" and click on "Edit" icon near it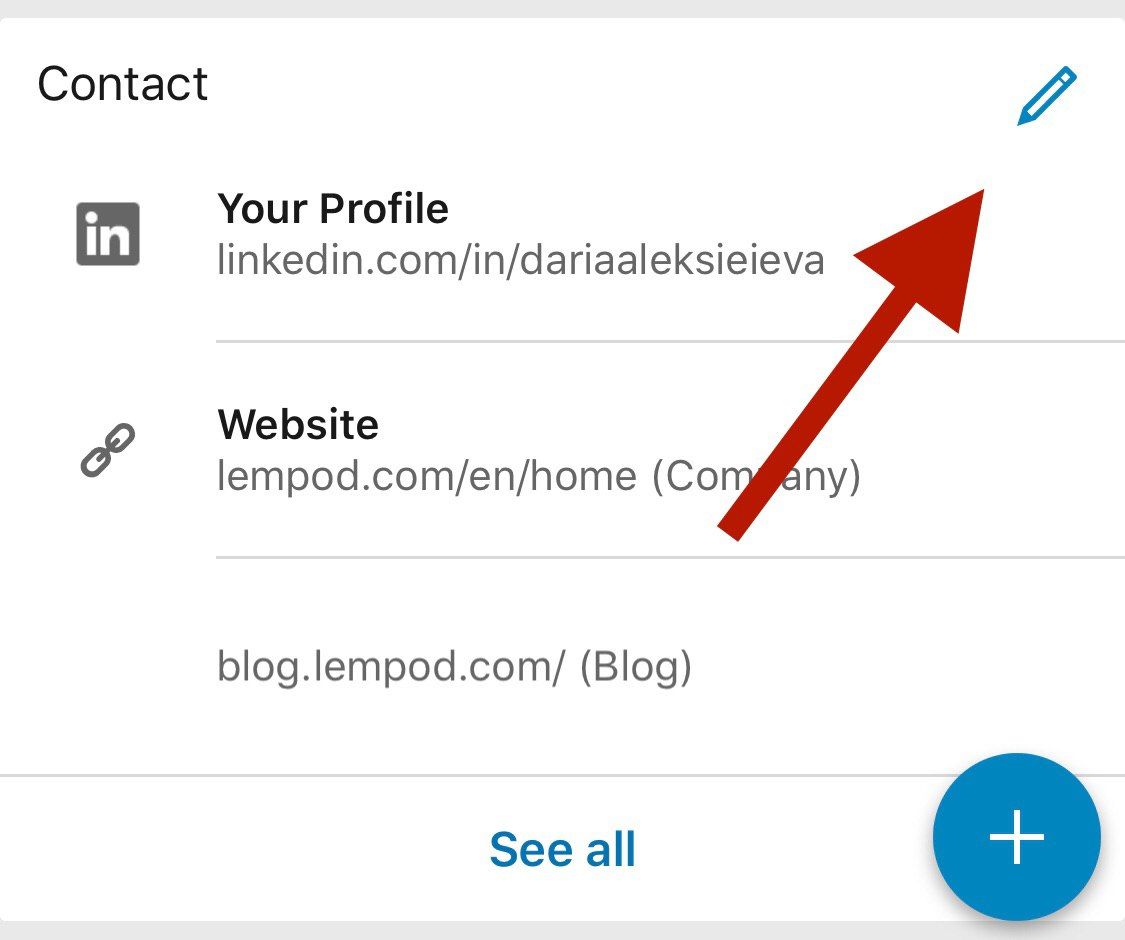 4) Click on "Edit" icon near "Reach out to [Name] for…"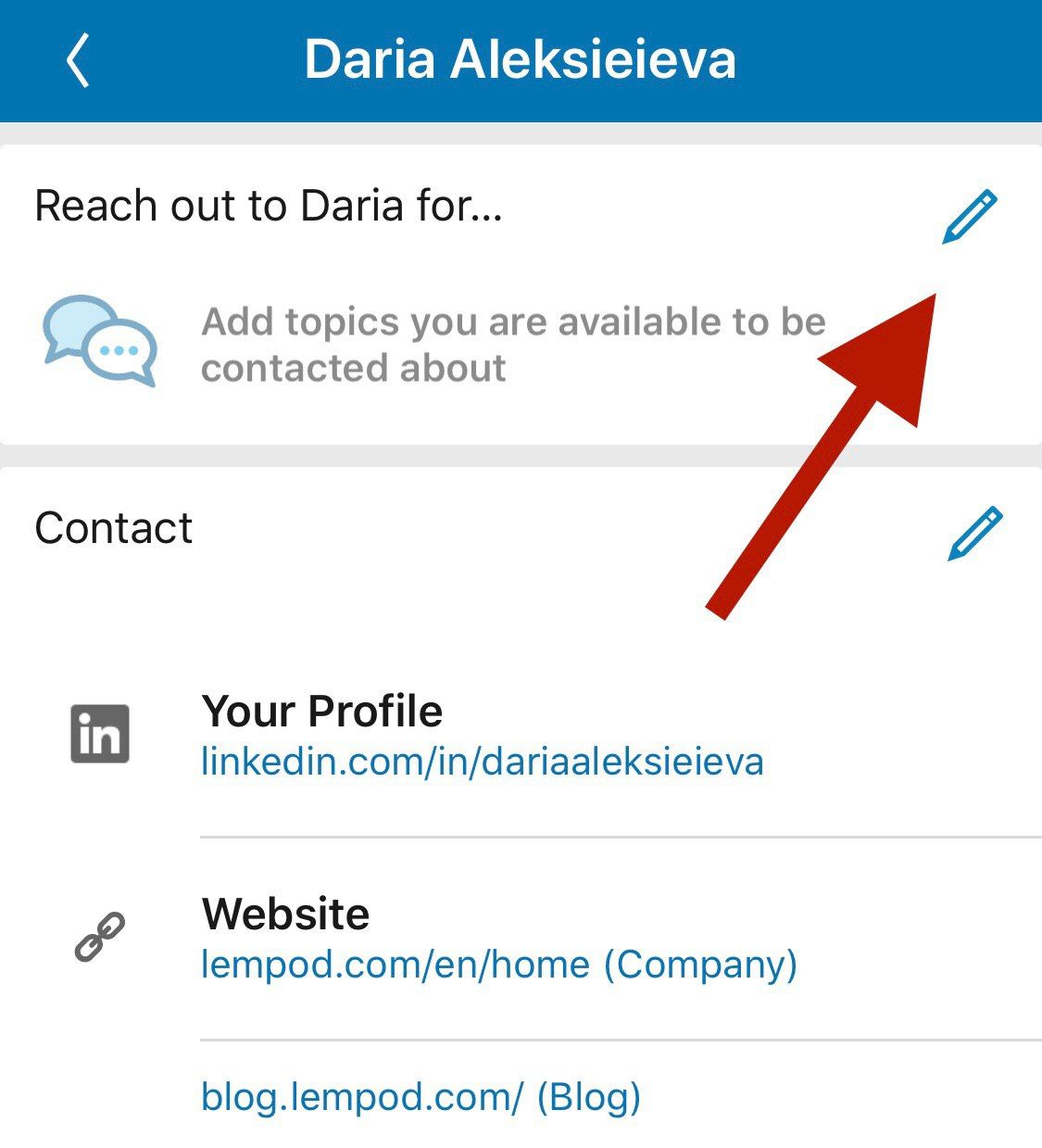 5) Choose up to 3 subjects and click "Save"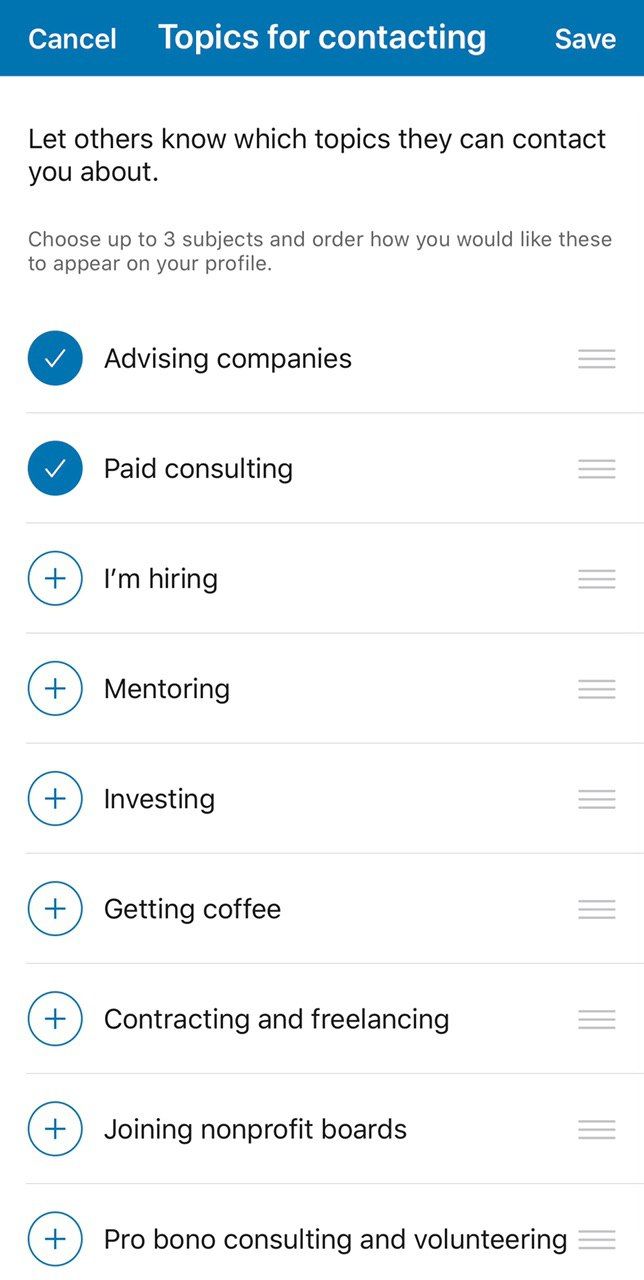 Why I like this Linkedin feature:
it's pretty easy to implement, but can be very effective cause it stands out and is located almost on the top of your profile. So I think it's worth testing.
#5 Change the Connect button to Follow button
As you may already notice Linkedin granted everyone the ability to follow people.
Following someone on LinkedIn allows you to see the person's posts and articles on your homepage without being connected to them.
Previously, LinkedIn allowed having this only for Influencers. But now you are free to do this as well.
How to change your primary button on Linkedin:
1) Click on "Me" icon on the top of your page near the photo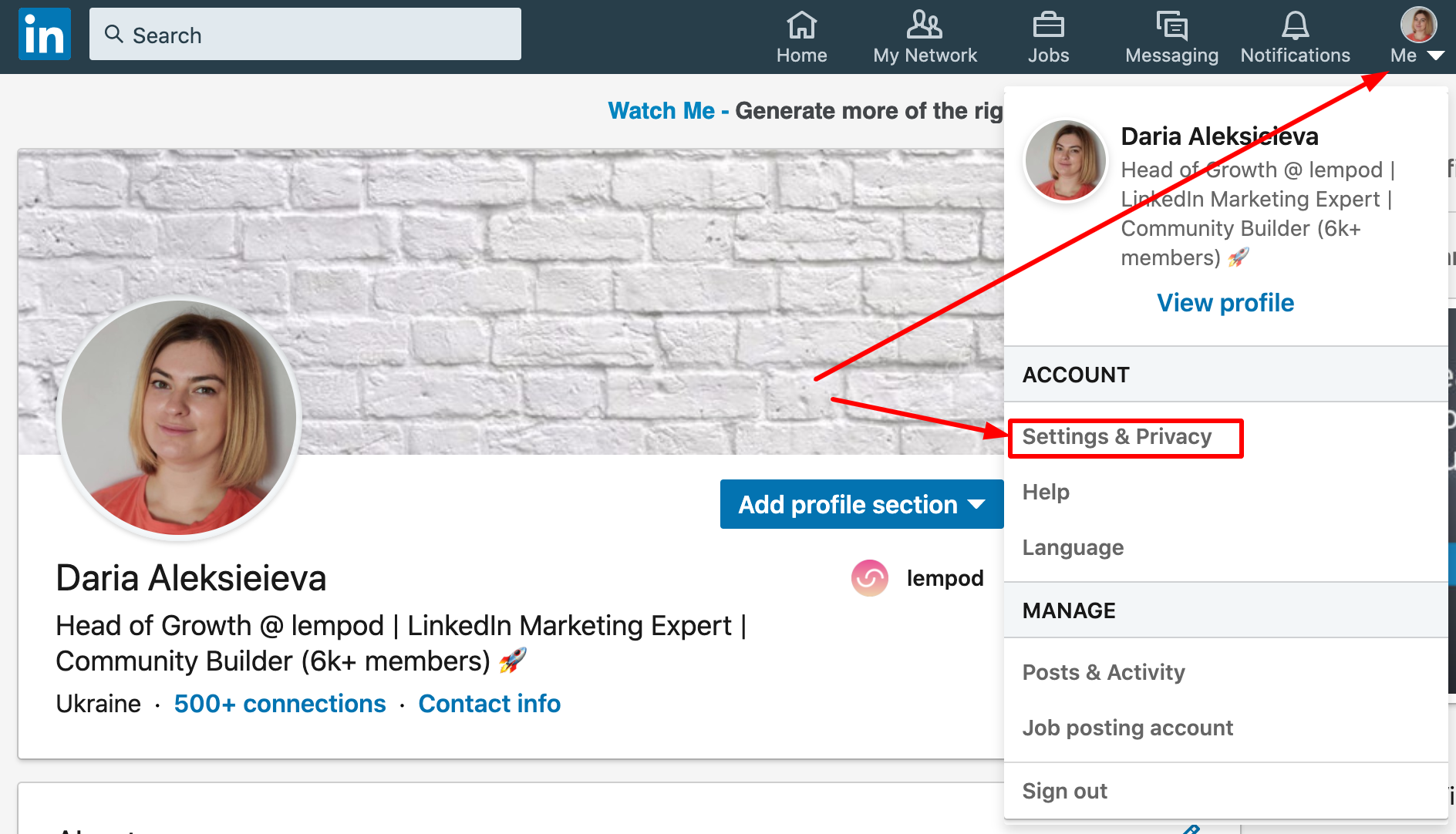 2) Click on "Settings & Privacy"
3) Click on "Blocking and hiding" subsection on Privacy tab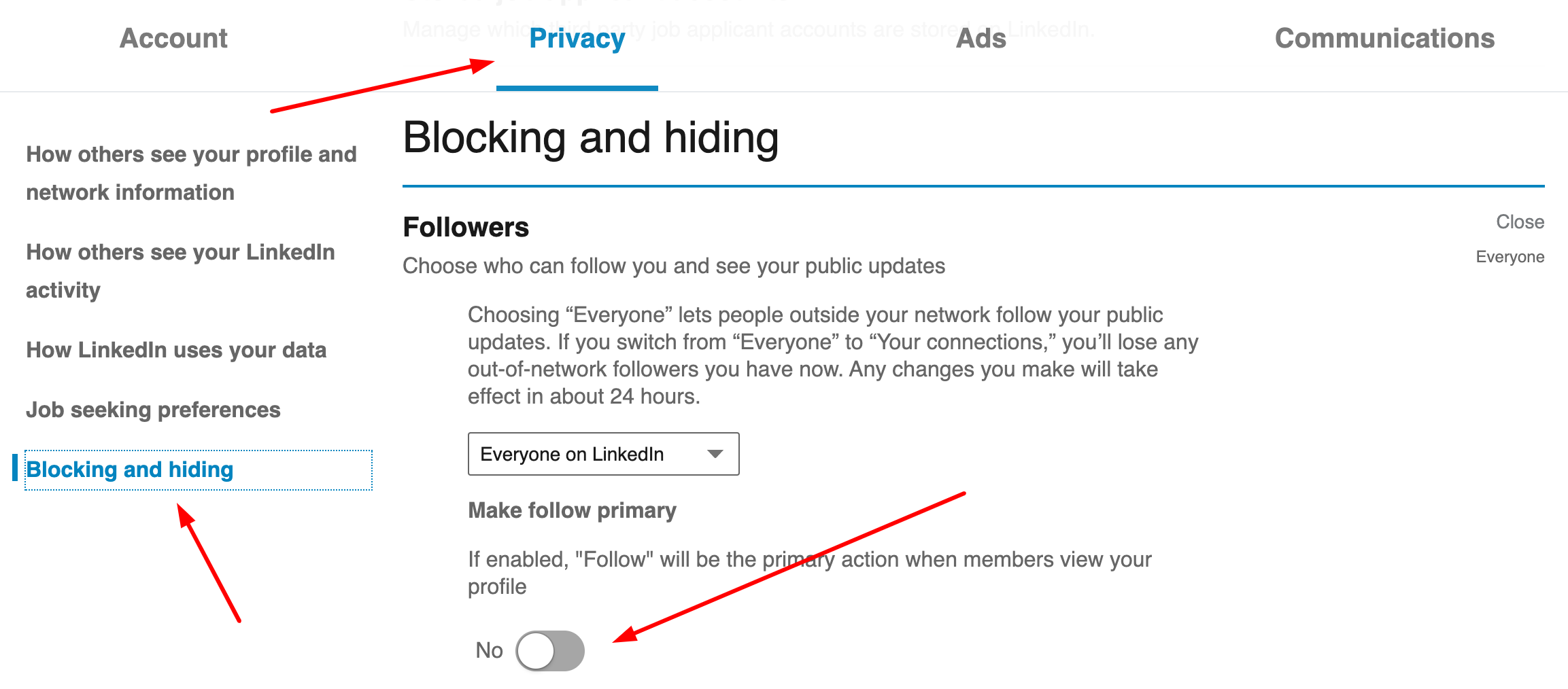 4) Open "Followers" section and enable "Follow" button
Now your primary button is "Follow" instead of "Connect" and your page looks like this:

Note: If you made "Follow" button your primary button – your "Connect" button will become a secondary option and will be available by clicking on "More…" button.
Why I like this Linkedin feature:
to be honest, this is my favorite feature. Why? Because it may be applied in many strategies and be V-E-R-Y effective.
To get the idea, right now I will share my favorite strategy that you can also implement with ease and that will help you start gaining more followers right away 🚀.
BONUS: Cool Linkedin strategy to increase your followers' number
The main idea of this strategy is to increase your visibility on Linkedin with your content. People tend to follow those people who can be interesting to them.
For this, you need to show your expertise in the topic where you have deep knowledge and earn some trust.
Once you are ready to start you just have to follow these 3 easy steps:
1) Change the "Connect" button to "Follow" button
2) Consistently create and post high-value content
I hope you already do it, but if not it's high time to start.
If you need some help with this – you can check our fresh article where we tested 5 different post types to see what content works better on Linkedin. The results were very interesting 😏.
3) Boost your posts to increase your Linkedin posts views
Linkedin is booming now so more and more content makers join this platform every day. And Linkedin actually supports these members and boost the reach of their posts if the algorithm "see" that this content is of high quality and brings value.
How does it understand this?
There is one trick:one of the indicators of this is an initial engagement under the post during the first hour.
But how to receive it?
There are two ways to receive initial engagement on your Linkedin posts:
This way you will need to ask people to like and comments on your post. It may be your friends, colleagues, your connections..
You may also join some engagement groups created to help each other with likes and comments, but this process will take lots of time, and let's be honest – very often people stop doing it and remember about these groups only when they want to receive likes on their own posts.
This way you will receive likes and comment automatically. For example, you can use lempod for this – a magic tool to boost your Linkedin marketing efforts.
This is how it works and how it can help you receive your initial engagement:
1) You join relevant pods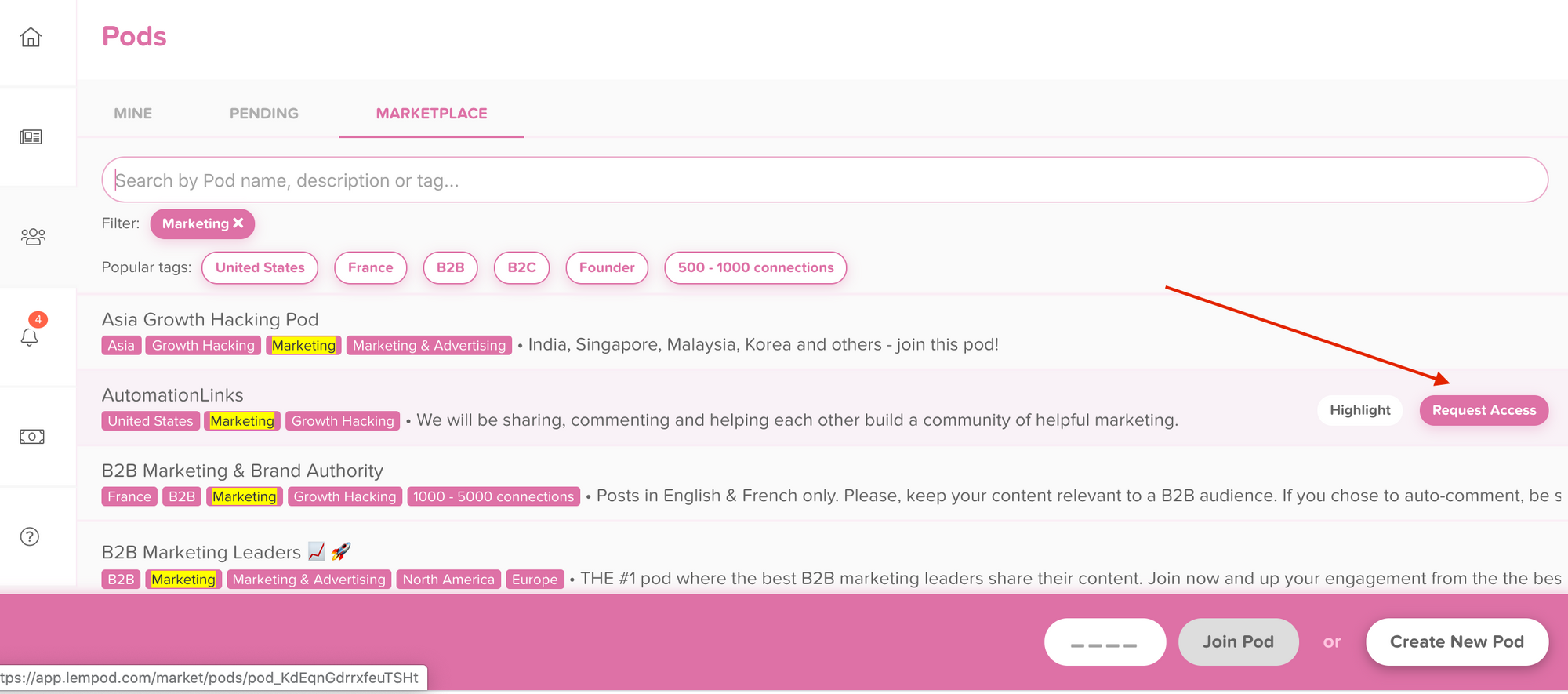 There are thousands of pods on lempod so I'm sure you will find pods on your interests.
2) You add your LinkedIn post to pods you've chosen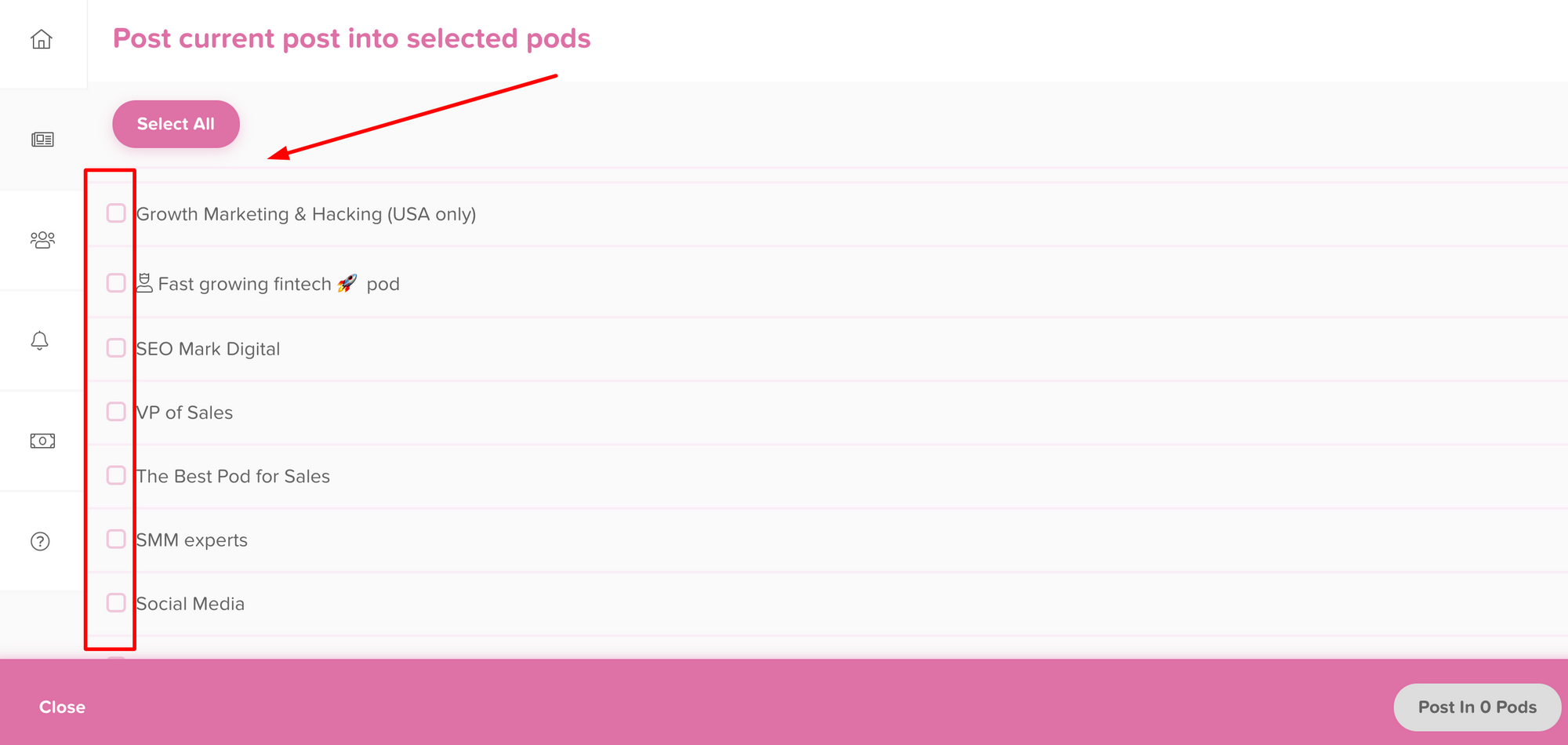 3) And voila, you start receiving likes and comments under your post and see how your post views increase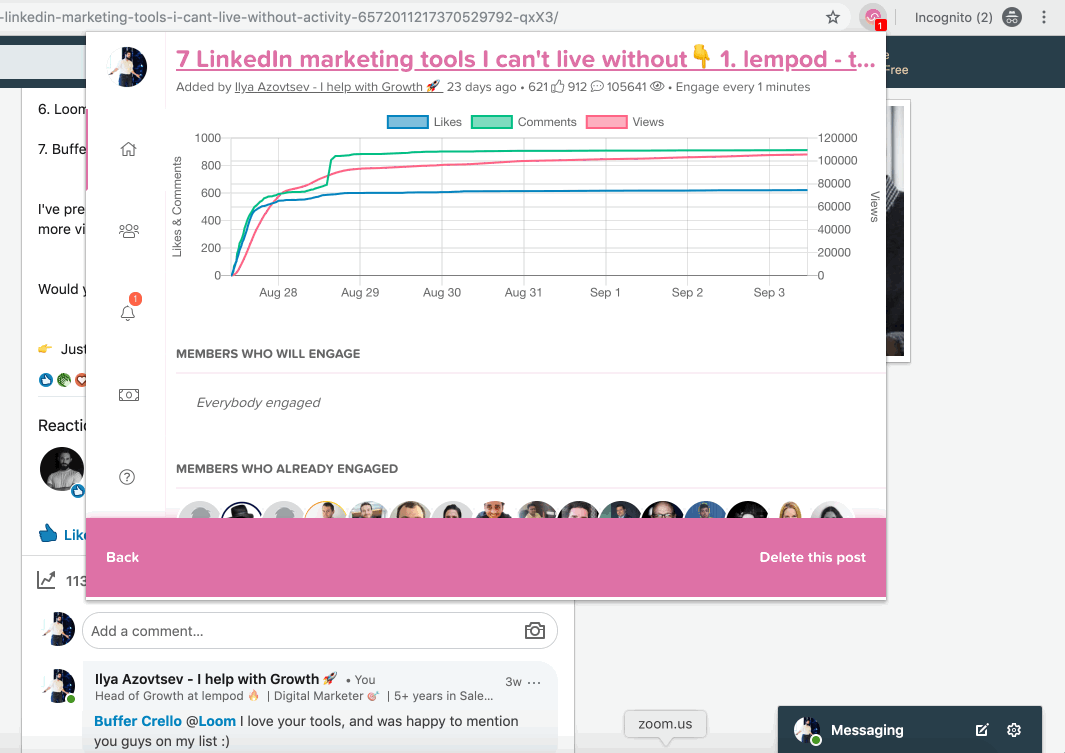 As you can see, it's as easy as 1-2-3!
Everything is automated, so you won't waste lots of time reaching out to people and asking to engage on your post. Finally, you will be able to focus on what matters most – your Linkedin strategy itself.
The best thing? The pricing is really cheap – just $5 per pod per month.. and you will be able to receive automated engagement from other people (all real Linkedin members).
If you're ready to start right away, here're the pods that are trending now and secret codes to access them:
SaaS Haven – All things SaaS 🚀 – The secret code is: 6129
Growth Hackers – Worldwide 🌍 – The secret code is: 6031
High-level Marketing Club 👑 – The secret code is: 1042
Startup Factory – Achieve Fast Startup Growth 🚀 – The secret code is: 3348
The HR Mastermind – Everything about Human Resources 🤓 – The secret code is: 4763