Last Updated on 15 February 2023 by Lempod
LinkedIn has over 690+ million users, and more than 260 million users are active every month. So if you are just an average Linkedin member – it's very hard to get noticed on Linkedin!
But it doesn't mean it's not possible.
And today in this article I'm going to show you my favorite strategies on how to stand out from the crowd and get noticed on LinkedIn among other users.
Ready? Let's dive right in!
#1 Identify your most influential followers and engage with them [automated option]
If you didn't know – Linkedin now allows you to see who your followers are. And the best part is they also show how many followers each of them has.
This information is super powerful cause now you can use it to determine who are your most influential followers and engage more often with them to be noticed not only by them… But by their followers and connections as well.
This strategy to get noticed works this way:
you select the most relevant followers with the biggest followers number (for example those who have more than 10k followers)
you like and comment on their posts
you get noticed on LinkedIn by these followers and their connections 🤘
Sounds pretty easy, hah?
And now imagine that you can automate this!
And here is how you can set everything up:
Use this Phantom to generate a list of all your followers
Open your document with results from Phantombuster
Select the followers with the biggest followers' number
Use this Phantom to automatically like posts from your chosen followers
Use this Phantom to automatically comment on posts and articles of your chosen followers (you can create some generic comments that will be relevant for all posts)
As an option, you can like and comments manually.
This way you will be able to create relevant comments that will likely receive more attention and it will help you get noticed even more 😉
#2 Boost your posts reach with Engagement Pods [automated option]
Let me ask you: how many views you receive on your posts? Hundreds? Thousands?
If not the last one – then you are missing out on a huge opportunity to be noticed by thousands of relevant members and the strategy below is for you.
The main idea of this strategy is to increase your visibility on Linkedin with your content.
Linkedin is booming now and it actively supports members who create content on their platform.
How?
It boosts the reach of the posts if the algorithm identifies the great content.
How does it identify this?
There is one trick: one of the indicators is an initial engagement under the post during the first hour. So the more likes and comments you get – the more is the chance that Linkedin will boost you post.
But how to get this engagement? Use engagement pods that will help you receive likes and comment as soon as possible.
For example, you can use lempod for this – a magic tool to boost your Linkedin marketing efforts and x10 Linkedin post views.
This is how it works exactly and how it can help you receive your initial engagement:
You install lempod chrome extension
You join relevant pods (There are thousands of pods on lempod so I'm sure you will find relevant).
You add your LinkedIn post to pods you've chosen
And voila, you start receiving likes and comments under your post and see how your post views increase
This is how it looks: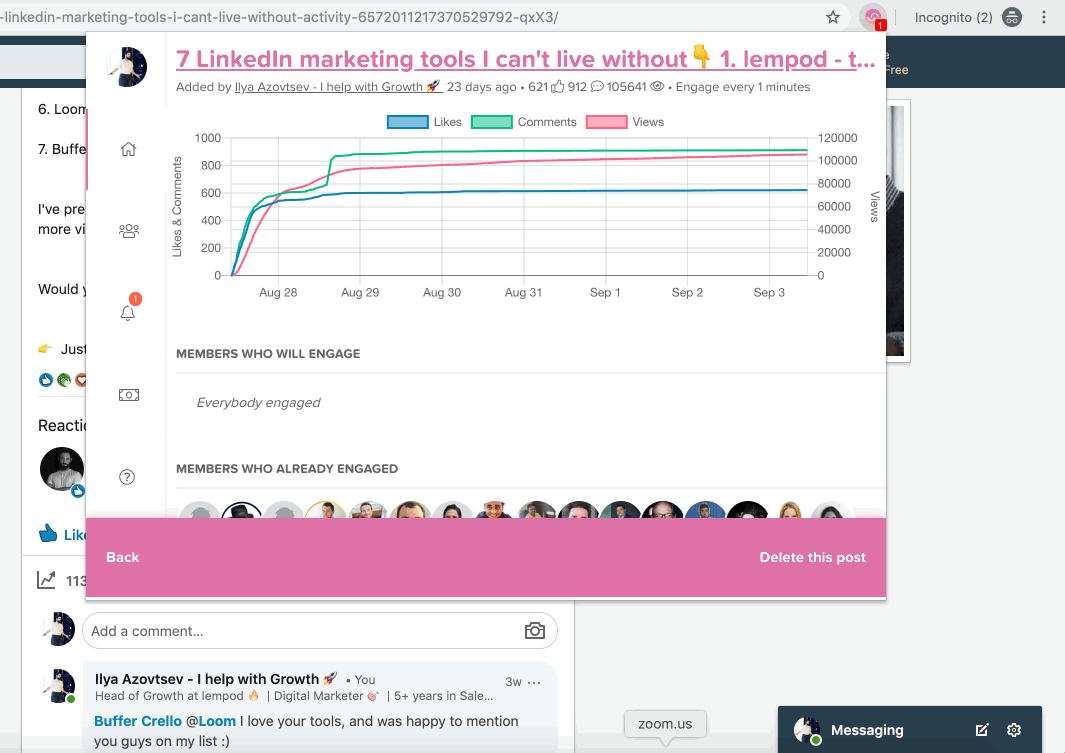 As you can see, it's super easy!
Everything is automated, so you will be able to focus on what matters most – your Linkedin content strategy to get more reach and be noticed even more.
The best thing? It's a monthly subscription that costs only $5 per pod monthly.
So you will be able to receive automated engagement from other people (all real Linkedin members) and cancel any time.
If you're ready to start right away, here're the pods that are trending now and secret codes to access them:
SaaS Haven – All things SaaS 🚀 – The secret code is: 6129
Growth Hackers – Worldwide 🌍 – The secret code is: 6031
High-level Marketing Club 👑 – The secret code is: 1042
Startup Factory – Achieve Fast Startup Growth 🚀 – The secret code is: 3348
The HR Mastermind – Everything about Human Resources 🤓 – The secret code is: 4763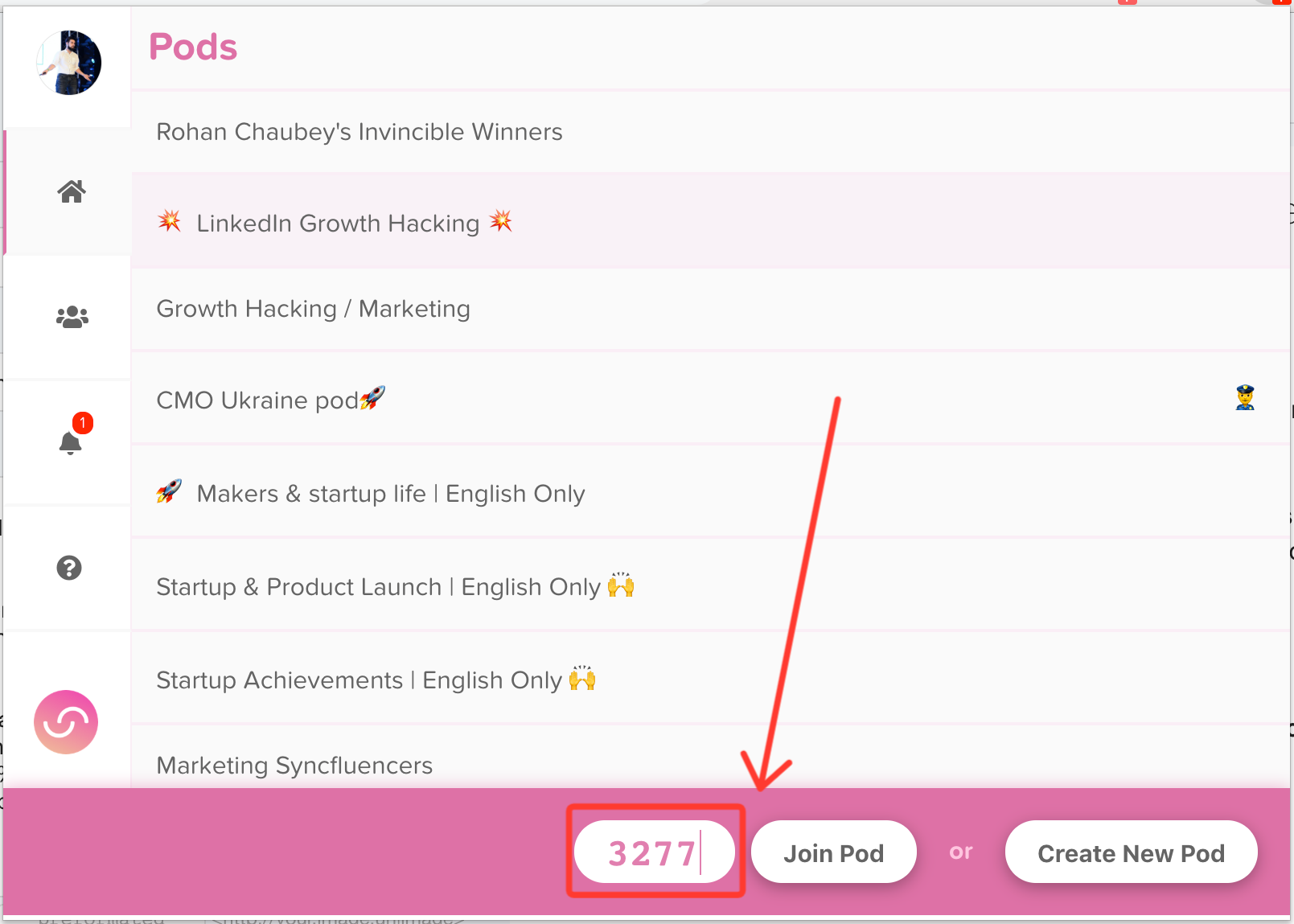 #3 Write SEO-optimized articles
Let's now talk about articles.
Unlike posts, your articles may be searchable both on and off LinkedIn.
It gives you an opportunity to be noticed with your Linkedin account beyond the platform itself with the help of Google Search.
All you need to do is to create SEO-optimized content like when you do when creating articles for your blog.
So people will be able to find your articles even in a month or a few after you posted it.
For example, let's take "how to connect with people on linkedin" keyword that has 500 search volume on Ahrefs and add this keyword to google search.
And the first link that will appear on Google Search results will be the link to Linkedin Article written by Kathy Bernard on December 13, 2017:
If you open the article you will see that this is just an average content with just 50 likes and 6 comments, but it still ranges the 1st on Google Search:
So the main thing here is to optimize content. Once your article is published you will start receiving views and will become getting noticed by other people.
What I also like? The prior button here us Follow so if searchers find your content great they will probably follow you right away as well.
#4 Optimize your profile for keywords
I love the idea of considering Linkedin profile as a landing page.
Why? Because this strategy works for all profiles no matter what you use this platform for: to sell your product or just to build your personal brand.
Anyway, you need to be found.
And as you optimize your website to be found on Google – you need to optimize your profile to be found on Linkedin.
For example, here is my latest weekly search stats:
And here are keywords my searchers used:
How you can be searched by relevant people? You should think of relevant keywords.
The best option to find some good ones – try searching on Linkedin on your own.
This is how you can do this:
1) Open your Linkedin search and select "People"
2) Think of a relevant keyword, type it and click on the search icon
Now you can see how many people on Linkedin show up for this keyword:
By testing 5-6 different combinations of keywords you will understand how the search works and have a clear understanding of SEO situation.
Now you can choose 1-2 keywords you'll focus on. Notice, that the higher the search volume, the harder it'll be for you to rank there and be noticed.
Now when you know what keyword to use for your LinkedIn profile you can add them to:
a) Headline
b) Summary
c) Experience
All these sections will help you be noticed in search results cause they can be shown on Linkedin search:
#5 Like and comment on the relevant posts [automated option]
When Linkedin decided to become a platform for content makers – we received the new option: search by content.
And this feature is super cool.
For example, recently I decided to check what others say about lempod on Linkedin (if you didn't know – Linkedin offers this feature automatically so you don't need to use any filters):
And I've found lots of articles from our blog that were shared by other Linkedin users.
For example this one about my own article on how I tested 5 different Linkedin Post Types:
It was great to see this share.
And I understood that there are lots of users who already know me and who have read my articles and will likely be interested in connecting with me and follow my updates (cause actually Linkedin is one of the main channels where I share all my articles).
So I decided to show my appreciation for doing this (by liking and commenting) and guess what?
I started receiving connection requests from these users right away.
Why?
Because people actually tend to connect with someone they know.
So from now on – I'm going to do this on a regular basis and suggest you do the same ❤️.
---
You can also check our other cool articles:
👉 We tested 5 different post types on Linkedin – here is what we found [RESULTS INSIDE]
👉 9 LinkedIn Content Ideas That Will Bring You More Customers