Last Updated on 27 October 2023 by Lyn Sy
As someone who's responsible for your company's growth – you must have an amazing toolkit that will help you reach your goals and milestones.

The reason why I say that you must have a great toolkit is that, honestly, you can't be considered as a growth hacker if you're not automating a bunch of tasks and doing things on a scale.

The whole purpose of growth hacking is reaching massive goals in short periods of time or with a low amount of money.
Thus – choosing the right toolkit is one of the most important tasks you should consider before starting any growth hacking campaign.

So – here're the best growth hacking tools on the market that will help you in different departments and stages of your growth.

Wondering how we identified the best growth hacking tools?

Easily – we asked people for a recommendation.

On top of that – we even tried all of these growth hacking tools so we can deliver you only the best experiences.

So, let's get started! 🙂
Growth Hacking Tools for LinkedIn
LinkedIn is one of the best growth hacking channels for all B2B businesses – thus – growth hacking tools for LinkedIn are in our first place.

So, let's see them.
---
1. Lempod – growth hacking tool for bigger LinkedIn engagement
Bigger engagement on LinkedIn means more post views. More post views mean more connection and potential customers.

More potential customers mean bigger MRR in your bank. It's simple as that.

Thus – lempod can be a great tool for you if you're chasing B2B customers.

Yeah – I know – it's really selfish from us and so self-promotional to put our own tool to be the first on the list.

I know that – but let me be real with you.

Lempod is actually the number one tool we used to get over 1300 customers from LinkedIn in three months. For real. If it helped us meet our goals and skyrocket our MRR – then it can help you as well.

Long story short:
Lempod is a growth hacking tools that work as an engagement pod. In other words, in lempod, there're 100s of different engagement pods you can join.

The biggest difference between lempod and traditional LinkedIn engagement pods (like groups, chats, etc.), is that in lempod, all the members of one pod automatically engage with your LinkedIn posts.

On this way – you can get tons of likes every 40 seconds after going live and boost your engagement to the skies.

Here's an example of how effective lempod can be.

I used lempod to get initial 150 likes and 15 comments on this post:


As the end result – I've got 500 likes, over 680 comments and a reach of almost 100.000. These are the great results since I have only 2000 connections.

Pricing of lempod starts at $5/mo per one pod.
---
2. Expandi – growth hacking tool for LinkedIn outreach automation
LinkedIn can be a big gold mine for your sales if you're in the B2B industry.

Almost everyone's target audience might gather there. Knowing how to take advantage of that is crucial.
Fortunately for us – Expandi is there to automate our LinkedIn outreach.

But – Expandi doesn't just automate your LinkedIn outreach – but it's also one of the safest LinkedIn tools you can use.

It's a cloud solution and getting banned from LinkedIn is almost impossible.

Expandi works pretty simply – everything you need to do is to choose your target audience and start an outreach campaign.

It's simple as that.

But – at least for me – one of the biggest advantages of Expandi over other growth hacking tools for LinkedIn outreach automation is the deepness of the analytics you can see.

It's the same as for email outreach. You're able to see number of sent messages, percentage of accepted connection requests, and much more.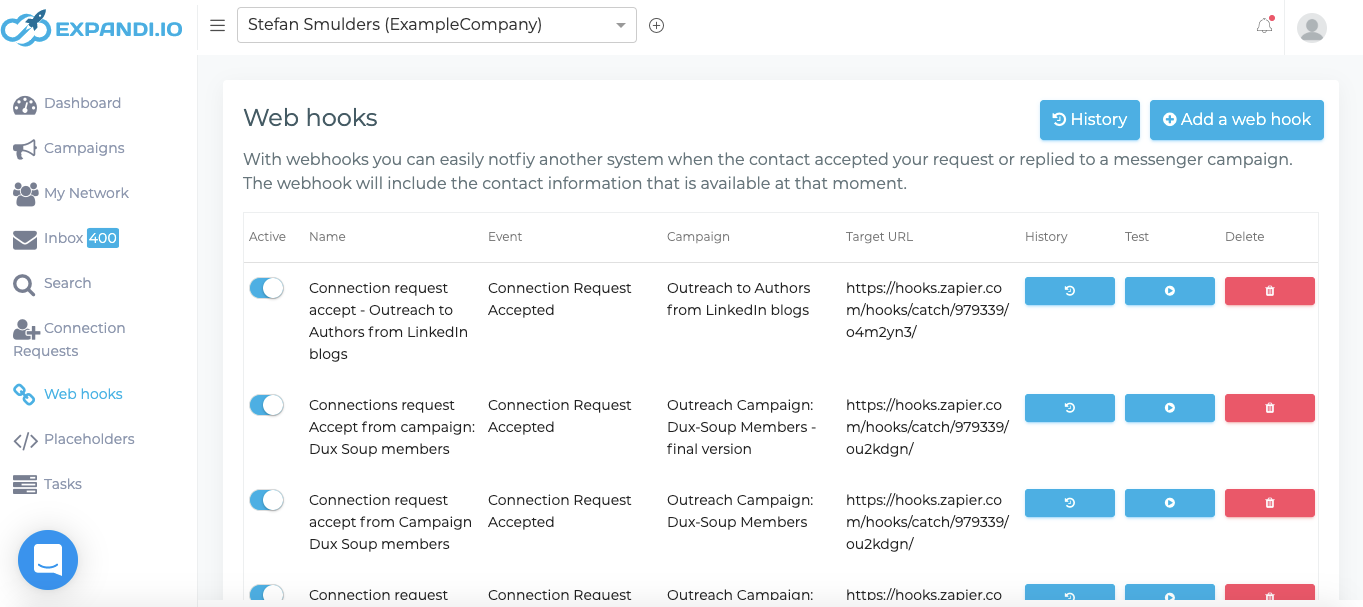 Expandi starts at $150/mo per seat – but if you make your account by the end of this year, you can get it for just $75/mo per seat by the end of 2020.

Make sure to create your Expandi account as soon as possible to take the special offer.
---
3. Shield – LinkedIn Analytics platform
Yap – this growth hacking tool is made by the agents of S.H.I.E.L.D. (joke :D)

If you don't know how good your LinkedIn results are – then consider using Shield.

Shield is a growth hacking tool for LinkedIn Analytics.

It gives you all the necessary information you need to take your LinkedIn game on the next level. Such information is the engagement rate, number of views, profile views, and much more.

But, why should you use Shield when you already have some analytics inside LinkedIn?

The first reason is that LinkedIn has analytics access to only 90 days. On the other hand – Shield has more in-depth analytics than LinkedIn itself.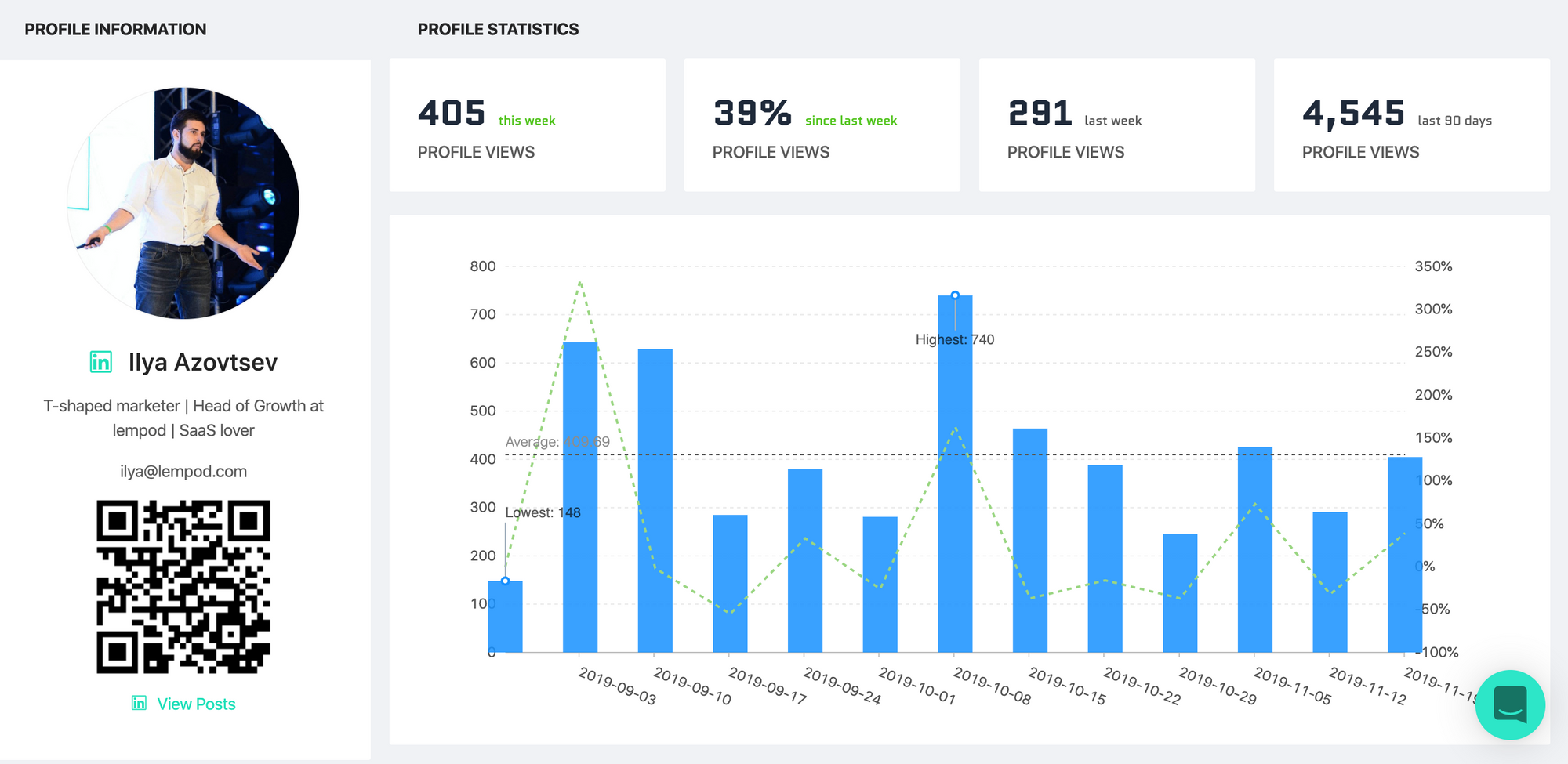 Shield starts at $10/mo for the solo plan and goes up to the $30/mo for the pro plan.
---
Growth Hacking Tools for Automation
Automation is probably one of the most important growth hacking processes. Thus – using a great toolkit is essential.

Let's take a look at the best growth hacking tools for automation.
---
4. PhantomBuster – scraping, automated following, and everything you can imagine
PhantomBuster is my go-to tool for scraping, data processing and different automation processes

It has an extensive library of 200s of different APIs you can use for automating different processes and workflows.

It's great for lead generation and outreach. With PhantomBuster – you can automate different processes on Facebook, LinkedIn, Twitter, Slack, Pinterest, and many other platforms.

It has a 14-day free trial while the paying plans are starting at $30/mo.
---

5. Zapier – automate, well, everything
Zapier is an extensive automation platform with thousands of different integrations. It enables you to connect different apps and make a killing workflows that will run on their own.

With Zapier – you will be able to create a well-oiled machine that will keep your team productive and get the work done.

Zapier has a lifetime free plan while the pricing starts at $19.99/mo
---
Growth Hacking Tools for Email Marketing
You know very well that email marketing is crucial not just for email outreach, but for different backlink building, newsletter and other campaigns as well.

Thus – here we're going to see the best email marketing growth hacking tools on the market.
---
6. Lemlist – Cold Email Outreach tool that gets open rates (and replies)
Lemlist is a cold email outreach software used by many SMBs. It's great for any kind of cold email campaigns – whether you're doing an outbound sales or building backlinks.

But, lemlist isn't just an ordinary cold email outreach tool. There are a couple of features and benefits that are helping it to stand out from mailshake, woodpecker, and other similar tools.

They are:
Personalized images – yap, with lemlist, you can create customized images on the scale and secure better reply rates.
Personalized landing pages – another amazing feature – enables you to create dedicated landing pages for each prospect.
Warmup feature – you want to get the biggest deliverability as possible? Make sure to warm up your email addresses with lemlist.
BTW, if you'd like to start doing great B2B lead generation, check the full cold email outreach guide.
Here's how lemlist looks in action:
Lemlists's pricing starts at $29/mo.
---
7. Dropcontact – the Best email finder out there
Let me be honest with you – I used many email finder tools. MANY. And Dropcontact is definitely the best one.

Why?

Because it has the biggest success rate of finding great (and validated) emails.

I'm using a couple of email finding tools at the same time. When other tools can't find an email for some prospect, the Dropcontact is the one that finds it in 80% of cases.

Not to mention that Dropcontact is already integrated into Lemlist and PhantomBuster.
Dropcontact starts at 24 euros per month.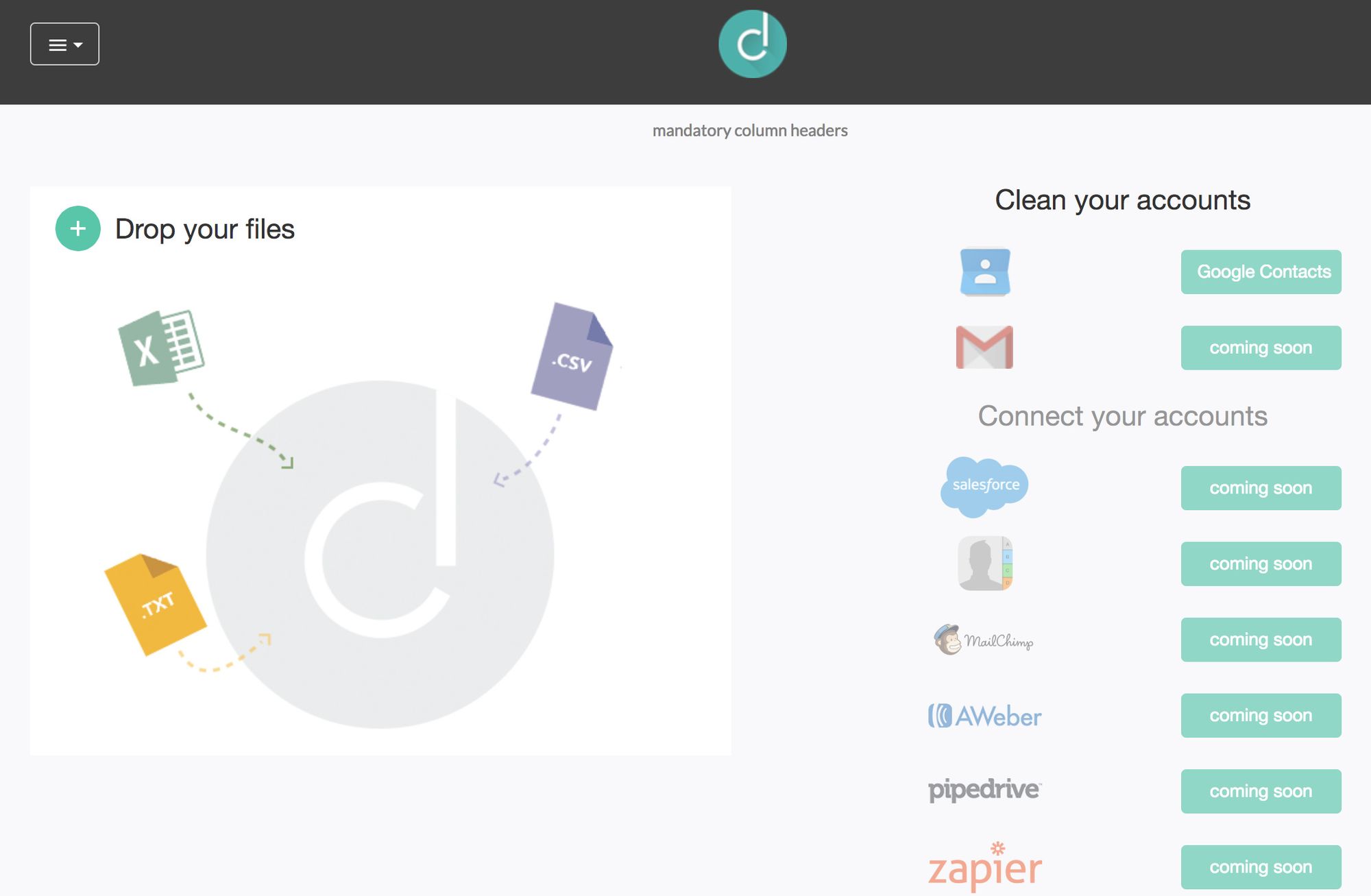 ---
8. Drip – the best tool for transactional emails
Whether you're using transactional emails for your user onboarding or you're sending some personalized campaigns – Drip is your go-to tool for that.

It's great, intuitive, easy to use and its deliverability is stunning.

Drip starts at $49/mo.
---
9. Mailtrap – the best email testing tool
What does the email testing tool make on the growth hacking list? Well, your recipients won't be happy with broken or undelivered messages.

Mailtrap is simple but at the same time provides a lot of various checks.
It is a perfect fit for tech-savvies to test email sending, check email deliverability, view messages in the virtual inbox, inspect the code and errors, etc. All these features are included in the forever free plan.

Paid plans start from $9.99 per month, adding wider sharing options, Bcc checks, and email app load testing.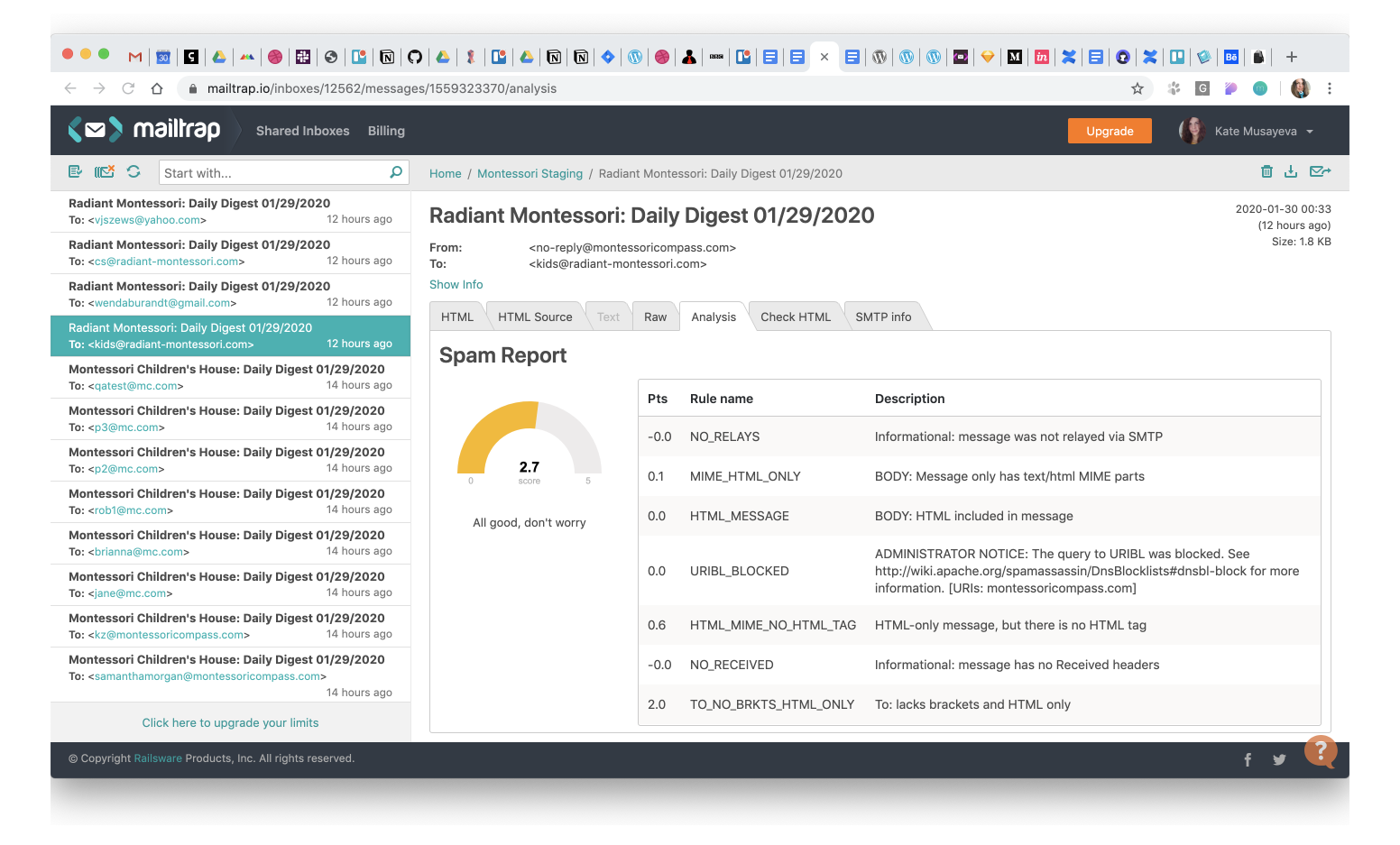 Growth Hacking tools for SEO and Backlink Building
If your marketing efforts are focused around the organic user acquisition, then you know the importance of good tools for the SEO and backlink building.

Here're the best of them.
---
10. HARO – best platform for PR and Backlink Building
HARO is a web platform for writers and contributors. Whenever the writers need some contribution – they're asking industry experts publicly for the contribution.

HARO is your way to go if you want to be featured on Forbes, G2, and a bunch of other high-quality publications.

Here's what my friend, Levi Olmstead, Director of Marketing at 2ndKitchen says about HARO:

"HARO – HARO, or help a reporter out, is a service that connects journalists needing quotes with sources who can provide answers. Signing up for the service is free, and you receive three daily emails with queries on specific stories broken out into categories such as "business", "tech", "health", etc.
It's a great growth hacking tool because the queries come to your inbox three times a day, and many answer take only 5-10 minutes to write and send over. My conversion rate for having my quote placed is around 20%.
These placements always include a link back to my website and help me grow our domain in topical-relevant niches."
---
11. Ahrefs – Find great SEO and Backlink Building Opportunities
Without any doubt – Ahrefs is one of the best SEO and Backlink Building tools. It's a robust platform with a lot of features that are going to help you with:
Finding great keywords
Comparing different types of content
Finding amazing backlinks
Tracking rankings performances
And many other things.
Ahrefs starts at $99/mo.
12. Netpeak Checker – SEO and Link Building Opportunities
Netpeak Checker is a desktop tool for SERP scraping and data aggregation from top SEO services to analyze and compare websites in bulk. The tool takes care of:
Evaluating the SEO of your competitors — compare URLs by parameters of well-known services: Ahrefs, Moz, Serpstat, Majestic, SEMrush, etc.
Evaluating the website's quality for link building and review domain age, expiration date, and availability for the purchase (search for dropped domains).
SERP scraping, quick topic research for successful articles and search for potential clients in any business area.
Tracking your search rankings along with your competitors'.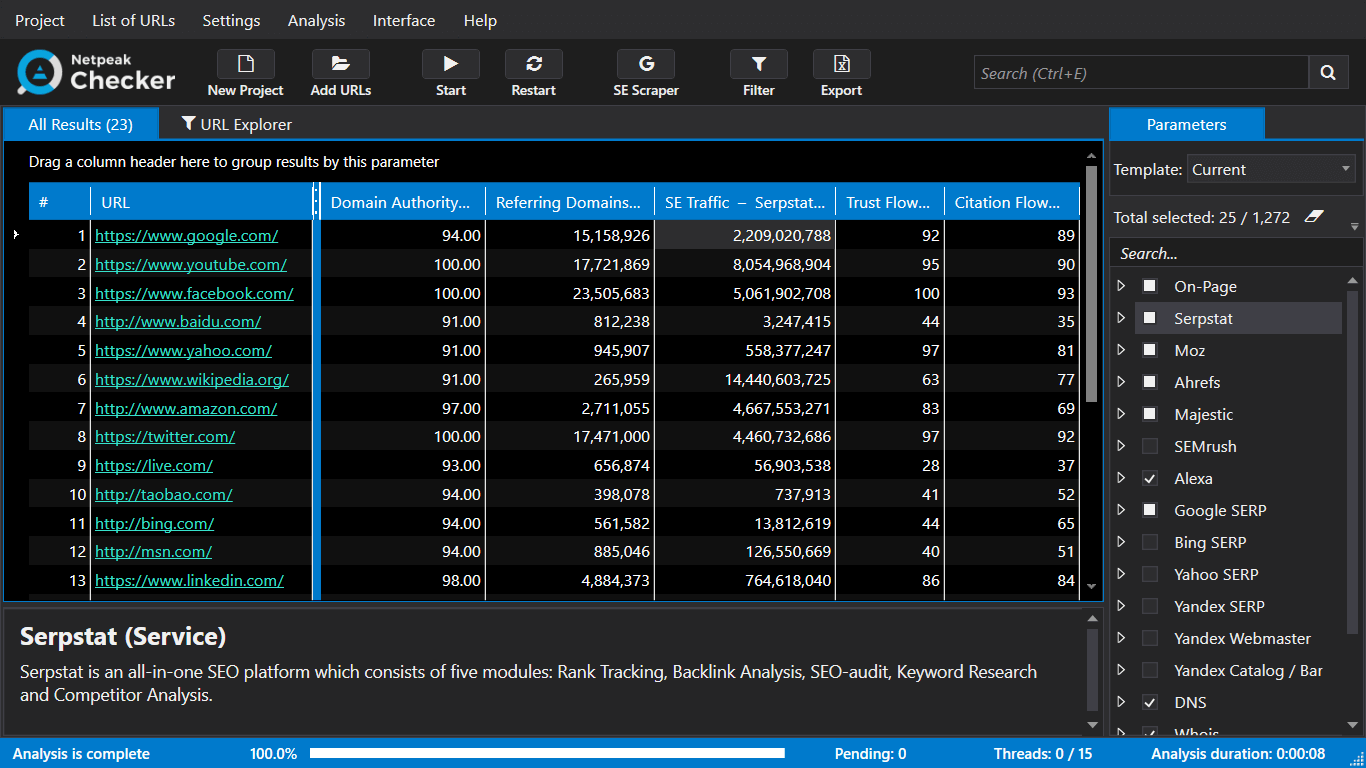 ---
Growth Hacking Tools for Content Distribution
When we saw the best tools for SEO and Backlink building – it's natural to see the best tools for content distribution.

Every growth marketer knows that doing an amazing content distribution is sometimes even more important than creating the content itself.

That's the truth. Why would you wait for months for your article to rank on Google if you can see some results immediately after publishing it?

Here're the best growth hacking tools for content distribution.
---
13. Quuu promote – reach your target audience easily

Quuu promote is a service of content distribution (it's not quite a tool, but it works like that).

Once you boost your post with Quuu promote, other people will start sharing your articles. On this way – you can get nice distribution results as soon as you publish your article.

But, keep in mind that they're very picky when it comes to choosing the content for promotion. They won't accept all articles.

Here's what my friend, Steven van Vessum – VP of Community at ContentKing says about Quuu:
Tap into an established network of content promoters that receive suggested content from people wanting to promote their content.

As with all types of content, if it's really niche content don't expect massive amounts of traffic because fewer people will share it, but if you're pushing more mainstream content it's a decent traffic driver. The better your content, the more success!
Promoting one piece of content with Quuu promote costs you $40.
---
14. GrowthHackers – Best forum out there for content distribution
If would I need to choose one way to distribute my content – it would definitely be the GrowthHackers platform.

You won't just find there your target audience and great friends (we're growth hackers, right?) – but you will also be able to reach a massive number of people.

Not to mention that, if your content is good enough, it will end up in GrowthHackers' newsletter with over 70.000 recepients.

My content was choosed a couple of times as the best content of the week on GrowthHackers. The results?

Over 3000 people visited my website after being the first. Not bad for the articles that still have a low Google ranking.
The best part? It's totally free!
---
Growth Hacking Tools to KickAss your Conversion Rate
The first thing, that's on the top of your funnel should be the user acquisition – or the sign-up rate. Call it however you want.

Now, you can have 100.000s of website visitors, but if your website is not optimised for conversions, you can't expect to have sales and money in the bank.

Thus, conversion rate optimisation is one of the most important things to consider when growth hacking your business.

Here're the best growth hacking tools for conversion rate.
---
15. Notifia – set of different CRO tools
Notifia is the platform, similar to PhantomBuster, that has over 30 different conversion and acquisition optimisation tools.

It's the best for e-commerce businesses but it's also great for SaaS companies as well.

With Notifia, you can collect emails on various ways or even show some social proof with different slideouts and modals.

It's a must for all serious growth hackers.

Notifia's pricing starts at $9/mo for up to 1000 notifications.
---
16. Poptin – blow up your conversion rate with triggered pop-ups.
Pop-ups are one of the most common ways to improve your conversion rates.

But, be careful – not every pop-up tool is great for your conversion rate optimisation.

When choosing the right pop-up tool, keep in mind that it should have:
Ability to create eye-catchy designs
Extensive triggers
When using pop-ups – everything is around the triggers you use and the relevance of your pop-ups to the current user's context.

And Poptin is the one of the best tools for creating pop-ups.

With Poptin, you can create the cutting-edge design and trigger your pop-ups based on the various website visitor's behaviours such as exit-intent, percentage of the scrolled page, type of the page, etc.

Poptin has a lifetime free plan for showing your pop-ups up to 1000 times, while the paying plans are starting at $19/mo.
---
17. Drift – build your chatbots in minutes
Drift is a well-known growth hacking tool for improving your conversion rate with chatbots.

Creating chatbots is extremely easy. You can do it in a matter of minutes.

Chatbots can be great for lead generation, blog subscriptions or user acquisition.

Drift is a little bit expensive tool, but it has a startup plan (for one year) or $50/mo.
---
18. Mouseflow – know what are your visitors doing on your website
Mouseflow is a great tool for recording visitor's sessions and looking at the heatmaps of your website.

Knowing what are your visitors doing on your websites, what pages are they visiting, at what order and where they clicking will help you to find out pain points of your website.

Identifying the pain points will help you to make the necessary changes and improve your conversion rate.
Mouseflow starts at $29/mo.
---
Best Growth Hacking Tools for Cutting-Edge Design
Not all Growth Hacking tools will help you to acquire more customers or automate some processes. Some of them will help you to save your time.

Such tools are especially the design tools. With them – there is no need for compliacted and time-consuming Adobe products.

Let's see them.
19. Venngage – make the every visual you need
Venngage is a great tool for making infographics, mind maps, flow charts, cover letters, and many other things while it can also be suitable as the report maker.

The thing I liked the most about Venngage is their user onboarding flow and easiness of use.

In a couple of minutes you will completely learn how to use the product. Not to mention that making stunning images and visuals is super easy.

Venngage is free for students while the paying plans are starting at $49/mo
---
20. Crello – best tool for social media images
If you're looking for some growth hacking tools that will help you to make some quick visuals suitable for social media then look no further.

Crello is a visual design tool that helps digital marketers create various images, videos, ads, banners, and blog posts.

It's intuitive and super easy to use.

Crello has a lifetime free plan while the premium plan is $7.99/mo
---
Growth Hacking Tools for Activation Rate and User Onboarding
User Activation rate, trial-to-paid conversions and user onboarding are one of the most important parts of SaaS businesses.

You don't have any benefits from 1000 trial users if you can't convert them into paying ones.

Fortunately, there're two best user onboarding tools that can help you to supercharge your activation rate and trial-to-paid conversions.
---
21. Userpilot – create amazing in-app experiences
Userpilot is a user onboarding software that enables you easy and intuitive creation of different in-app experiences, product tours, tooltips, checklists and many other things.

The best part?

It doesn't require coding at all!

You can create amazing flows through your product by yourself – no need to waste your developer's precious time.
Userpilot starts at $149/mo for up to 2500 monthly active users.
---
22. Loom – onboard your users on a personalized way
Although it's a little bit time consuming – onboarding your users by sending them personalized videos with a walkthrough through your product is always the best thing you can do.

Loom is a video recording tool that enables you quick and easy video capturing of your product.

I especially like Loom because it allows you to record your screen and your face at the same time.

Everything you need to do is to install the chrome extension and you're ready to go.

Loom also has a lifetime free plan.
---
Other Growth Hacking Tools Worth Mentioning
There are other growth hacking tools that I REALLY like, but I couldn't decide in what category to put them.

So, here're the best of the best honourable mentions.
23. Time Doctor – manage your team's time on the better way
Time Doctor is the time management app that enables you easy tracking and managing of your remote employees and colleagues.

It's great for different remote companies, marketing agencies, marketing consultants and monitoring the overall efficiency of your teammates.

It can track how much time your people are spending on each task.

This data is crucial for allocating your resources and making sure that you and your time are working with your maximum.
Time Doctor starts at $9.99/user/mo.
24. Planable – Plan your Social Media Content in a proper way
Planable is a great team-collaboration tool for managing and planning your content on different social media channels.

What I really like about Planable is its intuitive way of sharing different content with different people – especially when I'm working on some collaborations with other partners or clients.
Planable starts at $39/mo.
---
25. Leadquizzes – Growth hacking tool for creating quizzes, surveys or anything else you like
Leadquizzes is a great tool for generating and nurturing your leads or subscribing through quizzes, surveys or any other type of engaging forms.

It already has huge predefined set of templates you can use to start engaging with your potential customers right away.

Creating new surveys or quizzes is easy peasy.
26. Rebrandly – Custom URL shortener
URL shorteners like Bitly have been used for a while to make long website addresses more user-friendly. The problem with something like Bitly is that the URL is shortened generically, in other words it's given a Bitly address.
Enter Rebrandly, which has pioneered branded URL shortening. In other words, when you shorten the URL of a page or post, you can determine an abbreviation which fits the unique feel and values of your brand.
The Bottom Line
As you can see – there're various growth hacking tools you can use in different fields of your business to improve your MRR and get more customers.
See more growth hacking tools listed on Sales Loves Marketing
But remember:
You can have the best growth hacking tools out there, but if you don't know how to use them or how to execute your growth hacking strategies – you won't go too far and add MRR.
Thus – if you want to learn more on how to execute different growth hacking strategies, make sure to check our ultimate guide on the 9 LinkedIn Growth Hacks that helped us to get over 1300 customers in 3 months.