LinkedIn tools can be your best friend or the worst enemy – depending on the LinkedIn tools you're using and the ways you're implementing them.

You can either get banned (which no one wants to happen of course), or you can end up with a lot of leads, sales and the most important – with the big influence on LinkedIn.
Over the last couple of years, LinkedIn is in a constant war with different extensions, plugins and apps that are manipulating with LinkedIn.

There're various LinkedIn tools that are forbidden for usage from LinkedIn, such as:
Linked Helper
ContactOut
eLink Pro
And dozens of other LinkedIn tools.
But, fortunately for all of us that are seeking growth, there're a lot of great LinkedIn tools that:
Are undetectable by LinkedIn
LinkedIn will not ban you if you're using them
Are doing an amazing job
Will help you grow your company, have bigger MRR, reach more people and generate more leads and closed deals
Thus – if you're looking to kickass your growth, these 8 best and safest LinkedIn tools will help you to do that.

So let's see them! 🙂
1. Lempod – LinkedIn tool for bigger engagement
We've all heard of pods.

Pods are essentially groups of people that are liking and commenting on each other's posts.

The whole idea of pods is to help each other hack LinkedIn's algorithm and have better reach. Since the more likes and comments you have in the first 30 minutes after publishing your post, the better reach you're gonna have.

But, there're a couple of problems with regular pods:
Less than 5% of people will engage with your post
Depending on the size of your pod, you can expect only 5 – 35 likes or comments. It's really rare to get more than that.
People are lazy, so they're probably gonna engage with your post in a couple of hours – and you need likes and comments as soon as possible in order to get bigger reach.
Fortunately – lempod is there to solve these problems.

Lempod is the chrome extension where you can find 200+ different public pods where you can join. So you can choose the pods with the right audience for you.

For example, if you're seeking for B2B Founders in USA, there's a pod called Entrepreneurs & Startup🔥 Founders with 50 people inside.

But, how actually lempod works?

Unlike traditional LinkedIn engagement pods, every member of the pod is automatically liking and commenting on your posts. So you will be able to get 100s of likes and comments in the first 30 minutes to one hour.
This is more than enough to get a boost in your reach.

As a reference, here's an LinkedIn post where I got 500 likes, almost 700 comments and a reach of amazing 100.000 people. Keep in mind that I got only the initial 30 comments from lempod and around 50 – 100 likes.

These are not bad results for someone who had around 2000 followers at that time 🙂
To sum it all up:
Lempod can help you to improve your reach by 10,20 or 30 times of your followers by letting other people automatically engage with your posts if they're in the same pod as you are.
The cost of lempod is $5/mo/pod.

As an instance, if you're using LinkedIn Ads, for $5 you can get only 1000 impressions or 1-3 clicks. But with these $5 in lempod you can get a reach of 100.000+ each month. Not to mention that you can use one pod to boost up to 30 LinkedIn posts per month.

If you're looking to skyrocket your growth by having bigger LinkedIn reach, make sure to create your lempod account right now.
BONUS: Join LinkedIn Engagement Pods with my "Secret Code"
I've created the list of LinkedIn Engagement Pods on lempod with super awesome people there.
There are already top influencers in their sphere, so you can join pods where high-level LinkedIn accounts create a relevant content. So here we go:
SaaS Haven – All things SaaS 🚀 – The secret code is: 6129
Growth Hackers – Worldwide 🌍 – The secret code is: 6031
High-level Marketing Club 👑 – The secret code is: 1042
Startup Factory – Achieve Fast Startup Growth 🚀 – The secret code is: 3348

The HR Mastermind – Everything about Human Resources 🤓 – The secret code is: 4763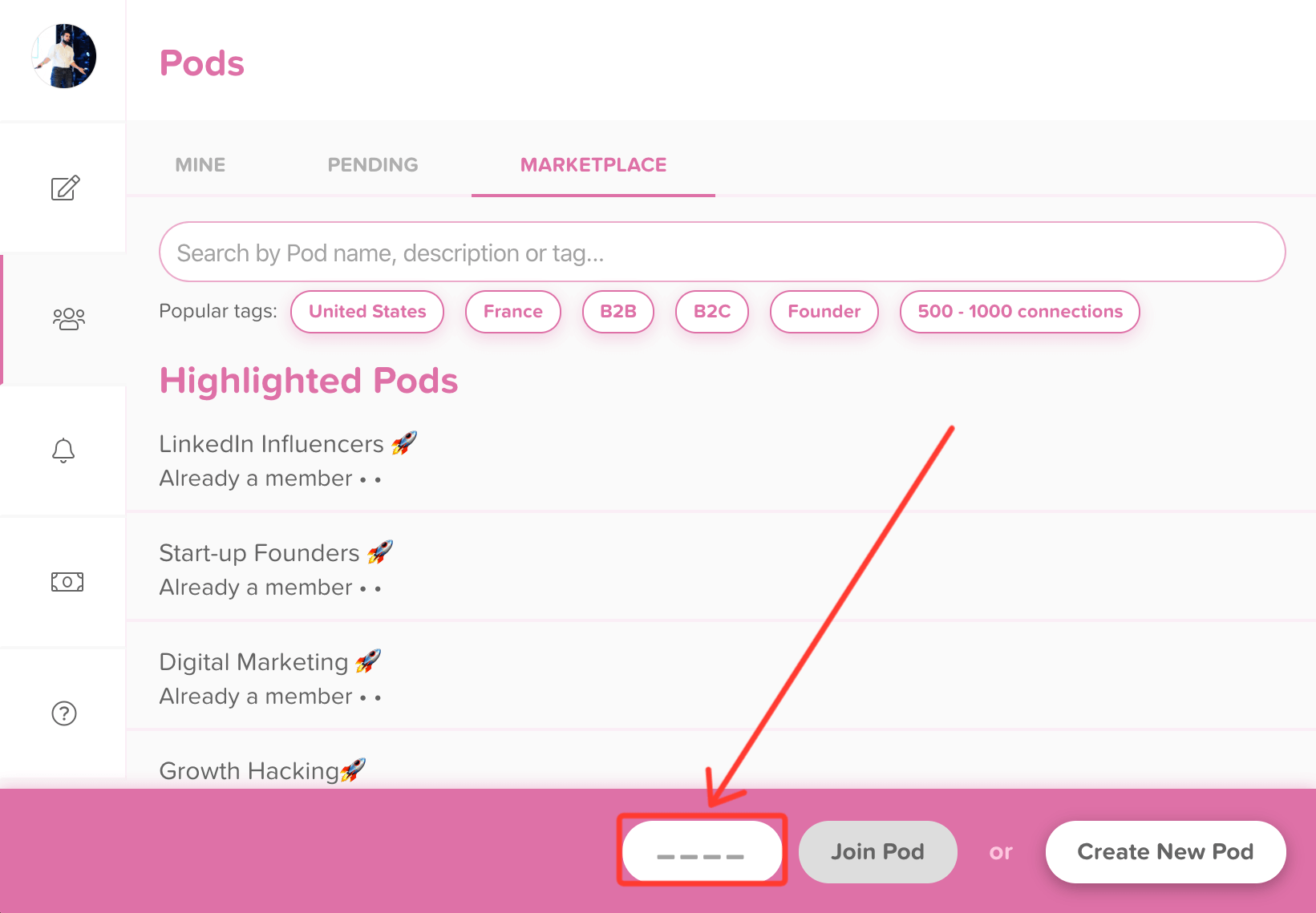 ---
2. PhantomBuster – LinkedIn tool for automating different processes
Just like Linked Helper did once – PhantomBuster is doing the same right now. But on a much safer and better way.

PhantomBuster is a LinkedIn tool that allows you to automate different processes on LinkedIn such as:
Auto endorse
Auto-connect
Message sender
LinkedIn search scraper
And many other flows
But, the best thing about PhantomBuster, is that it restricts you to, for example, scrape more processes than a simple human can do it per day.

On this way – you will never be seen by LinkedIn and you will never get banned.
To be exact, there's currently 32 different APIs you can use to automate different processes inside LinkedIn.
So, if you want to hack LinkedIn on the scale without spending too much of your time, PhantomBuster can be a perfect tool for that.
PhantomBuster has a lifetime free plan, while the paying plans are starting at $30/mo.
---
3. Shield – LinkedIn tool for in-depth LinkedIn analytics
Shield is the tool similar to Google Analytics, but it's made for your LinkedIn profile.
It allows you to see all the necessary information about your LinkedIn profile and statistics.

But – you're probably asking yourself right now:

"Why do I need this when I have already integrated analytics inside LinkedIn?"

Well, the answer to this question is quite simple:

– Because Shield shows you more analytics and better data
– Because LinkedIn's analytics lasts only for 90 days.
For example, LinkedIn only shows you the number of profile visits, the reach and a couple of other basic information.

On the other hand, Shield shows you much more.

With Shield, you can see your profile conversion rates, data older than 90 days, total reach, the total number of profile visits, percentage of accepted connections, and much more than that.

It's great for aligning your business goals with analytics and making strategic decisions.
Shield starts at $10/mo.
---
4. Expandi – LinkedIn tool for LinkedIn outreach
Expandi is the tool for LinkedIn lead generation and outreach. Just like you have tools for email outreach and cold email campaigns, you also have Expandi so you can expand your outreach on LinkedIn as well.
If you use it right – LinkedIn can be a huge gold mine for your businesses. Once you set your outreach campaigns, they'll work like the well-oiled machine and bring you the new leads constantly.

Don't be worried about your LinkedIn account if you're using Expandi.

Expandi is the cloud solution, and getting banned from LinkedIn is impossible.
To sum it all up:

Expandi is the tool where you can create different LinkedIn Outreach campaigns and send the connection requests on a scale with personalized messages.

The best thing about Expandi?

It has great analytics. As far as I have seen, Expandi is the only tool that gives you the percentage of accepted connection requests, dropouts, and other statistics that can be crucial for optimising your LinkedIn outreach campaigns.
Expandi starts at $150/mo, but if you create your own account by the end of this year, you will be able to purchase it for $75/mo.
---
5. Crystal – a LinkedIn tool to finding anyone's personalities from LinkedIn
Crystal is the tool, empowered by AI, that can find anyone's personality online.

It tells you what other people love, what are they doing during the meetings, how they became, on what type of emails are they likely to respond, and many other things.

It's a great resource for anyone who's looking to get more success on meetings or with cold email campaigns and building relationships on LinkedIn.

I was shocked when I tried the Crystal for the first time.

Like the test, I went to LinkedIn's profile of my CEO – Guillaume, and I run the Crystal.

I sent him over the results asking him:

"Guillaume – is this true about you?"

He couldn't stop laughing.
The things Crystal gave me were 100% true!

Crystal works pretty simply. Just go to someone's LinkedIn profile, and run Crystal's chrome extension.

Wait for a minute, and Crystal will give you his personality.
Crystal has only the one plan and it costs $29/mo.
---
6. IFTTT – a LinkedIn tool for connecting different workflows
IFTT is a great tool for connecting different workflows, apps and devices.

It works similar to Zapier.

Here's an IFTTT workflow example you can steal:

– Whenever someone accepts your connection request, IFTTT automatically adds him into your CRM.
It's simple as that.
---
7. Venngage – LinkedIn tool for creating a powerful images
You want to create a stunning image for LinkedIn but you don't have time for messing up with Photoshop or Illustrator?

That's not a problem at all!

Meet Venngage – online poster maker.

It's an easy to use and intuitive tool that enables you to create stunning social media images in a matter of minutes.
On a scale of 1-10, where the 10 is "very complex to use" (read illustrator/photoshop), Venngage have a score of 3.

Truly – it's extremely easy to use. Just drag and drop different elements and you're ready to go!
Venngage starts at $19/mo.
---
8. Loom – LinkedIn tool for recording amazing videos
Video is booming in marketing right now – and saying that you don't have a budget for recording a videos is, honestly, dumb.

Especially when we have LinkedIn tools like Loom that are making this job pretty easy (and sometimes even free!).
Loom is a video recording software that enables you to record high-quality videos both with your screen and face.

It's great for creating amazing LinkedIn videos and LinkedIn Content.
Loom has a lifetime free plan.
---
The Bottom Line

As you can see, you can be perfectly safe while automating a bunch of your work on LinkedIn with some of the best LinkedIn tools on the market.

You can either use LinkedIn Engagement Pods to get an amazing reach, or you can automate your workflows like profile scraping, or LinkedIn outreach.

But – remember.

You can have access to the best LinkedIn tools in this world, but if you don't know how to use them properly, they won't be worth at all.

So, if you want to learn how to make a killer combination of LinkedIn Tools and LinkedIn marketing strategies, go straight to our LinkedIn Growth Hacking guide and learn how we got over 2M views on our posts and over 1300 customers from LinkedIn.